Since it is no difficult to travel abroad due to the global COVID-19 situation, many people are now planning domestic trips or staycations at home. However, that does not mean that you cannot treat yourself to a good meal. Here, Chef Roh Younghee of Michelin 1 Star Restaurant Poom shows us how we can enjoy gochujang-braised butterfish with seasonal greens in the comfort and safety of home.


What type of cuisine do you serve at Poom Seoul?
The cuisine we offer is that of the traditional kind of food served to Korean noble families. Before the COVID-19 pandemic, there were foreign diners every day. I feel that my role is to make them discover the beauty of Korean food. Of course, I would like to serve a well-made healthy meal for local guests so that people can experience the changing seasons through the food.

I've led this restaurant for more than 12 years. I don't completely overhaul the menu every season; instead, I change the recipes subtly frequently so that regular customers who visit more than once a month won't get bored. Korean food has a lot of condiments, including ganjang (soy sauce), doenjang (soybean paste), gochujang (red pepper paste) and numerous fermented fish sauces, so you can change the color and character of a dish dramatically even if you make a little change in recipes. Adding fresh seasonal ingredients makes it a natural and healthy dish.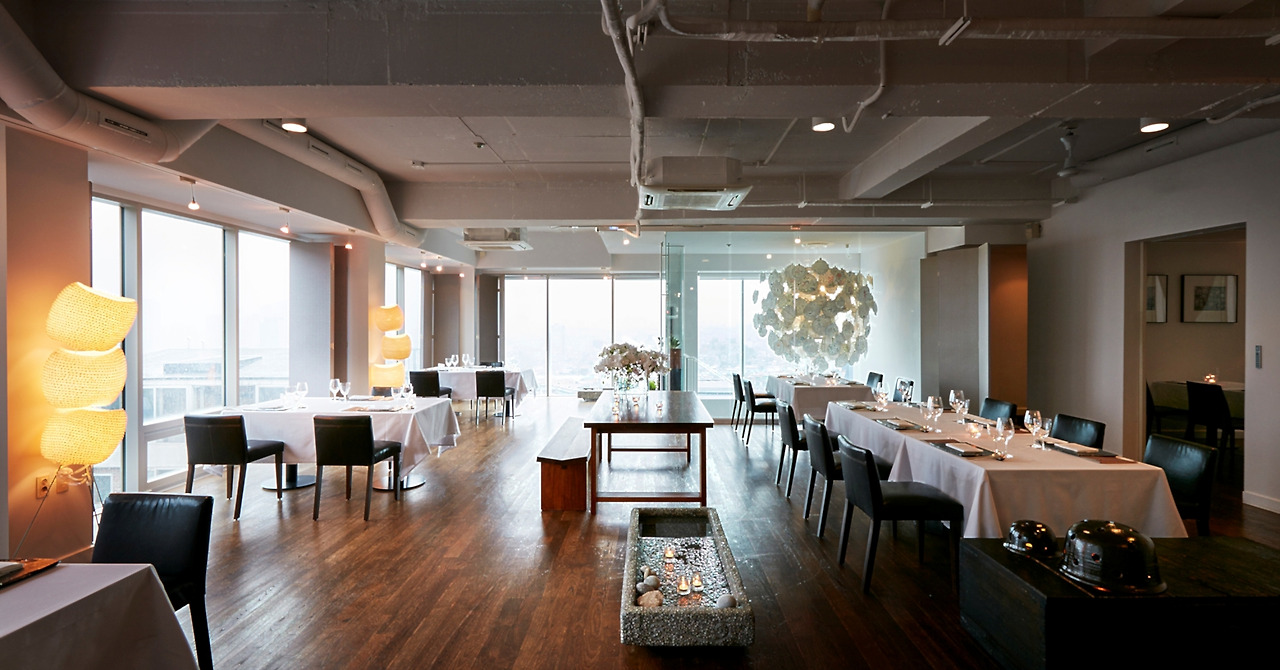 The dining hall at Poom Seoul (Pic: POOM)
You also paying great attention to the presentation of food and the ceramics used.
There's a Korean saying that "clothes are angel's wings". In a sense, for food, bowls are the clothes. People don't really think much of their importance, but if you put your food on a ceramic piece by a good potter, it will let your guests will look forward to eating much more. Many people keep their expensive and beautiful dishware in the sideboard and never use them until an important guest comes, but I think we should use these vessels in our daily lives.

Additionally, food and ceramic works can influence each other. I opened a ceramics shop where I sell the artists' works. I have also studied with and had many discussions with potters there. They put food on their ceramics and develop nice details that help to emphasize the beauty of the food. I feel that chefs and potters can inspire each other and evolve together.



How do you think 2020 will be remembered?
It was a time when I felt like this shouldn't occur again for the rest of my life. I wish I could recall this year as a good one. The number of guests dropped drastically, so I had a lot of worries. I'm still struggling with this challenge. We couldn't simply shut down because we have staff who depend on us. Now, we're also considering the development of meal-kits and lunch boxes to keep up with the times. I think it's time to prepare for any more changes or crises in the future.


It's summer now. How do you usually spend your vacation?

Once every three years, I choose a foreign city and live there for about a month to experience the food and culture and to learn new things. In the past I have spent time in London, Turin, and Provence. Due to the pandemic this year, it has become extremely difficult to go abroad, so I have no plan.

Chefs usually find it hard to leave the restaurant for a long time, and so do I. However, it is nice to see young chefs go abroad to work at a foreign restaurant and spend some meaningful time there. They learn, discover, and recharge at the same time! Of course, it's not easy to be absent from one's restaurant for a long time as a chef, but it's also an important mission to make sure a restaurant can run well without a chef.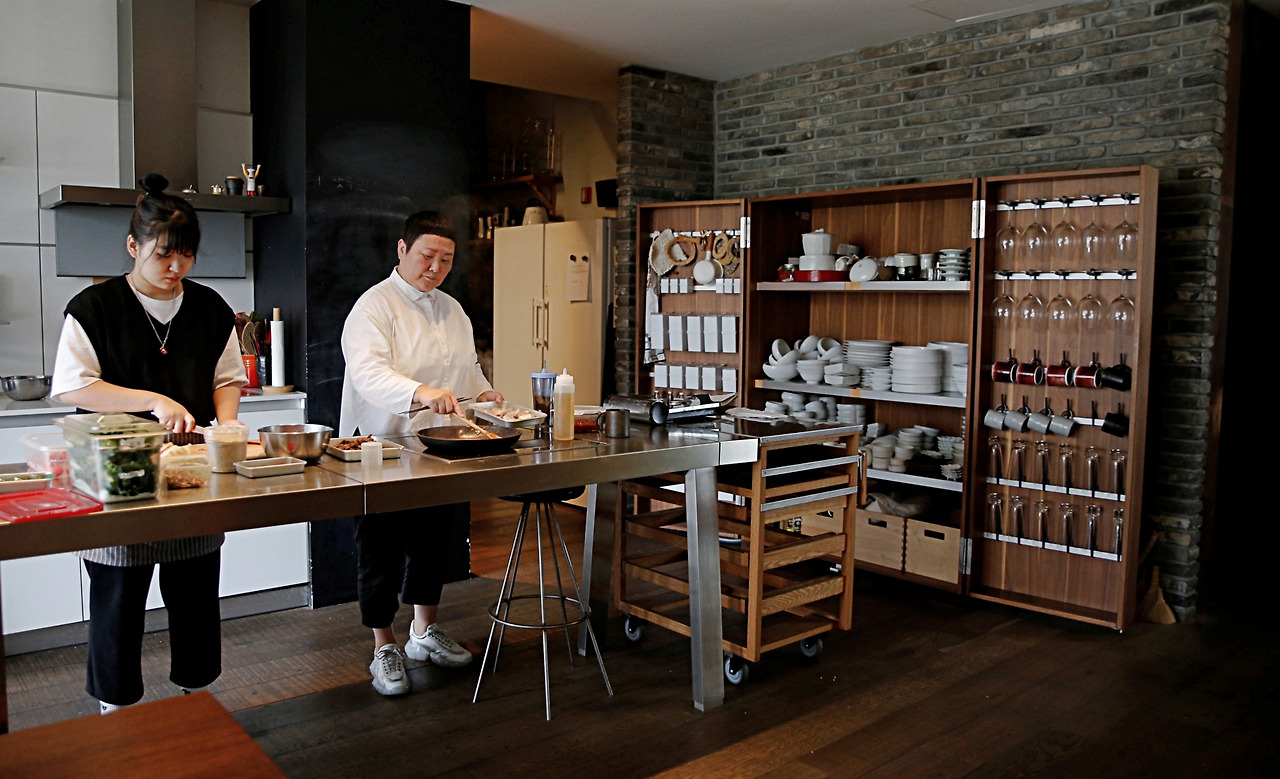 Chef Roh's cooking studio (Pic: Julia Lee)
A restaurant that runs well without a chef is difficult to achieve, but it is a mission to pursue.
It's truly hard. I think the key is transparency. Revealing and teaching all details of the recipes and the secrets that can't be quantifiable, even to the youngest cook, is the starting point for success. Some chefs insist on hiding their own special secret, which could make it to find an opportunity to leave a restaurant and grow one step further.

I give cooking classes to our kitchen crews and we make seasonal pickles and kimchi together at this cooking studio. Poom only operates on a 100% reservation basis, so sometimes we don't have any customers at all. On days like that, all the staff gather around and learn new things.

I've published a cookbook, and I've been teaching cooking classes. Sometimes I'm asked why what I teach is the same as what is in the cookbook, but shouldn't it be the same? I don't have any secrets to hide. Completing the final touch of a dish is something that can only be perfected after going through numerous trials and experiences, it's not just about following the recipe from the book. This part has to be learned through many attempts and failures. In fact, having the chef be absent and giving employees a chance to lead are also ways to instill a sense of responsibility. I think it is the role of a chef to teach everything but to wait for younger crews to grow, and to trust them.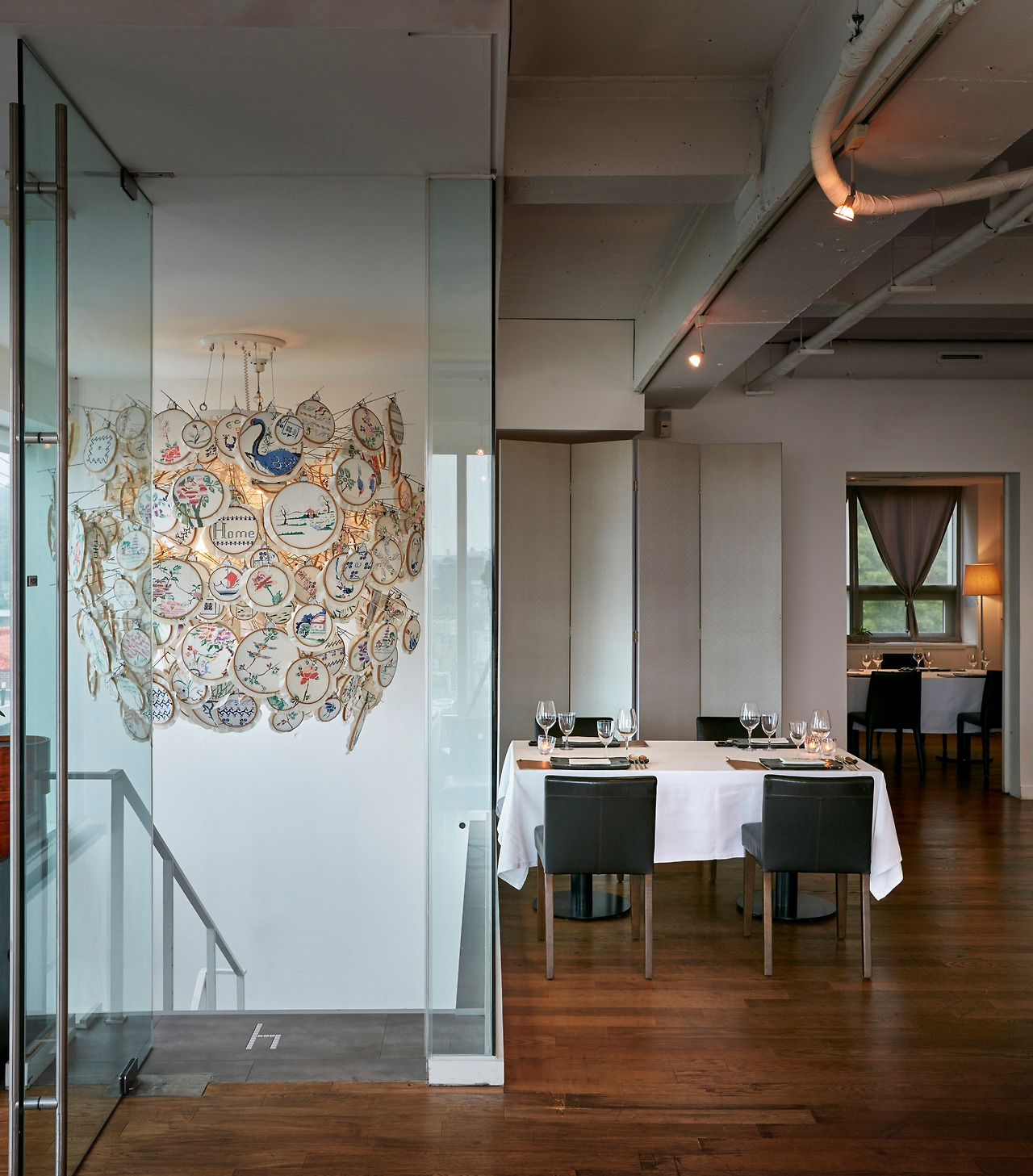 The dining hall at Poom Seoul (Pic: POOM)
What does 'dining at a restaurant' mean to guests?
I think it's one of the biggest factors that make people happy. I'm not married, but I live with two dogs. Wouldn't dining at a restaurant be a pleasure with your family? Nowadays, meals are not only food that fills our stomachs to survive, but are also something to enjoy as a part of the culture and as a leisurely activity. As a chef, this change is encouraging. 12 years have passed since the opening of Poom Seoul, and people's dining behavior has also improved a lot.

Now dining has become a way to enjoy one's life, so people are excited from the moment they book a restaurant, or perhaps even when they're thinking about where to eat for an important day. It's like how one is excited to choose a travel destination and plan their itinerary for a holiday. I feel that the chef should think from the customer's point of view and be considerate to the diners. Our employees take turns to sit down in front of the dining table at our restaurant and eat the entire course. In doing so, they have a direct experience of any positive or negative parts of dining and enables them to provide better service to guests later. It is more important having a chef lecture or nag them.


This process sounds like it will surely improve the standards of service in a restaurant.

Yes, it helps me, too. While in the dining hall, a member of staff once said that he could smell the charcoal smoke coming from the kitchen. We didn't realize this until he pointed this out. After that comment, we improved the ventilation system. Guests may feel similarly, but sometimes people don't give us feedback directly. These comments from our staff are the easiest way to find an opportunity to improve and develop.


What do you want guests to feel when they visit Poom?

That they must have visited this place on a special day. It is our job to keep their expectations and excitement from falling apart. It feels so much better when they express their sincere satisfaction after having a really happy time, rather than just saying "it was good". My whole team is doing the best for our guests.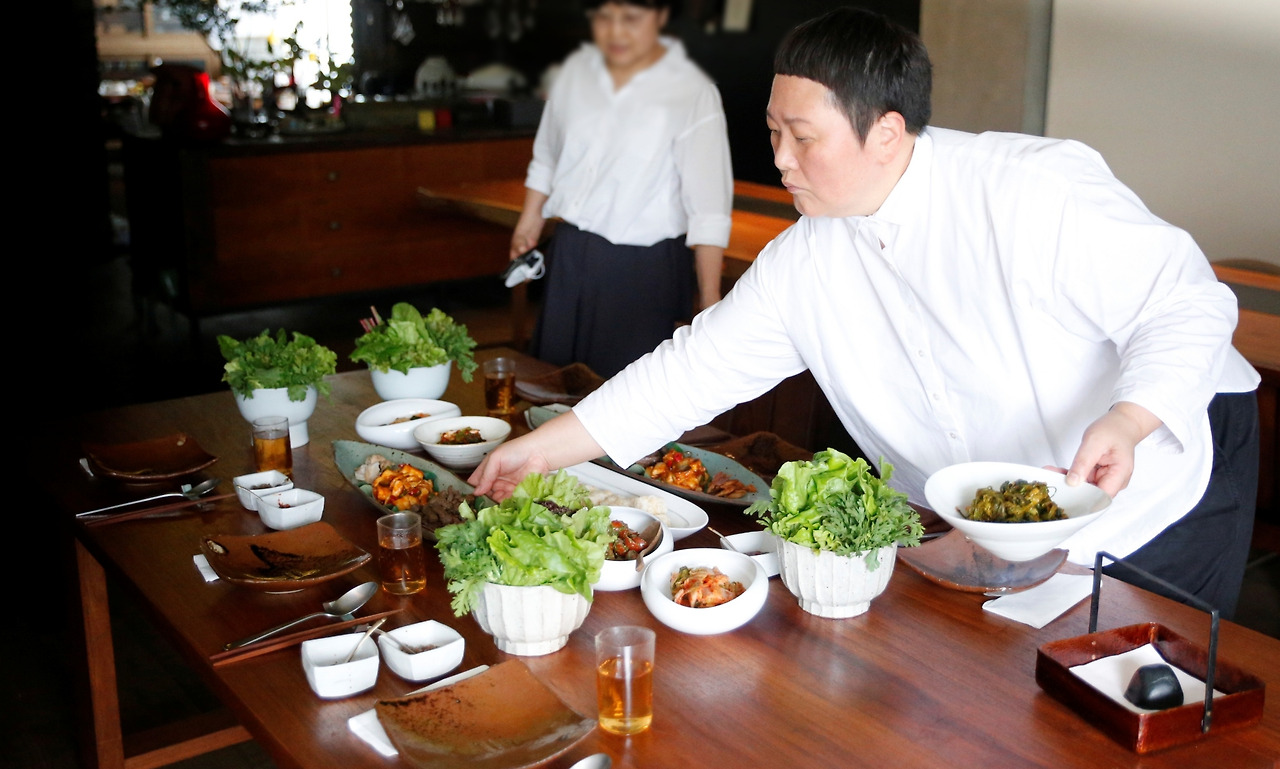 Chef preparing a hearty meal (Pic: Julia Lee)
What dishes would you suggest that people should have this summer that can be easily prepared and enjoyed at home?
I definitely recommend ssam – rice and side dishes with assorted greens. This is a typical summer meal for Koreans. It's very healthy, delicious and refreshing! My restaurant and cooking studio receive a package of seasonal vegetables grown in Pyeongchang, Gangwon-do, every week. One of the most delicious ways to enjoy this vegetable is to eat it as ssam, by wrapping rice and meat or fish with leafy vegetables.

Ssam is always a beloved menu at home. There is a Korean saying that summer guests are scarier than tigers. When we prepare meals for our friends, it is very hard for the host or hostess to sit down and have a good time with people because one has to cook and serve constantly. So it's good to make a table of food that's nutritious, colorful and delicious that you can prepare everything before the guests come. Ssam is the perfect menu because you can prepare it in advance.

Ssam with fresh vegetables, including soybean paste, yakgochujang, sliced ginseng, braised fish and so on, is a healthy food that everyone will love. I suggest the braised butterfish with ssam because butterfish spawns in summer. During this season it is sweet and soft.

Do you have any tips when it comes to planning vacations in the COVID-19 era?
Well, I spend my Saturdays at the cooking studio with my dogs. I can read books, develop new menus, or just do nothing here. When I worked as a magazine editor, I got bored easily and looked for new magazines to write for. Interestingly, I never felt bored after I started cooking.

Whatever it is, isn't the point of a vacation to have some leisure time in your favorite space? If you have delicious and healthy food as well, then it would be perfect.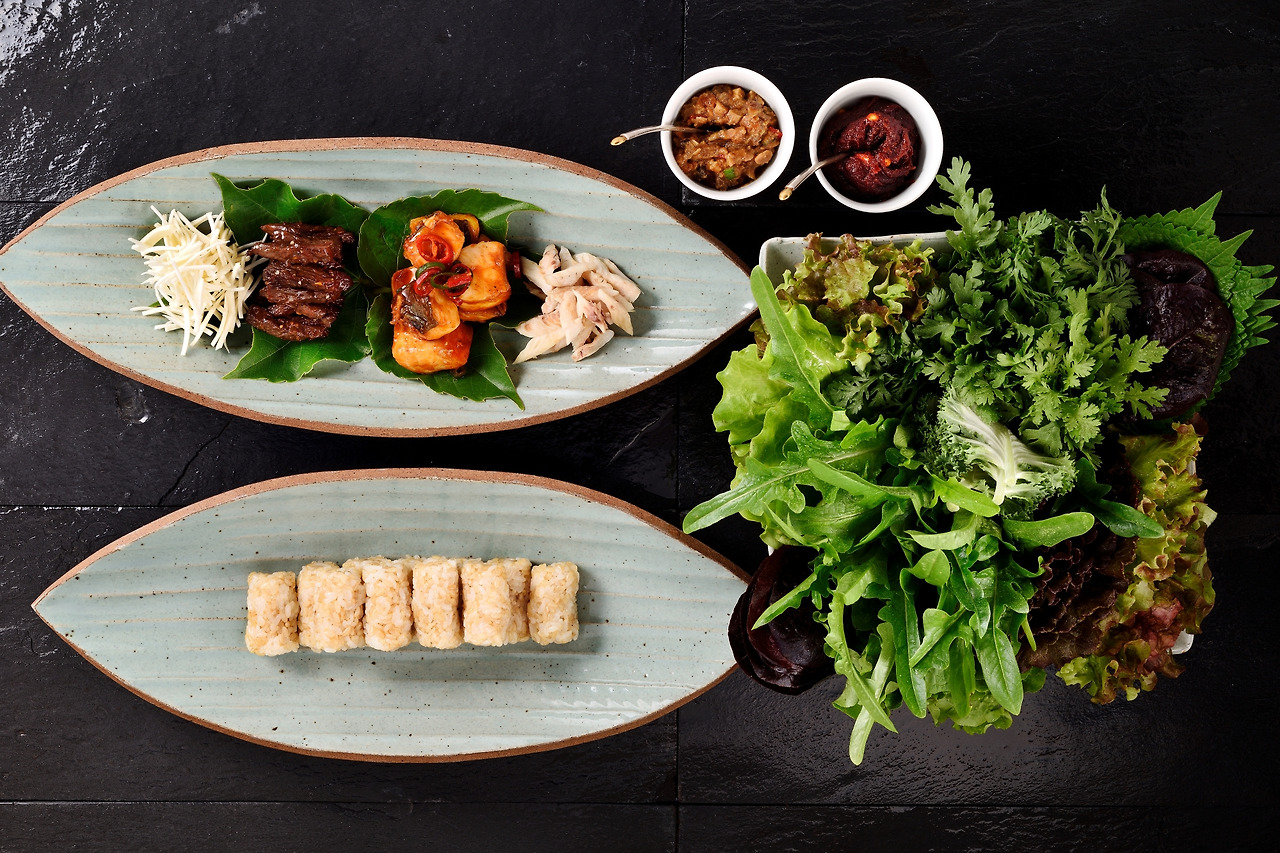 Delicious fare with seasonal greens (Pic: POOM)
Gochujang-braised Butterfish
* Makes 4 portions

Butterfish fillet 200g

Fish Seasoning
10g ginger slices
1 tbsp rice wine
1/5 tsp salt
1/2 tsp sesame oil
a pinch of ground pepper

For Braising
1 tbsp shredded ginger
2 tbsp gochujang (red pepper paste)
1 tbsp soy sauce
3 tbsp rice wine
1 tbsp sugar

To Finish
1 green pepper
1 red pepper
1 tsp sesame oil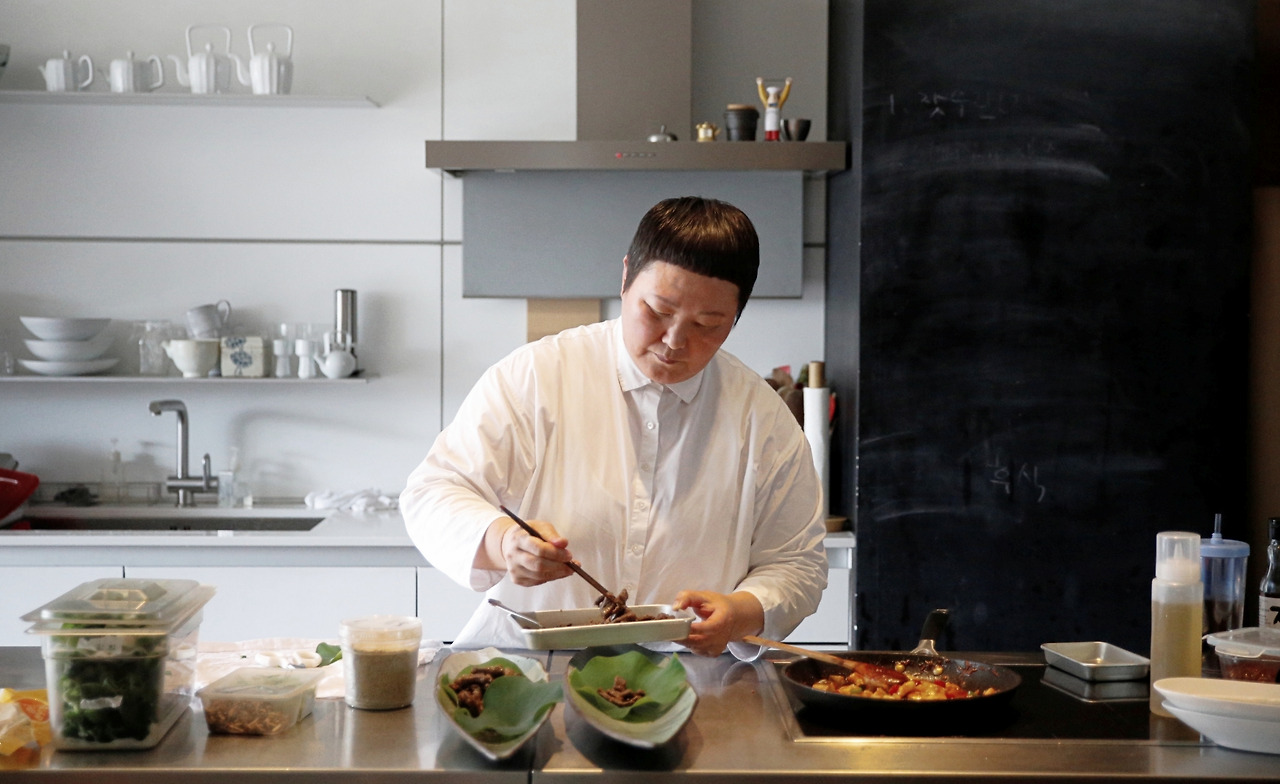 Chef Roh Younghee (Pic: Julia Lee)
1. Slice the butterfish fillets into 2cm squares.
2. Season the butterfish with the ingredients that make up the fish seasoning and let it sit for about 10 minutes, then pick out the ginger and pour out the liquid.
3. Chop the red and green peppers and rinse them in water to get rid of the seeds.
4. Put the ingredients for the braising sauce in a pan along with 500ml, then put the seasoned butterfish and boil it on low heat. When one side is cooked, flip it gently to prevent the fish from breaking up.
5. When the fish is fully cooked, add the chopped pepper and sesame oil and serve the dish in a bowl.


This article was originally written in Korean by Julia Lee and sub-edited in English by Wong Jia Min.