Michelin Guide Seoul 2017
Bibendum, Michelin's friendly mascot
The official launch of the Michelin Guide Seoul 2017 took place at The Shilla Hotel in central Seoul earlier today with chefs and press members present to witness the unveiling of the highly-coveted Michelin stars for Korea's capital.
Michelin's announcement of the full selection of its Seoul guide—also its 5th Asian publication–proved to be a celebration of Korean cuisine with 11 out of 24 honored restaurants dedicated to serving Korea on a plate.
La Yeon / 3 Michelin Stars
Michael Ellis, International Director of the Michelin Guides, surprised the audience by announcing that two restaurants would be receiving 3 stars–the highest honor–in Seoul. The first to be announced was Gaon, a Korean fine dining establishment operated by Gwangjuyo Group, makers of fine Korean ceramics, which specializes in traditional royal court cuisine.
Its fellow 3-star recipient La Yeon, perched on the scenic 23rd floor of The Shilla Hotel, is known for upholding the time-honored traditions of Korean cooking with a contemporary sensibility. Both establishments have been at the forefront of Korean fine dining, showcasing modern and sophisticated reinterpretations of classic Korean flavors.
Kwon Sook Soo / 2 Michelin Stars
2 Michelin Stars went to three restaurants: Gotgan by Chef Lee Jong-guk, a pioneer of Korean fine dining; Kwon Sook Soo, an elegant Korean fine dining establishment helmed by Chef Kwon Woo Joong and Pierre Gagnaire by Pierre Gagnaire, the respected French chef's eponymous Seoul outpost.
Meanwhile, diversity was the name of Michelin Seoul's one-starred restaurant selection: Ristorante EO by Milan-trained Chef Eo Yun-gwon(Italian); Balwoo Gongyang, a vegan restaurant operated by the Jogye Order of Korean Buddhism(temple cuisine); Soigné by Chef Lee Jun(innovative); Jin Jin by veteran chef Wang Yook Sung(Chinese), and Keunkiwajip, a family operation that specializes in raw soy sauce-marinated flower crab, each nabbed a star.
Also joining their ranks are restaurants run by the new generation of young and dynamic local chefs like Mingles by Chef Kang Mingoo(Korean), Twenty Four Seasons by Chef Tony Yoo(Korean contemporary), and Jungsik by Chef Yim Jungsik whose New York restaurant kept its 2-star status in the latest New York edition of the guide.
Mingles / 1 Michelin Star
The discoveries and recognitions are largely perceived as an exciting new beginning for the rich culinary landscape of Seoul. The fact that Korean cuisine—both traditional and contemporary–received such high marks by the world's most influential restaurant guide shows the possibility of more that is waiting to be discovered.
Balwoo Gongyang / 1 Michelin Star
Until now, the scope of Korean food overseas had been very much limited to kimchi, bulgogi and bibimbap. The 2017 Seoul selection, therefore, is a chance to show the world the panache of Korean gastronomy that extends beyond fermented vegetables and barbecue.
Bo Reum Soei / 1 Michelin Star
Furthermore, the selection of non-Korean cuisine such as French, Italian, Japanese and Chinese is a testament to Korea's increasingly growing international culinary scene.
Michael Ellis and the Michelin star honorees at the Michelin Guide Seoul 2017 launch ceremony
"Seoul is a gastronomic rollercoaster. There are so many things going on: brining, pickling, fermenting, barbecuing, seasoning…great techniques," Ellis said. "The richness of the selection here confirms that Seoul has emerged as one of the world's most exciting and dynamic dining destinations," he added.
Alla Prima / 1 Michelin Star
In the meantime, Michelin Guide Seoul's website (http://guide.michelin.co.kr), jointly developed with Naver, provides a one-stop service with all the information on the restaurants and hotels featured in the guidebook as well as a platform for online reservations. Michelin Seoul is currently working to provide a foreigner-friendly online English reservation service as well as English maps to further contribute to Korea's growth as a global culinary destination.
Some 140 restaurants appear in the Seoul 2017 selection including the 24 newly-starred establishments and the 36 Bib Gourmand eateries announced last week. In addition to the restaurants, the guidebook also introduces some 30 hotels in Seoul.
The Michelin Guide is updated every year with up-to-date information on existing restaurants as well as introducing new establishments. The Michelin Guide Seoul 2017 will be available for purchase at major bookstores across the city for 20,000 Korean won starting tomorrow(Nov.8).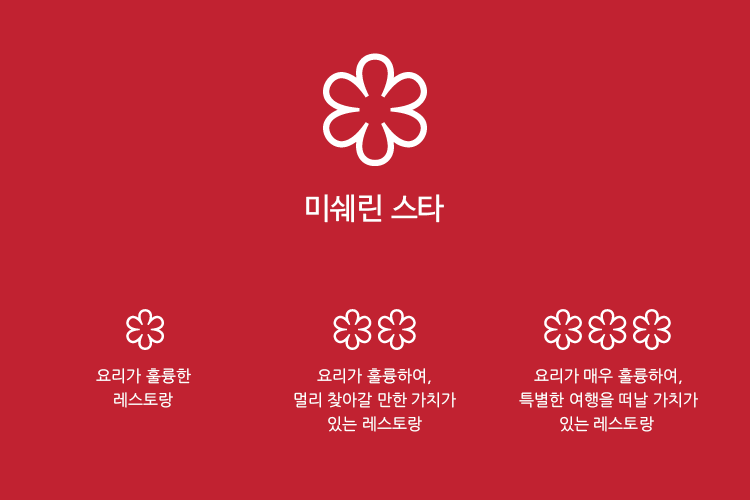 The Michelin Guide Seoul 2016
Starred Restaurants: The Selection


[Three Michelin Stars]
Gaon / Korean
La Yeon / Korean


[Two Michelin Stars]
Gotgan / Korean
Kwon Sook Soo / Korean
Pierre Gagnaire / French Contemporary


[One Michelin Star]
1) Alla Prima / Innovative
2) Balwoo Gongyang / Temple Cuisine
3) Bicena / Korean
4) Bo Reum Soei / Barbecue
5) Dining in Space / French Contemporary
6) Hamo / Korean
7) Jin Jin / Chinese
8) Jungsik / Korean Contemporary
9) Keunkiwajip / Gejang
10) Kojima / Sushi
11) L'Amitié / French
12) Mingles / Korean Contemporary
13) Poom / Korean
14) Ristorante EO / Italian Contemporary
15) Soigné / Innovative
16) Twenty Four Seasons
17) Votre Maison / French Contemporary
18) Yu Yuan / Chinese
19) Zero Complex / Innovative