Nestled in a quiet corner in Yeonnam-dong, Yakitori Mook is newly minted as a Bib Gourmand restaurant in Michelin Guide Seoul 2021. Make your way inside this yakitori specialist to discover an elongated counter, open kitchen and, at its center, Chef Kim Byoung-mook busy concentrating on grilling yakitori skewers over highest-grade Japanese binchotan charcoal as well as a straw fire. This visually arresting image of the chef, standing under the intense lights that also illuminate the grill, is reminiscent of an actor delivering a monologue on stage. Chef Kim shares his passion and culinary philosophy with us.

How did you become a yakitori chef?
I was an office worker who majored in statistics in college. I felt like I was doing my part as the eldest son, but I had been always eager to do things for myself. I started cooking for the first time as an open member of a French pub in Hongdae district, thinking it was my last challenge before I turned 30. I quickly fell in love with cooking.

I have pioneered my own path through many challenges and practices for 6 years at this first restaurant. While cooking French food, I learned the technique of layering taste and aroma. My wife who studied wine also helped me.

Years later, I decided it was time to open my own restaurant, and I became interested in Japanese cuisine around the same time. I went to Japanese cooking school and I conceptualized a yakitori restaurant by combining Japanese tradition and my French technique. I had to practice "how to remove unnecessary things" while learning Japanese cuisine. The essence of yakitori is to produce the best results in the most accurate way.


Yakitori is something that people can enjoy comfortably on a modest budget and not be swept away by ever-changing dining trends, so I focused more on this cuisine.

Why did you become so passionate about cooking?
Food can't lie! This means when the food is delicious, I can clearly see it on our guests' faces. To me, competing through food is fairer than other competitions. I didn't want to disappoint our guests' expectations. Of course, the team members who work together suffer from my greed. (laughs)


Do you have a mentor?
My teacher is my mother, but she still doesn't like me – the eldest son – cooking in the kitchen. My mother, who grew up in Goesan County in North Chungcheong province, creates great tastes based on her vivid understanding of ingredients. What I want to learn from her is a Korean mother sauce including ganjang (soy sauce) and doenjang (fermented bean paste). She makes every sauce from scratch; I find that those are so amazing, you won't need any other seasoning.

When I ask my mother about cooking, her answer is very simple. "If you use good ingredients, it will be delicious!" This basic philosophy had a huge impact on the ingredients and recipes I use.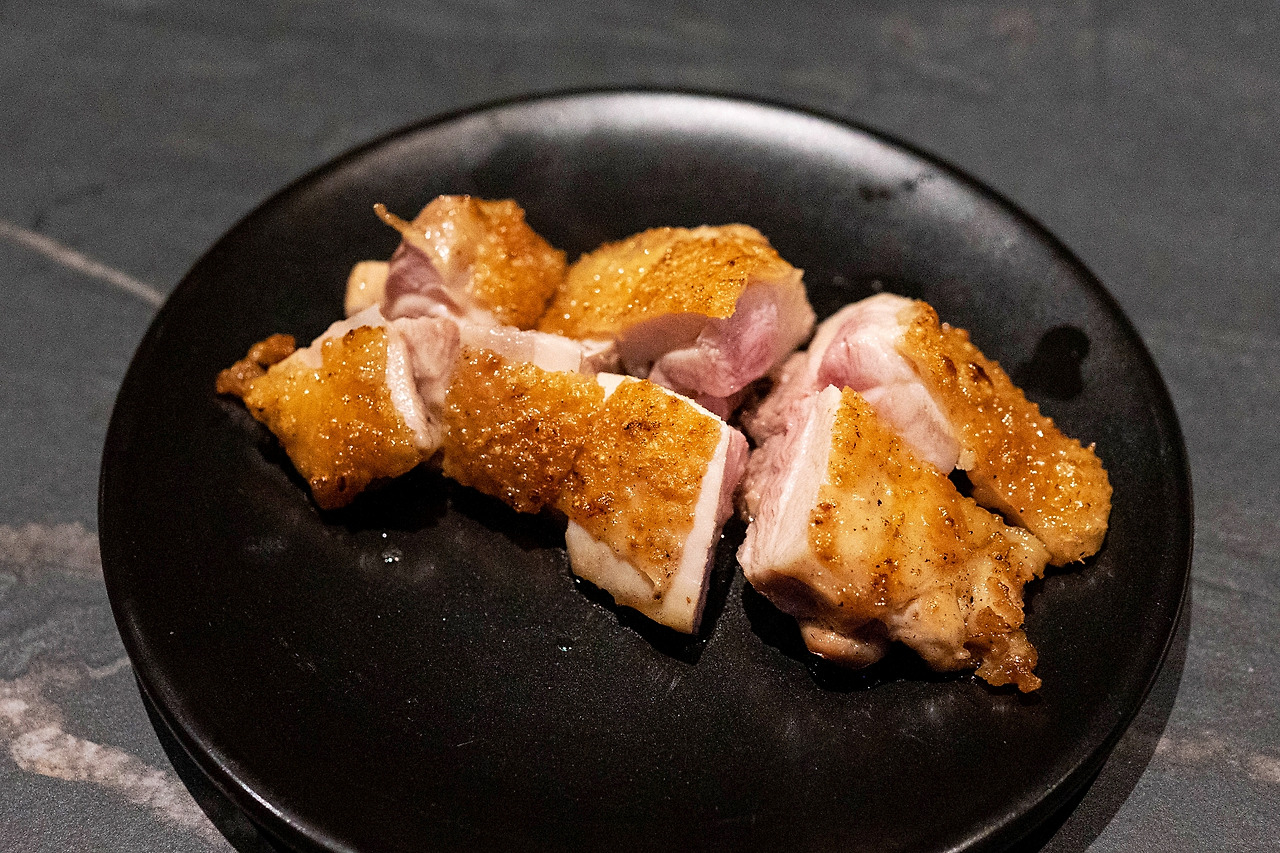 Pic: ⓒcarl_elyan
Yakitori Mook showcases….
I want to show you the true flavor of Korean native chicken. The Korean native chicken, also known as tojongdak, has a great taste and meat quality, full of subtle flavor. Compared to ordinary chicken meat, which is commonly described as "white paper," Korean native chicken has a much more condensed taste and aroma of fat and flesh. If you use charcoal to handle protein and fat, you can create a great flavor.

Since there are not many domestic producers, the price is comparatively expensive and the work is much harder, but the reason why I insist on native chicken is because it is simply tastier.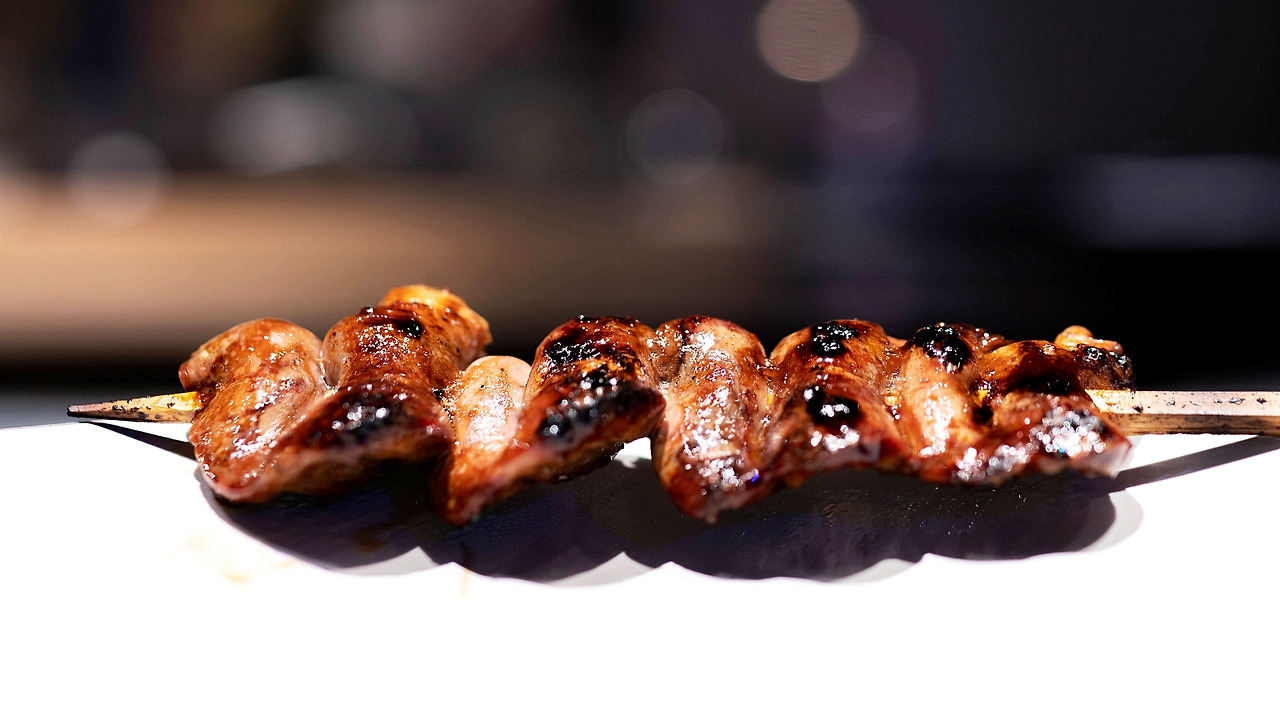 Pic: ⓒcarl_elyan
In yakitori, you subdivide the chicken's parts and select the appropriate roasting. The crispy texture and savory oily skin are achieved by cooking over low heat for a long time. The breast, which has a soft texture and rich flavor, is served medium-rare to rare. In Japan, chicken breast is even enjoyed as sashimi. Yakitori allows you to enjoy the charm of a chicken by its parts.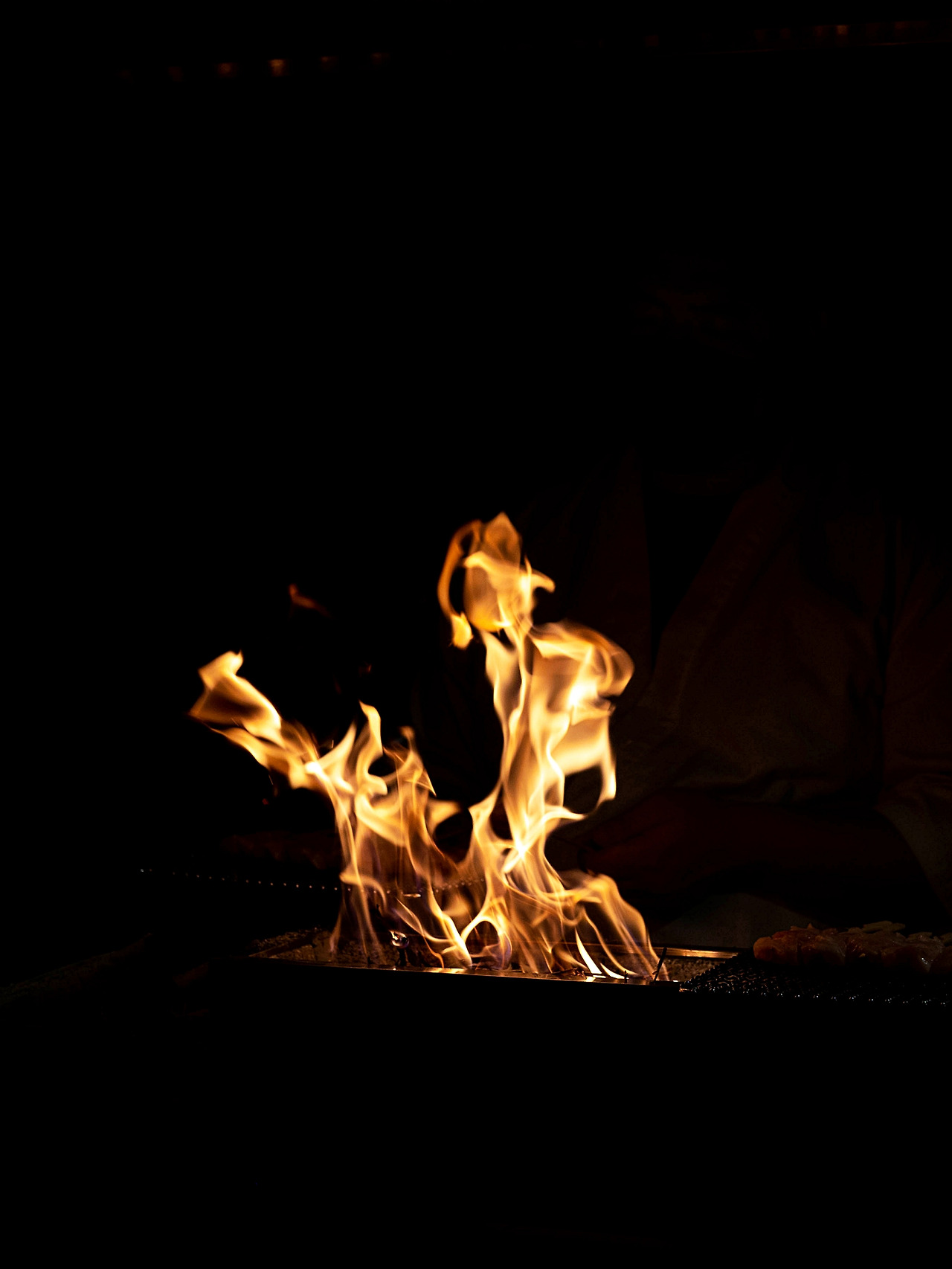 Please introduce your restaurant's philosophy.
We'd like to create a warm space through the central notion of fire. Throughout history, there was always fire at the center of human lives: they hunted and then gathered around a fire to soothe the fatigue of the day and communicate. So, when I designed this place, the location of the fire was paramount. Yakitori Mook is a place where you can enjoy delicious food and alcohol, putting down your thoughts while relaxing in front of the fire. And I hope our guests get to see and enjoy the cooking process right in front of them.


I think fire is as important as a chicken in yakitori.
If you use charcoal properly, the surfaces will be crispy and the inside of the meat will be moist at the same time. I think this is the best way to cook protein with fat. It is also a product of the experiences that our ancestors have studied for a long time.

I use the highest-grade Japanese binchotan charcoal, which is more expensive and difficult to handle than other charcoal. It takes a lot longer to blaze yet its firepower lasts longer without drastic temperature changes, so you can apply constant heat to the ingredients. Binchotan also has a more subtle scent, so it pairs nicely with the delicate chicken flavor.

Signature Dishes of Yakitori Mook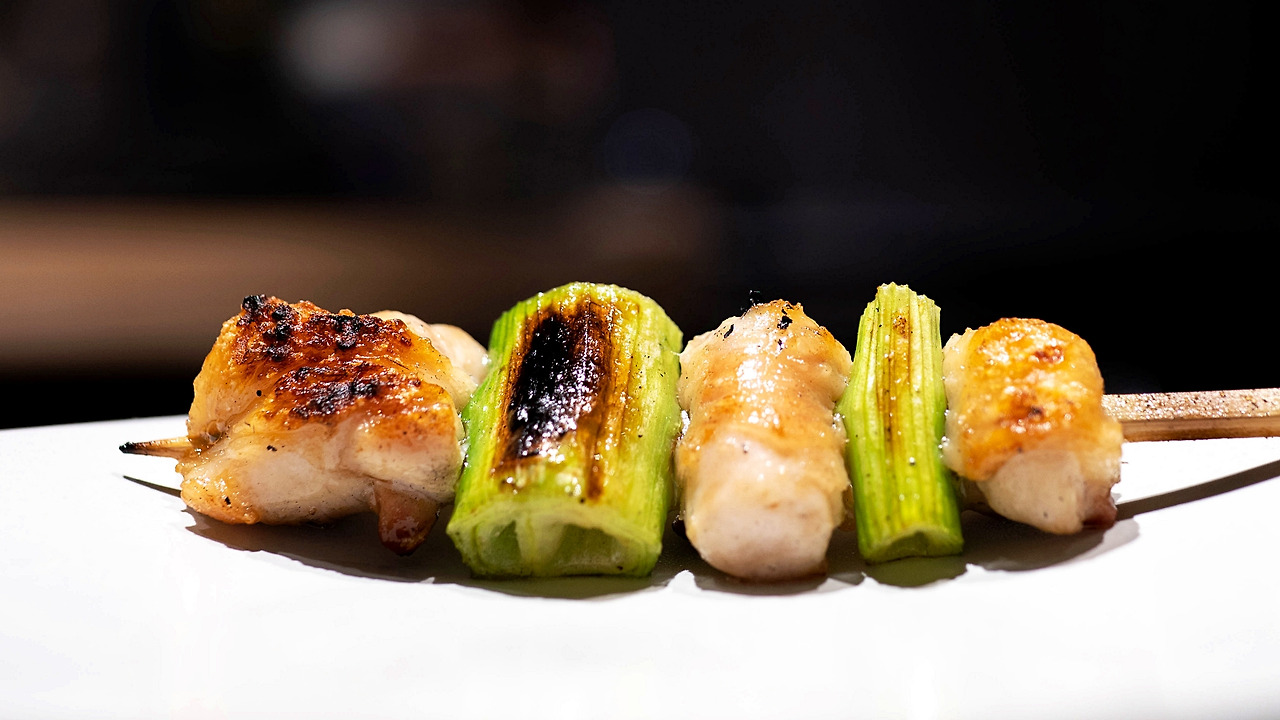 Native chicken thigh with leek skewers Pic: ⓒcarl_elyan
Native chicken thigh with leek skewers
This is the bestseller in yakitori cuisine. This basic menu item demonstrates the skill level of the restaurant. Here, chef wraps the thigh meat with chicken skin; when grilled over charcoal, the skin crisps up while the chicken flesh beneath retains its richly bursting moisture.

Chicken Liver Pate and Blueberry Compote
Chicken liver is considered an unfamiliar food ingredient in Korea, but you can easily fall in love with it once you try it. It's also a great match for wine. What's important is that only fresh chicken liver is used to create a good taste.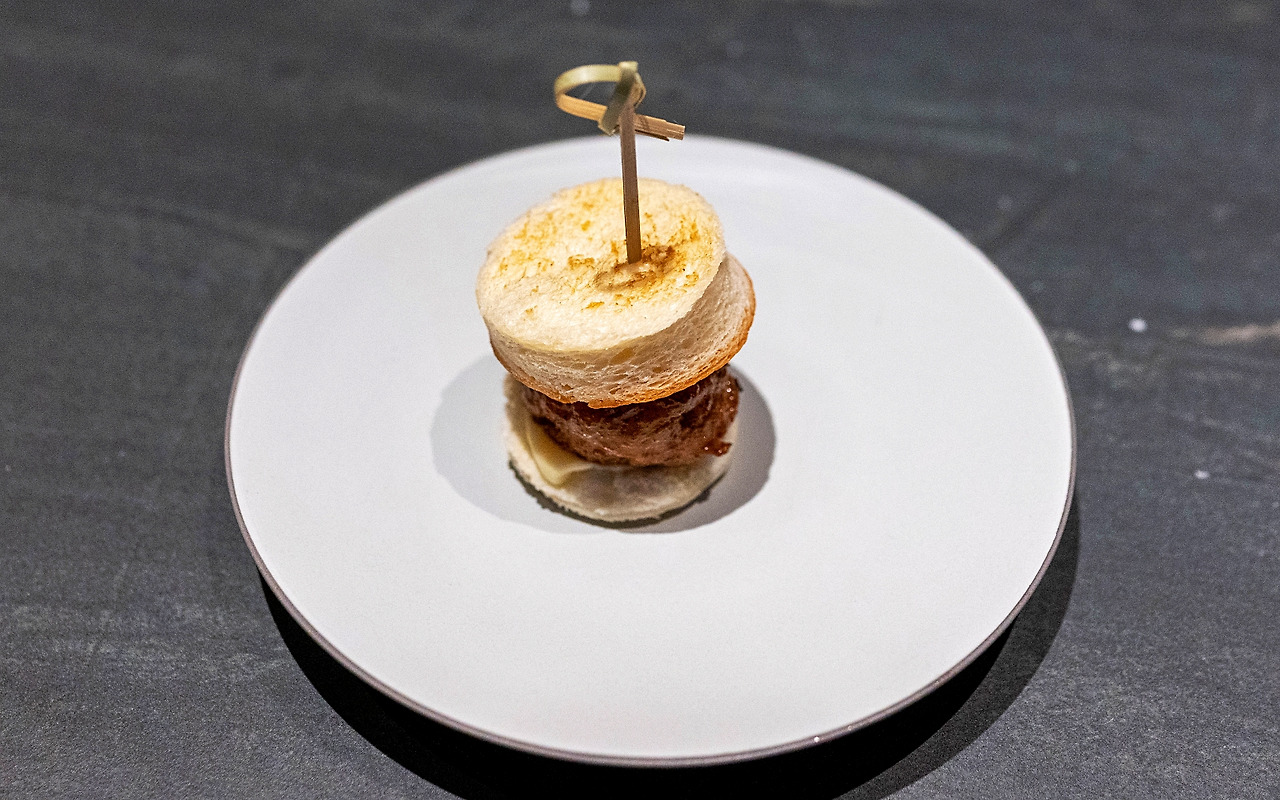 Tsukune Sando Pic: ⓒcarl_elyan
Tsukune Sando
A Japanese chicken meatball, tsukune is presented with bread as sandwich. Tsukune is made by chopping chicken thigh and cartilage which is then gently sous-vide, and finally grilled over charcoal. This is undeniably one of our guests' favorite dishes.


What are the good and bad parts about a chef's life?
Because I put a lot of time and effort into the restaurant, it's hard to be a good father and husband at home. I regret that I can't play as much as I would like with my son who is barely a year old.

However, in this world where people compete thoroughly through taste, I think there are less environmental or external forces involved. If you work hard, it's worth trying this career. It's one of the jobs where you can carve out your own path and expect fair results.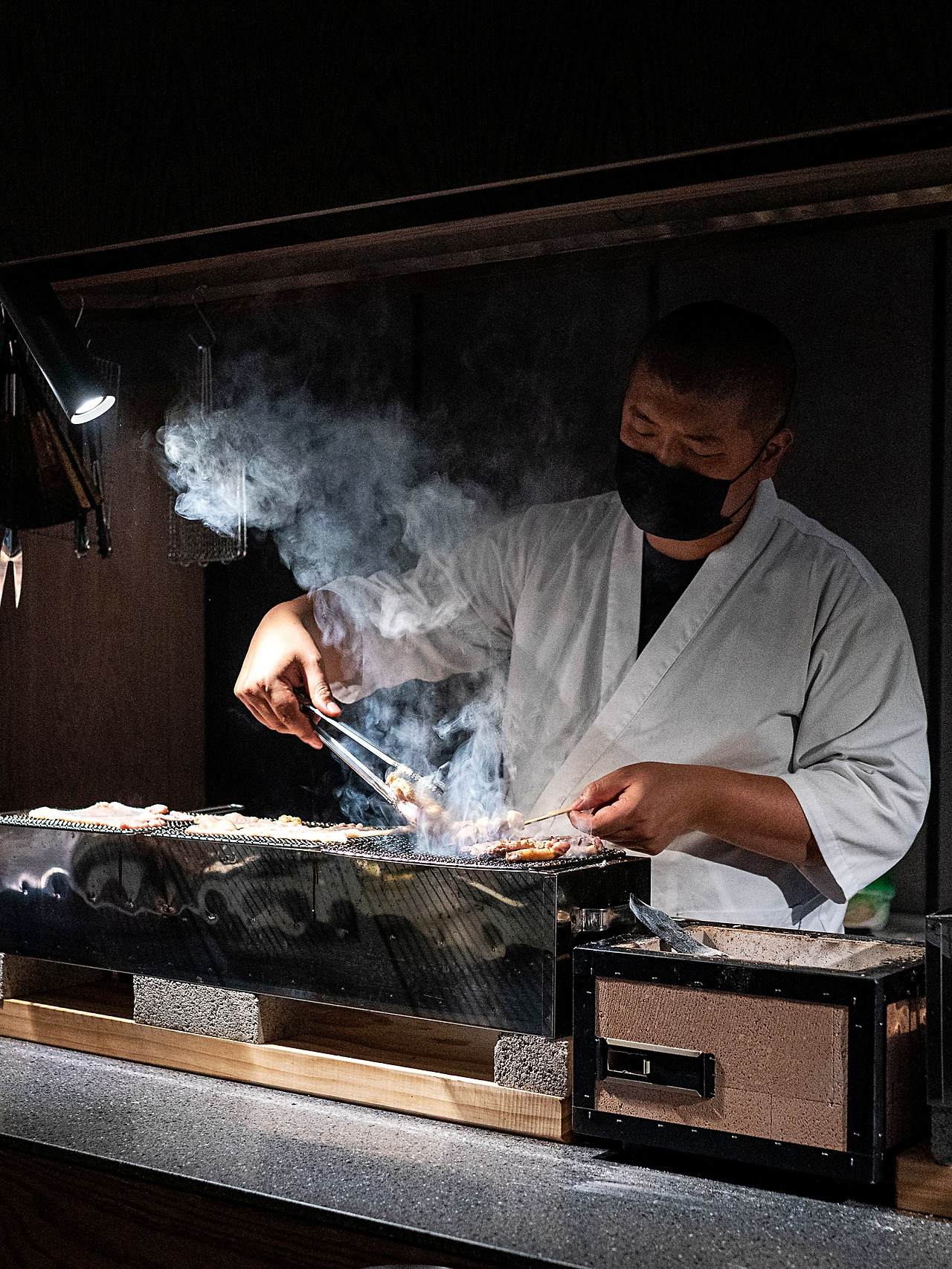 What does the Michelin Guide mean to you?
The night before Bib Gourmand was announced, my wife and I could not sleep well. As soon as we found out that we were in the Bib Gourmand list, we hugged each other soundlessly and cried. In fact, I never thought of being listed in the Michelin Guide even in my dreams. I started cooking later than others, and I thought I was still lacking.

It's still like a dream! Perhaps my mother would understand me more with these results? It's even harder to impress a family member than getting good recognition from the public.


What words of wisdom would you share with younger chefs?
A chef needs a lot of skills. It is also important to study ingredients and recipes and communicate with producers and consumers. Physical and mental labor, sense, wit, and leadership… the list is endless. All these abilities are important, but you can't have everything from the beginning, so you have to develop yourself step by step.

Cooking doesn't come directly out of your head. It comes out through the skills developed by your hands and is completed in the guest's mouth. If you want to know how your guests feel, you have to place yourself in their position.

Communication skills are also very important if you want to succeed as a chef. It's easy to be stubborn if you only stay in the kitchen. All team members, customers, producers and other supporters who contribute to the restaurant should communicate smoothly and lead the process in a positive way. Each time a restaurant serves a meal, it's a small result, but all these results come together to form the big picture.

This article is written in Korean and English by Julia Lee and sub-edited in English by June Lee.