What is a Michelin Star?
A Michelin Star is awarded for outstanding cooking. We take into account the quality of the ingredients, the harmony of flavours, the mastery of techniques, the personality of the chef as expressed in their cuisine and, just as importantly, consistency both over time and across the entire menu.


Are Michelin Stars yearly awards?
Yes. Along with seeking out new Stars, we continually reassess existing Star restaurants to ensure the same high standard of cooking is being offered to guests.
Bybrook - Castle Combe
Is the decoration/style of restaurant a factor in awarding a Star?
No. A Michelin Star is awarded for the food on the plate – nothing else. The style of a restaurant and its degree of formality or informality have no bearing whatsoever on the award.


Who are the judges? Who makes the decisions?
Michelin Inspectors are full-time employees and they make the decisions. Once several inspectors have eaten at a restaurant they then discuss their experiences as a team in order to make a final decision.


How many meals do you have in a restaurant before awarding it a Star?
As many as it takes. Consistency is very important when awarding Michelin Stars, so we need to be sure that customers will receive the same high standard of cooking, whenever they visit. Accordingly, when considering the awarding of a Star, we will go at various times of the year, for lunch, for dinner, at weekends and during the week.


What do you order?
We try to eat as many dishes as possible over the course of the year, as we do need to try as much of the chef's food as we can. We have to be sure that all the dishes that come out of the kitchen are of a consistently high standard.


Do you eat alone or in pairs?
It varies. Sometimes we eat alone, sometimes in pairs, and occasionally even as a group.


How important is international experience for Inspectors?
Very important. All inspectors are sent around the world to eat in the countries where we currently make MICHELIN Guides. This ensures that all inspectors judge by the same standards and have the same reference points – a Michelin Star must mean the same and have the same value, regardless of where in the world it is located.

The Ninth - London
Does service play a part?
Again, no. It's entirely up to the restaurant to decide what style of service it wants to offer – and that has no bearing on a Michelin Star.


Can any restaurant qualify?
Yes, any restaurant of any style and cuisine can qualify for a Star.


Do restaurants have to apply for a Star?
If the restaurant is currently in the MICHELIN Guide then they don't need to apply for a Star – all the restaurants in the guide are re-assessed regularly. And any restaurant can ask us to consider them for inclusion in the MICHELIN Guide.


If the head chef leaves, do you automatically remove the Star?
Not necessarily. Sometimes the restaurant will promote the sous chef who is of equal talent to his or her predecessor; others might hire a talented chef from another restaurant. We will simply return to the restaurant and see how well we eat.


If the restaurant changes hands, do you delete the Star?
New owners will often come in and change the concept/style of the restaurant – so it's easier for everyone if we simply remove the restaurant completely from the Guide and start again. However, there are some restaurants where the ownership details are somewhat nebulous and a change has virtually no impact on the kitchen team and the ambition of the restaurant.


Do you have set criteria that the kitchen must adhere to?
There is no secret, mathematical formula – we're just looking for really great cooking. Some Michelin Stars are innovative, some traditional; some offer set menus, others à la carte; some are casual places, others formal. No one person will like every single Starred restaurant and that's how it should be. All we are saying is "these are the restaurants with the best food". It is then up to the reader to choose the one that best suits their needs/preferences.


Do you have a limit on how many Stars you can award in one year?
No, there is no limit. We often have many candidates during the year but some fall away as they simply aren't consistent enough; some have one or two great dishes in their repertoire but serve others that aren't quite as memorable; and some kitchens can take a little longer for their cooking to mature.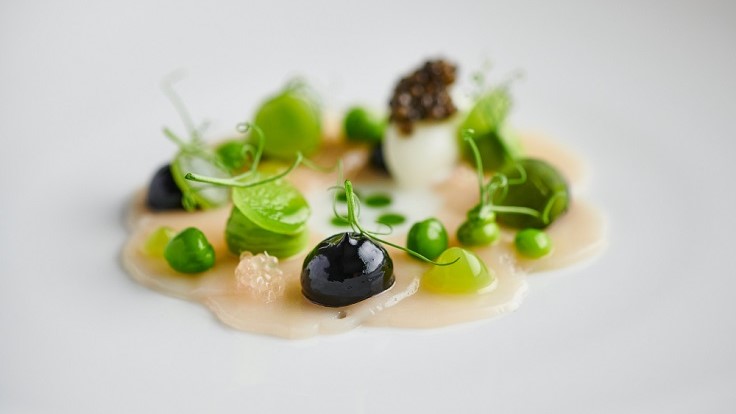 The Angel - Hetton
Why do you take Stars away?
We make our Guides for our readers so, if we feel the cooking at a restaurant is no longer at the same level that it was, then we would not re-award the Star the following year.


Do you have to be a formal restaurant to get a Star?
One of the great misconceptions about our guide is that we have a preference for more formal restaurants. This is simply not true. It's probably a hangover from 30-40 years ago when, in most European cities, the best cooking was often found in formal restaurants. Thankfully we now have Stars in all different styles of restaurant and the hospitality industry is all the better for it.


Do you also take into consideration the wine list?
Restaurants who are serious about their food tend to also ensure they have an interesting wine list to complement it, so that element usually takes care of itself.


What happens when you eat in a restaurant and then find the head chef was away?
A famous chef was once asked the question "Who cooks when you're away?" to which he replied "The same people who cook when I am here". We don't care who is doing the cooking, just as long as it's at the same standard that it has always been.


How do you feel when you read that a chef "is not cooking for the guides"?
We are delighted whenever we read that. Any chef who is not cooking exclusively for their customers has clearly lost their way. No chef should cook for the Guides or for anyone or for any reason other than for making their customers happy.



What is the difference between 1, 2 and 3 Michelin Stars? The restaurant is considered "very good in its category" having a quality menu and prepares cuisine to a consistently high standard
One MICHELIN Star: the restaurant is considered "very good in its category" having a quality menu and prepares cuisine to a consistently high standard.
Two MICHELIN Stars are awarded when the personality and talent of the chef are really evident in their dishes; their food is refined and inspired.
Three MICHELIN Stars is our highest award, given for the superlative cooking of chefs at the peak of their profession; their cooking is elevated to an art form and some of their dishes are destined to become classics.
What other awards for cooking are there in the MICHELIN Guide?
A Bib Gourmand is awarded for a simpler style of cooking at affordable prices. But we should also say that we are looking for a high standard of cooking just for a restaurant to be recommended in the MICHELIN Guide.
Introduced in 2020 during the presentation of the MICHELIN Guide France selection, and now deployed in all of the Guide's selections, the Green Star is the newest MICHELIN award. Awarded to restaurants in the MICHELIN Guide selection that are role models when it comes to sustainable gastronomy.



Do you ever give feedback to a restaurant?
No. The only feedback a restaurant should consider is the feedback it gets from its customers.
Can a chef give back a Michelin Star?
If a chef, for whatever reason, doesn't want his or her cooking highlighted then we simply won't re-award the Star the following year. If their restaurant is closing then it's a specious argument – it's like a theatre 'giving back' a newspaper review when the play's run has ended.
Does a Michelin Star put undue pressure on a chef?
Chefs do not have to do anything differently when their restaurant gets a Michelin Star – apart from maintaining the same standard of cooking that won them the Star in the first place. That being said, they may well find themselves more in demand.
Kitchen W8 - London
Does a restaurant have to provided canapes, pre-desserts etc to earn a Star?
No. A restaurant can serve whatever food in whatever format it likes. However, if it does serve all these extra elements then we look at them as closely as we do the other courses. In other words, if a restaurant is going to do them, then they should do them to the same standard.
Do restaurant standards drop on busy Fridays and Saturdays?
No – quite the reverse. Most restaurants are at their best when they're busy – and there is nothing we like more than walking into a packed restaurant. The challenge for any restaurant is maintaining a high standard on a quiet lunch on a wet Tuesday in January.
Why aren't there more Michelin Stars?
There are plenty of chefs who have the talent to achieve a Star but many fall short because their food is simply not consistent enough. We can't award a Michelin Star then add an asterisk saying "But don't have the fish" or "Desserts can be hit and miss".
What advice would you give a young chef?
Three things:
1. Great cooking starts with great ingredients, so use the best produce you can find – whether that's a tomato or a chicken.
2. Eat out as much as you can.
3. Eat your own dishes – sometimes it's not until you're halfway through a dish that you realise it's not quite right.