Illustration by: Siow Jun
---
In the bustling kitchens of most
North Indian restaurants
, amidst steel hobs and copper pots, a cylindrical, drum-like oven occupies pride of place. This cavernous piece of equipment is a tandoor, and it's tended to by a khansama (male cook) who plunges marinated meat and vegetables into its fiery belly and slaps flatbreads like naans onto its sides. This method of cooking is what gives many North Indian dishes a slightly blackened char, while keeping them medium-rare and succulent within.
The tandoor oven is in fact, so integral to Indian restaurants that even chef
Gaggan Anand
who has won numerous awards for his 'Progressive Indian Cuisine' considers it the "heart and soul of the kitchen". His food is far from the typical kebabs and curries but even his kitchen houses the traditional charcoal oven to recreate the unparalleled depth of flavour.
Indeed, modern kitchen gadgetry may help chefs skip traditional methods of preparation but the tandoor oven is irreplaceable. Meats can be marinated with the right spices for the requisite number of hours, but putting in under a broiler or slapping it onto a barbecue doesn't guarantee the same effect. But why?
SEE ALSO:
Eat Your Way Through India's Harvest Festivals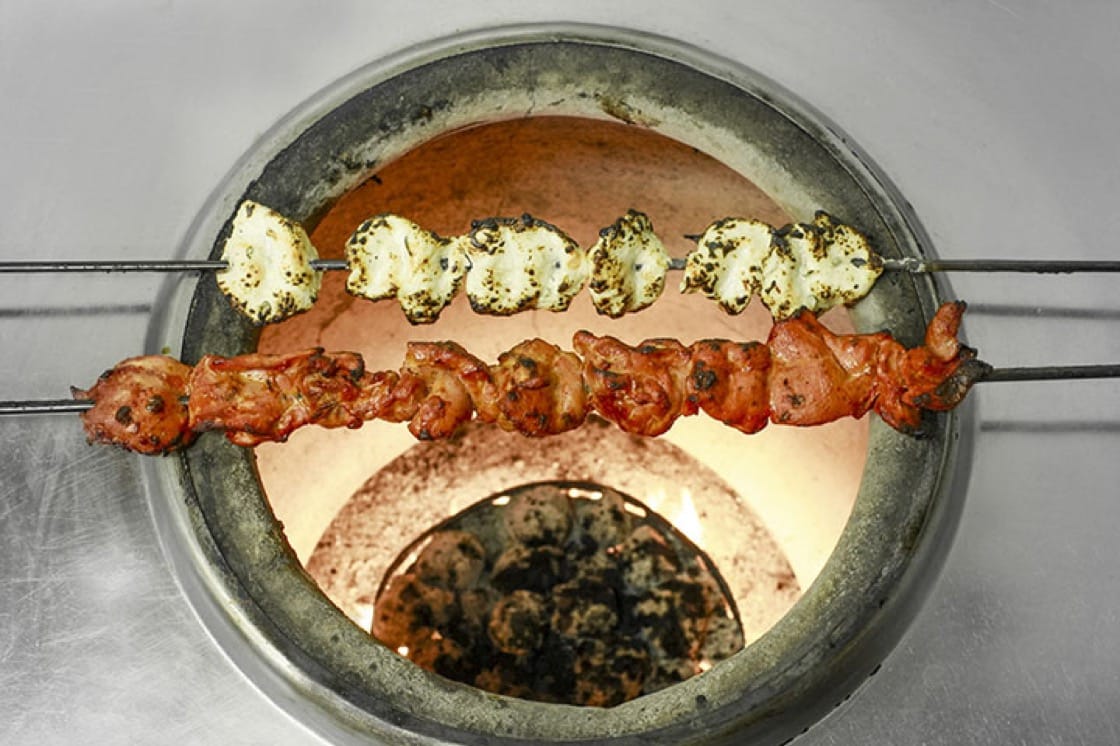 First, A Look At The Structure
Traditionally, tandoors are solid structures built into the ground. They are curved, cylindrical claypots that run on wood or charcoal and utilises extremely high temperatures to cook (ranging from 450 - 900 degrees).
Once heated to its full potential, the structure traps heat, ensuring the perfect sear and evenly cooked breads, meat and even root vegetables. The heat locks in the meat juices and breads are cooked to crisp exteriors and airy insides. The oven's shape, temperature and medium, all work together to 'tandoor cook' the food within.
While synonymous with Indian food, tandoor cooking was brought to the country with the Persians who invaded India via Punjab. Even so, it is Indian cuisine that has coined the term 'tandoori food', even though the dishes are essentially an amalgamation of the cuisines of North India's invaders.
SEE ALSO:
8 Michelin-starred Indian Restaurants Around The World
Modern Avatars
Today, modern tandoors run on gas or electricity and they range anywhere from top of the line, stainless steel and ceramic insulated ovens to budget-friendly drum tandoors seen in smaller eateries. Elegant, open-concept restaurant kitchens even prefer copper tandoors as they are more aesthetically pleasing. These modern versions are easier to maintain, insulated to ensure the exterior walls don't get too hot, and more economical with their prudent use of gas or electricity.
While they differ from traditional clay ovens that run on charcoal, it's a testament to how the flavoursome depths of slightly charred, smokey dishes stand the test of time.