"Mushrooms are a gift of nature," says chef Jayson Tang of one-MICHELIN-starred Man Ho Chinese Restaurant, where mushroom-themed feasts have been offered for the past few years. He even visited Yunnan to learn how mushrooms grow. "Yunnan is high altitude. You can experience four seasons in one day, and the temperature difference is huge, which makes it very suitable for growing crops. The mushrooms can grow even better with the current humidity." His tasting menu features around six to 10 different types of mushrooms. "The aroma and grassiness of matsutake are exceptional, while termite mushrooms are very sweet—even sweeter with an extended cooking time. Swollen-stalked cat (Catathelasma ventricosum) has a distinctive texture." Jayson points out that the taste of fresh mushrooms isn't actually that pronounced, so he often supplements dishes with dried mushrooms. For instance, his matsutake and teal soup is made with three different types of fresh and dried matsutake mushrooms. The dried matsutake has an excellent flavour, while the freeze-dried matsutake, which has been dehydrated at a low temperature, adds remarkable texture and aroma to the dish. These two types of matsutake mushrooms are simmered with the teal to make the soup. When served—and just like Yunnan guoqiao rice noodles—hot soup is poured over fresh matsutake mushrooms, then the soup is topped with even more fresh matsutake to enhance the overall texture and fragrance.

For every mushroom feast, it takes Jayson two days just to prepare the mushrooms.
Wild matsutake is a popular ingredient for many chefs in recent years. (Photo: Luen Kee Hoo)
This teal soup with three types of matsutake has an intoxicating aroma. (Photo: Nelson Wong)
When pairing and cooking mushrooms, Li Chi-wai, Chinese executive chef of The Legacy House, suggests to avoid ingredients that have overly strong flavours or they will overpower the mushroom's umami. Termite mushrooms with sponge gourd and razor clams, for example, is an excellent mushroom dish that is both sweet and fragrant, and a favourite of both adults and kids. Chef Li likes fresh matsutake the most. "Matsutake is extremely demanding when it comes to growth environment. It only grows in unpolluted forests, so it's a rare find and very expensive. Matsutake is also a valuable natural medicinal ingredient with high nutritional value. It has anti-ageing properties and can also boost your immune system. It has the most refreshing and unique taste with a subtle aroma. Pan-frying with salt is the best way to preserve its original flavour." (Photo: Rosewood Hong Kong)

Simple pan-frying is enough to fully release the aroma of fresh matsutake. (Photo: Rosewood Hong Kong)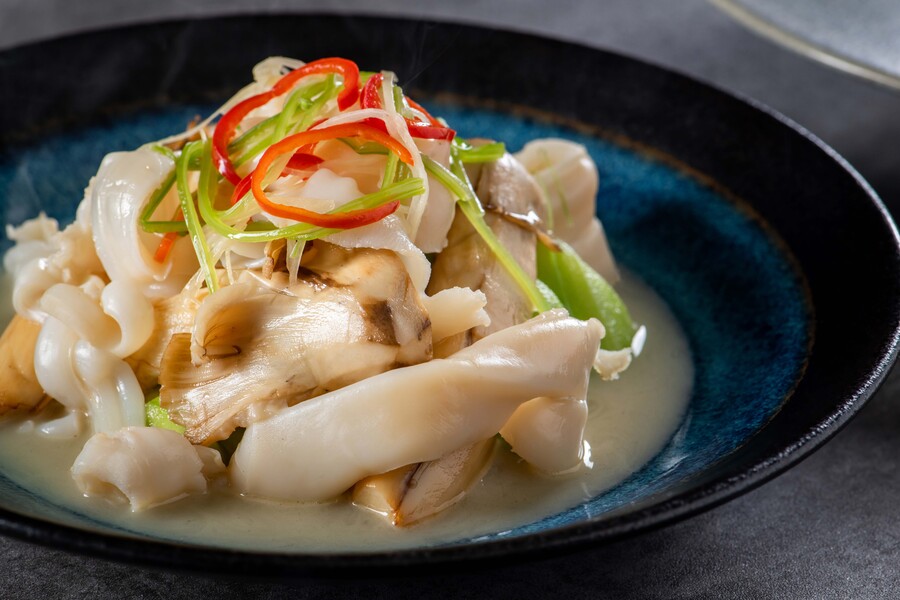 Poached razor clams with termite mushrooms and sponge gourd (Photo: Rosewood Hong Kong)
Which mushroom is the most difficult to work with? Even chef Li agrees that ganba fungus is the most challenging to prepare, so this wild mushroom didn't make it onto his mushroom feast menu this year. Jayson from Man Ho Chinese Restaurant says, "Fresh ganba fungus is covered in dirt. I remember for the first year we had to handle 10kg of fresh ganba fungus. My team and I, the 10 of us spent six hours cleaning them. After that, I told my team that it's too much trouble, and we're never using this type of mushroom again." Jayson says that ganba fungus won't appear in most mushroom dishes since it's expensive and troublesome to prepare. "Having said that, ganba fungus has such a special fragrance, like the Chinese truffle. Its aroma is very long-lasting too, so if you cook it for longer, the taste is even more exceptional." Confit dried ganba fungus is one of Jayson's preferred way of preparing this mushroom, which can be made into a fragrant and very memorable rice dish by adding Asian swamp eel and tangerine peel.

Man Ho Chinese Restaurant's rice with Asian swamp eel, ganga fungus and tangerine peel (Photo: Nelson Wong)
Containing up to 70% water, most mushrooms are like sponges, so one should be mindful when cooking mushrooms, as they release moisture during the cooking process. For instance, sarcodon aspratus cannot be soaked in water for too long, or its aroma and flavour will disappear. Jayson soaks one catty of dried mushrooms in four catty of water, then he scrubs away the dirt on the mushrooms before dicing them. "If we prepare it this way, the flavour will dissipate. This is why we use the same water in which the mushrooms were soaked for stir-frying, so the mushrooms can re-absorb its original flavour." The mushrooms are then stir-fried with fish maw without the ingredients clumping together.

Stir-fried fish maw with osmanthus and sarcodon aspratus (Photo: Nelson Wong)
How many types of Yunnan mushrooms do you know? (Photo: Luen Kee Hoo)
Nelson Wong is the owner of Luen Kee Hoo which supplies mushrooms to MICHELIN-starred restaurants. He says that wild Yunnan mushrooms have been widely used in many restaurants in the past decade. In the past, most people thought European mushrooms were better, but in fact, this really depends on the types of mushrooms. Chanterelle mushrooms from Yunnan actually has better quality than those from Europe. They have a richer flavour and are even more expensive. However, Yunnan's black truffles have nothing on the French ones. "In recent years, MICHELIN-starred chefs of Chinese and western cuisines love using matsutake mushrooms. They have a light and pleasant fragrance that is so versatile." Morels and porcini mushrooms are very popular ingredients in western cuisines. Many of the chefs grew up picking mushrooms in the forests of their hometowns. They remember the aroma of wild mushrooms, so even if cultivated mushrooms are cheaper, they tend to choose wild mushrooms. "Wild mushrooms can be over ten times more expensive than cultivated ones."

In Yunnan, whenever mushrooms are picked, the seeds of the same mushrooms are planted back in, so they can pick mushrooms in the same spot again next year. (Photo: Luen Kee Hoo)
Each type of mushrooms has its unique flavour profile. (Photo: Luen Kee Hoo)
One of the reasons why MICHELIN-starred restaurants in Hong Kong choose to use Yunnan mushrooms on their menus is to reduce carbon emissions. The short-distance transportation can also reduce losses. "Each time there's a shipment of mushrooms from Europe, it's always a gamble. There's about 50% loss or wastage." Nelson remarks. Mushroom is an ingredient very sensitive to its environment, and spoils very easily due to temperature shifts. The staff spends a long time sorting through the produce. Global warming, the drought in Mainland China and other extreme weather conditions can all affect mushroom harvests, so the next time you savour mushrooms, take a moment to appreciate these rare and fabulous fungi.

---
Text by Gloria Chung, translated by Iris Wong. Read original article here.

Hero image: Rosewood Hong Kong. Other images provided by interviewees.