If it wasn't for Ding Ba, one probably wouldn't have known that there's a little idyllic hideaway in Ngau Chi Wan in Kowloon. From Choi Hung MTR station, head up the stairs and you'll find a small alley dotted with old shops—much like the laneways in Taiwan.

"I've been in Hong Kong for nine years and live in Tiu Keng Leng. I ended up at this part of Choi Hung one day and thought this store was very cute. It reminded me of Taiwan, so I chose to set up shop here." Ding Qin-zhi, fondly known as Ding Ba ("Father Ding"), served in the Taiwanese army for 21 years. After his retirement, he made use of the recipes taught to him by old soldiers, and opened a stir-fry restaurant (much like Hong Kong's dai pai dong) in Taiwan. After moving to Hong Kong, he began working as a private chef and had been chefs at different restaurants. Ding Ba was content with his life, but seeing many fellow Taiwanese suffer from homesickness during the pandemic had urged him to open a snack store in hopes of giving Taiwanese people in Hong Kong a gathering place.

Ding Qin-zhi, fondly known as Ding Ba.
Ding Ba's eyes well up as he recalls how he started his business. "I'm very happy to be recognised by MICHELIN, but I'm just trying to serve Taiwanese and Hong Kongers the purest flavours. I won't try to change the taste with fame and fortune. I'm happy but not conceited," he says. "During the pandemic I did some group buying to help Taiwanese people in need. Oftentimes they were crying while they ate." Ding Ba's genuine disposition has attracted many Taiwanese visitors. The store-front design is simple and there are only two tables for streetside dining, but this simplicity really imbues a Taiwanese night market-like ambience. Many regular customers enjoy sitting outside with a beer and some snacks.

Tom is a regular customer of Ding Ba's. He enjoys the food as much as the warm and friendly vibes.
Ding Ba offers mainly Taiwanese-style snacks like pork intestine vermicelli soup, oyster vermicelli soup, fried chives pancake, potstickers, braised pork rice, and traditional-style black tea. Items on the menu are very reasonably priced between HK$15 to HK$40. "My philosophy is this," Ding Ba says firmly. "I would only sell what I'm willing to eat." Even with his small kitchen, he is determined to maintain the original flavour of his food offerings. Not taking any shortcuts, he makes everything from scratch without the use of MSG, preservatives or colourings. Take the egg pancake dough as an example. He uses the traditional method where natural old dough is mixed in to give his pastries a unique aroma and crispiness. Ding Ba is loyal to the taste of Taiwan. At his store, 80% of food ingredients are imported from Taiwan, such as flying fish, chilli bean paste, crispy fried shallot and vermicelli. He makes the other condiments and sauces himself. Six different ingredients are mixed together to create the sauce for oyster omelettes. He doesn't use any ready-made sauces. Even the stinky tofu is made by Ding Ba himself. "There are two types of fried tofu. One type is made using tofu submerged in the same water where vegetables were soaked and fermented for three months; the other kind is marinated with meat and shrimp shells for a lovely aroma." Ding Ba's attention to detail can also be seen in his Taiwanese popcorn chicken dish: large chicken thigh fillets are covered in potato starch and flour; after deep-frying, the chicken fillets are then added with basil, garlic and pepper to complement the crispy batter and succulent meat. Braised pork rice is the authentic Keelung flavour where the meat was braised for 150 minutes.
RELATED: Behind the Bib: Both Street
Made with old dough and without yeast, the wrappers of the cabbage potstickers are kneaded by hand. The potstickers are made to order for a homely flavour.
Ding Ba says that basil is a key ingredient to making fragrant Taiwanese popcorn chicken.
The homemade pork intestine vermicelli soup has just the right viscosity. Ding Ba recommends adding a dash of vinegar and chilli sauce.
Flown in from Taiwan, these large oysters are suitable for making oyster omelettes.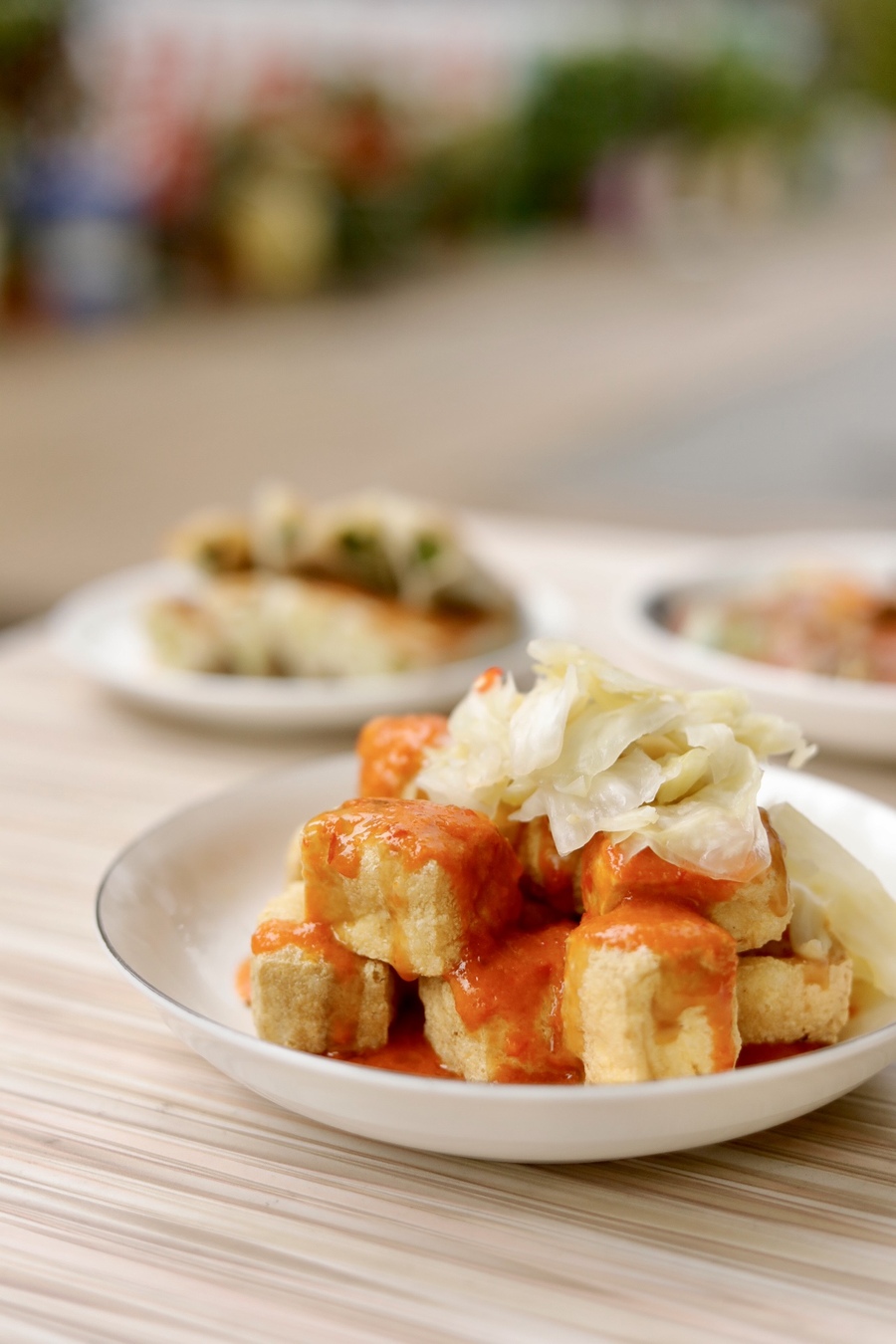 Authentic Taiwanese-style stinky tofu with crispy Taiwanese kimchi is truly irresistible and a rare find in Hong Kong.
Ding Ba has just opened a branch in Mong Kok's Fa Yuen Street, and continues to provide authentic, MICHELIN-recommended Taiwanese snacks to fellow Taiwanese and Hong Kongers. Ding Ba insists on keeping the snacks at the same price so more Taiwanese people residing in Hong Kong can enjoy familiar flavours and ease their homesickness.

---
Photos and text by Gloria Chung (@foodandtravelhk), translated by Iris Wong. Read original article here.