Unusual, unique, out-of-the-ordinary; here are some of the quirkiest restaurants in the Michelin Guide.

Cin Cin, Brighton
Bib Gourmand
20 - 32 GBP • Italian

A single garage converted into a restaurant? Welcome to Cin Cin. It's unsurprisingly small and the horseshoe counter – which seats 21 – delivers an intimate and engaging experience. Start with an Aperol spritz and splurge on homemade pasta and small plates.

Träkol, Gateshead
Michelin Plate
21 - 49 GBP • Modern British, Barbecue

You can't miss this assortment of shipping containers under the mighty Tyne Bridge – a place which ticks all the hipster boxes. Meats are dry-aged and cooking takes place over an open fire; there are small plates and feasting options, and it even has its own microbrewery and a bicycle repair shop!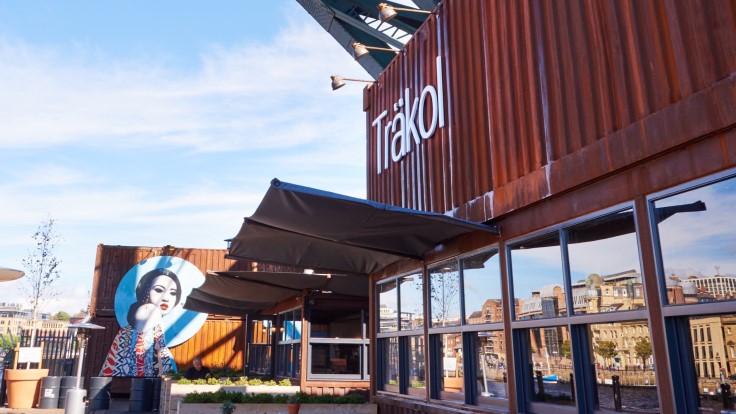 About 8, Birmingham
Michelin Plate
88 GBP • Creative

An immersive, kitchen counter dining experience featuring atmospheric lighting as well as images and dishes themed around chef Andrew Sheridan's career and the number 8. The original 8 course menu is presented in an engaging and theatrical style and dishes might include 'Eight Days a Week'
or 'Lucky 8'.

Bell, Ticehurst
Michelin Plate
25 - 35 GBP • Traditional British

This 16C country inn's interior is in complete contrast to its historic looking outside. Expect top hats as lampshades, tubas in the loos and quirky details galore. Menus offer tasty, original dishes – some with Asian influences. Rustic bedrooms and luxurious lodges share the pub's distinctive charm.

Black Rat, Winchester
Michelin Plate
34 - 57 GBP • Modern Cuisine

There's a unique bohemian ambience at this special, shabby-chic style pub. Start with a gin and tonic from their extensive collection in the bric-a-brac filled bar before dining on modern dishes with adventurous combinations and original touches – perhaps in one of the heated huts in the garden.

Gardener's Cottage, Edinburgh
Michelin Plate
34 - 45 GBP • Modern British

Close to the city centre, this sweet, intimate building, with its two cosy rooms and their long communal tables, was once home to a royal gardener. Set menus showcase top quality seasonal and local ingredients in light, modern dishes, with vegetables, herbs and soft fruits from the kitchen garden.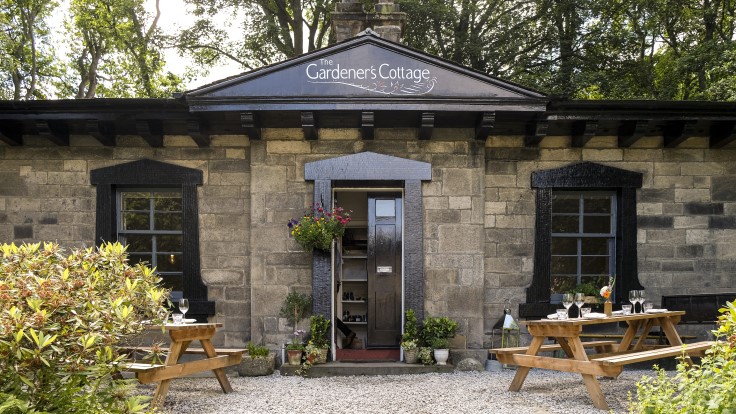 Ubiquitous Chip (Restaurant), Glasgow
Michelin Plate
35 - 64 GBP • Scottish

Set on a cobbled street, this iconic, passionately run eatery has always been known locally as 'The Chip'. The mezzanine brasserie serves Scottish favourites but, for the full experience, dine on modern classics in the ground floor restaurant complete with ponds, fountains and greenery!

Delahunt, Dublin
Michelin Plate
55 EUR • Modern Cuisine

This atmospheric old Victorian grocer's shop is deliciously different: the old clerk's snug is now a glass-enclosed private dining room, there's speakeasy-style bar with open fires – and original features abound throughout. Flavoursome modern dishes come with terse menu descriptions.

Sketch, Mayfair

145 - 150 GBP • Modern French

39 - 89 GBP • Modern Cuisine
Set in the former House of Dior, this spellbinding dining emporium is a feast for the eyes as well as the stomach. The striking, sugar-pink Gallery is adorned with David Shrigley's deadpan sketches, whilst the Lecture Room & Library is joyously colourful and lavishly decorated. Even a trip to the loo is an event in itself!
Park Chinois, Mayfair
Michelin Plate
30 - 105 GBP • Chinese

It's all about glamour, good food and live music at this opulent, exquisitely decorated restaurant, whose inspiration comes from 1920s Shanghai. The ground floor exudes comfort and luxury, while downstairs has more of a nocturnal, mischievous feel – and the atmosphere is electric, especially when the music kicks in.