As the old saying goes, a year that is good for wine is bad for truffles. A year that is good for truffles is bad for wine. As it turns out, 2022 was challenging for both wine and truffles because of the scorching summer heat. Dry, compact earth hardened by high temperatures made for difficult growing conditions. Truffles found this year were small and lacking in nuanced aromas, but that didn't stop Piedmont's celebrated Trifolau, or truffle hunters, from digging around in the forests of Piedmont looking for the prized subterranean tuber.


Trifolau Sergio Cauda of Cisterna d'Asti, Piedmont/ © Monica Larner
In mid-November, I spent a chilly afternoon searching for white truffles with truffle hunter Sergio Cauda and his two dogs (one still in training), Fiona and Maria. You might recognize Sergio from the 2020 feature film The Truffle Hunters.
We search an area of forest, permitted for truffle hunting by an association of which Sergio is a member. Damp autumn leaves cover the trails and the wooded areas are rich with oaks, poplars, willows and linden trees. Sergio wears green gloves and carries a geologist's hammer for digging around the tree roots.
The younger dog in training, Fiona, is on a leash for most of the afternoon. She has not leaned all the tricks to truffle hunting yet and Sergio is patiently teaching her and pulling treats from his pocket as little rewards.

Truffle dogs Fiona and Maria/ © Monica Larner
"They are like people", says Sergio. "I speak to my dogs and they understand everything."
Sergio and his two canine companions walk an average of 15 kilometers per day looking for truffles, 11 months out of the year.
From January to March, he looks for the black Moscato truffle (Tuber brumale var. moschatum De Ferry). These are usually ground to make sauces and pâtés.
In March and April, he looks for the Bianchetto truffle (Tuber Borchii Vittadini) that loves to form on the roots of chestnuts and pines.
From May until July, he looks for Summer truffles or Scorzone (Tuber aestivum). Truffle hunting is not allowed in the month of August in order to allow spores to become baby truffles. Sergio begins to take his dogs for long daily walks to get them in shape for the busiest months coming next.
Starting in September and lasting until December, he looks for the most expensive and prized Tartufo Bianco d'Alba, or white truffle (Tuber magnatum pico). There is a truffle fair in Alba in November when prices per gram are set and the market is hot.

Digging holes for earthy nuggets/ © Monica Larner
"I am obsessed with truffles", he declares. "Sometimes I can't fall asleep at night because I am thinking where I should be searching next."
In his time off, Sergio is a drummer in a local rock band. He also uses sound to find his valuable haul.
"You can find truffles when you tap on the earth. If there is hollow sound, there is no truffle. But if the ground reverberates with a solid Boom! Boom!, you probably have a truffle underneath."
We are about to find our first truffle of the day. As Sergio continues to explains his hunting philosophy and procedures to me, Fiona pulls on her leash and breaks free. She digs frantically at the roots of a nearby tree, kicking up soft clumps of damp soil.
"Fiona, Fiona, STOP!", he yells panicked. Sergio runs to his dog and tries to pull something from her mouth. He slumps over onto his side shaking his head in disappointment. The young dog with shiny black eyes wags her tail looking for approval, maybe even a treat from her owner.
"What happened?", I asked.
"She ate it", he says. "She hasn't yet learned that part yet."

Freshly cut Tajarin pasta with white truffle at Trattoria Antica Torre in Barbaresco/ © Monica Larner
Where to Eat
Here are a few recommendations where you will definitely find white truffles when in season. Year round, you can savour the local cuisine of Piedmont with specialties ranging from Bagna Càuda, Vitello Tonnato and Battuta di Fassona, to Ravioli al Plin and more in the homely local eateries of the Langhe. The area is also home to a high concentration of Michelin-Starred restaurants with creative and often very colourful takes on local specialties.


This One-Michelin Star restaurant in Treiso has a panoramic dining room, a traditional menu and a huge selection of Piedmont cheeses. One memorable dish is a poached egg served in a wooden box topped by generous shavings of white truffle.

La Ciau stands out for having one of the best wine cellars in Europe, with thousands of collector-worthy bottles worth millions. In one part of the cellar, the entire ceiling is covered by bottles of Giacomo Conterno Barolo Riserva Monfortino (maybe Italy's most expensive wine).

The wine cellars at La Ciau del Tornavento are insane/ © Monica Larner
Located in the village of Barbaresco, Campamac is especially good at barbecued grilled meats, especially local Fassona beef. The dining room is sleek and modern in style, but warm in atmosphere. A great way to start a meal is with a shared order of Bagna Càuda. Fresh vegetables are used to dip into a warm cream sauce with anchovies and garlic. Try a plate of Piedmont's meat-stuffed Agnolotti ravioli or one of the grilled meats as your main.

A serving of Bagna Càuda at Campamac/ © Monica Larner
Perhaps the diamond in the crown of Piedmont cuisine is Piazza Duomo. This Three-Michelin Star and Green Star restaurant is located in downtown Alba. You enter the Art Deco dining room from a discreet doorway off a dimly lit alleyway, then inside is an explosion of colour.
Chef Enrico Crippa sources many of his trademark ingredients – from black cabbage to edible flowers – from his four hectares of organic garden and greenhouse. Other specialty items like white truffles to match with meat and pasta, and the Nocciola Tonda Gentile delle Langhe for making the moist hazelnut cake, come from trusted purveyors.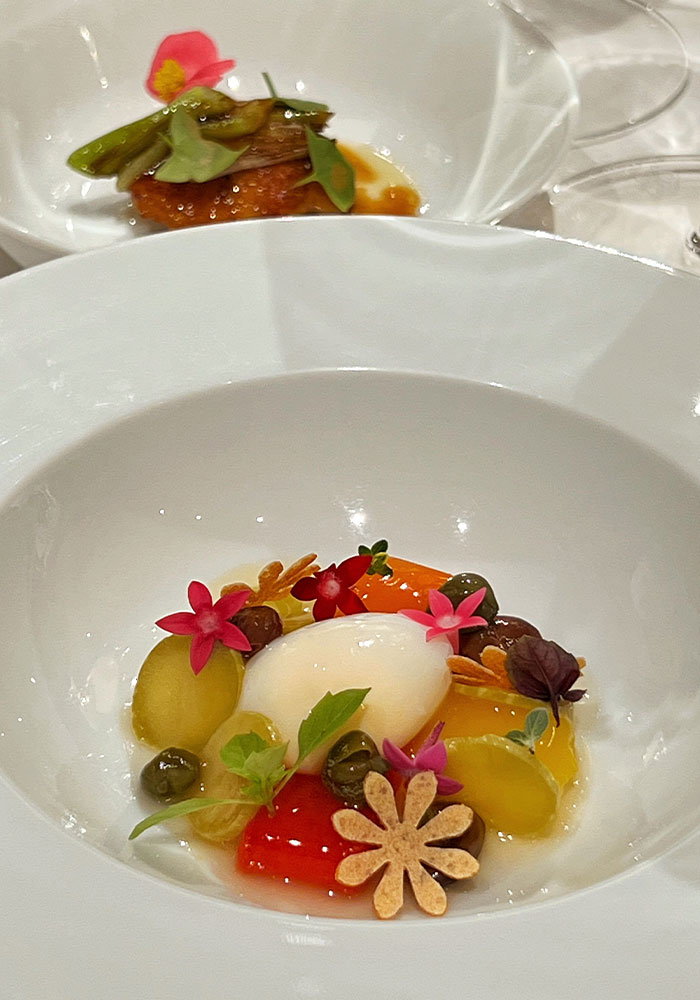 Garden fresh ingredients are the protagonists at Piazza Duomo/ © Monica Larner
Five Wine Recommendations
A certified organic wine, the Cavallotto 2016 Barolo Riserva Bricco Boschis Vigna San Giuseppe is born in vineyards on a beautiful ridge in Castiglione Falletto, with wide views of both the sunrise and sunset. From this magical site at the heart of the Barolo appellation comes a wine that represents the very best of vintage and territory. Dark fruit, dried cherry, wild plum, rose and iron ore meet at a perfect intersection that gives this Barolo a beautiful sense of balance and inner energy.

The E. Pira e Figli - Chiara Boschis 2018 Barolo Cannubi is a lovely wine with a classic playlist of true Nebbiolo aromas. This certified organic wine exhibits wild berry, rose, dried lilac and an earthy touch of white truffle. However, the floral aromas and the lifted fruit are the protagonists in this balanced expression. Chiara farms is less than one hectare (just over 6,000 square meters), in the celebrated Cannubi MGA, with ancient calcareous clay soils from the Miocene era. This is one of the best wines of the vintage.
The Produttori del Barbaresco 2017 Barbaresco Riserva Rabajà is another spectacular release from this cooperative winery that hits it out of the ballpark with each set of new releases. That impressive track record includes this wine that delivers extreme focus, depth and integrity. The bouquet is very clear cut with dark cherry, tart plum, spice and blood orange, but it is also complex and fluid. It offers new perspectives with each swirl of the glass. From a hot vintage, the Rabajà is smooth, powerful and balanced. I would bet on long aging for this bottle.
Here's an exciting new addition to the growing Comm. G.B. Burlotto family of wines. The 2018 Barolo Castelletto opens to a soft and delicate inner core that is framed by wild cherry, liquorice and rose. The wine is beautifully tapered and streamlined on the palate, with very polished and silky tannins. Its great taste is thanks to the efforts of the "King of Verduno" (a.k.a. proprietor Fabio Alessandria), and the structured fruit from Monforte d'Alba.
With fruit from La Morra, the mid-weight 2018 Barolo Brunate shows a pretty softness and a delicate side, with dried rose, lilac and blue flower. The wine completes malolactic fermentation in barrique and is later moved into large oak casks for aging. This dual oak treatment is part of Vietti's secret recipe for producing the silky tannins and fine texture you taste here. The wine is recognised by that distinctive aromatic finale of liquorice and balsam herb.