Vietnam is more well-known for its street food and bustling alleyway eateries, but pioneering its contemporary, fine dining scene is a small group of chefs seeking to elevate the traditional recipes that have so defined Vietnamese cuisine—one of whom is Peter Cuong Franklin.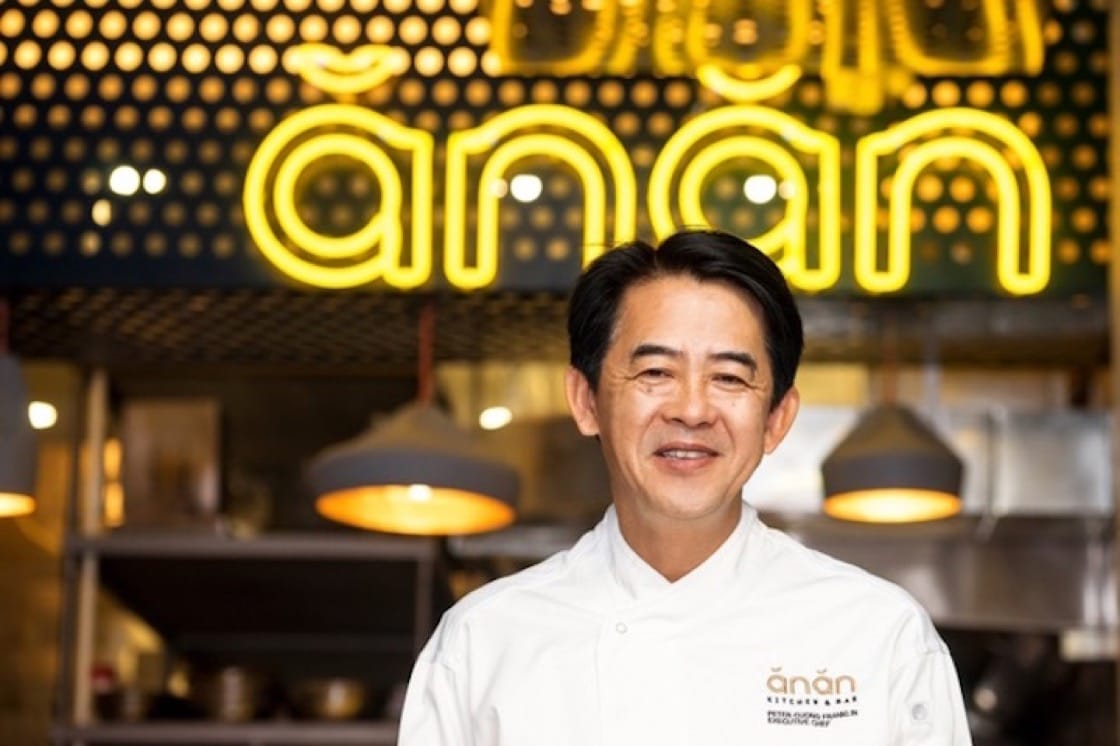 Having been raised in America, trained at Le Cordon Bleu in Bangkok, worked in prestigious kitchens around the world and opened his own restaurants in Hong Kong, he recently relocated to his country of birth, bringing his international influences to his latest venture
Anan Saigon
.
Dubbed Cuisine Mới, or New Vietnamese Cuisine, chef Peter connects traditional cuisine with modern presentation and techniques, elevating Vietnam's cultural brand through re-interpretations of the country's fresh and vibrant street food culture.
He will be in Singapore from 15 to 17 March to headline four events at
SPRMRKT Vietnam
, including a street food party on Friday evening, a four-hands brunch with
SPRMRKT
chef/owner Joseph Yeo, a culinary workshop and a takeover dinner on Saturday 17 March.
We have a chat with the chef about the changing face of Vietnam's culinary scene and his
US$100 banh mi
.
The foie gras Imperial roll at Anan Saigon.
What do you love about traditional Vietnamese cuisine?

I think traditional Vietnamese cuisine is among one of the best in the world because it is fresh, flavorful and balanced with a unique combination of culinary influences from French, Chinese and Southeast Asian cultures. In addition, the cuisine is blessed with a regional diversity of ingredients and dishes from Hanoi in the North to Hue and Hoi An in the central and Saigon and the Mekong Delta in the south. For me, the most exciting place to savour it all is in Saigon which has an amazing variety of regional cuisines from all over Vietnam.


What is Cuisine Moi to you?
Mới in Vietnamese means "new," but we take it to also mean fresh and modern. This new cuisine is about food that is not only up-to-date, but that has a history, a story and reference points in traditional techniques and local ingredients. My goal first and foremost is to learn as much as possible from the traditional food culture, and then search for new and innovative ways to modernise humble dishes to gourmet level using quality ingredients and modern cooking techniques, all while retaining the spirit and flavour of Vietnamese cuisine.
I want people to know that there is much more diversity to Vietnamese cuisine than just
pho
and banh mi. People should by all means try these iconic dishes but there are so many other dishes that are also worthwhile trying such as bò kho beef stew, chả cá turmeric and dill fish and nem nướng pork skewers—some variations of these dishes are currently available at Anan Saigon.
Banh xeo tacos are a signature at Anan Saigon.
How does that fit in with what you're doing at Anan Saigon?
I opened Anan Saigon about eight months ago with the aspiration to create a new style of Vietnamese cuisine in my motherland. Some people call it fusion but I prefer to call this style of cooking New Vietnamese. Anan Saigon incorporates many global influences and yet respects the deep history and traditions of Vietnam. Our signature dishes such as the Đà Lạt Pizza, Bánh Xèo Taco and Foie Gras Imperial Roll are inventive and surprising and at the same time familiar and accessible. My vision for Anan is to create a distinctively Vietnamese experience that can fit in to any global cities such as Singapore, Hong Kong, Tokyo, New York and London.
How, in your observation, has Vietnam's fine dining scene evolved in recent years?
France and Vietnam have a special relationship and cultural connection through its long colonial history. Within the past year I am starting to see more interests from French and other international chefs and restaurateurs looking for opportunities to open in Saigon. Along with
La Maison 1888
, the first restaurant in Da Nang in central Vietnam from
Pierre Gagnaire
, we also have the opening in Saigon of
L'escale
by
Thierry Drapeau
and the
Jardin des Sens
restaurant by French chefs Laurent and Jacques Pourcel. I think the next few years will be a very exciting period for Vietnam's culinary scene.
I believe that Saigon has great potential to be on the global culinary dining map, not only for cheap street food but also for creative cuisine, fine dining and other world-class food experiences. I hope that what we are doing at Anan Saigon and also collaborative projects such as SPRMRKT's Vietnam Cultural Showcase in Singapore can play a role to elevate Vietnam's cultural brand through food.
The team of Anan Saigon.
What challenges have you faced in trying to elevate Vietnamese cuisine? What has the reception been like when you do things like the US$100 banh mi?

The experience of trying to elevate Vietnamese cuisine has been quite interesting because we are challenging people's expectations and the basic human nature to resist change. However, as Vietnam becomes a modern nation, I believe the cuisine also needs to change in order to stay relevant. We have some detractors but overall, I have been quite surprised and happy with the positive support that we have received by both local Vietnamese as well as international guests who eat at our restaurant.

The US$100 banh mi.
The US$100 banh mi is a good example of my effort to change and elevate the cuisine. The sandwich has the perfect balance of porky goodness from different pork cuts along with fresh herbs and chilli heat all wrapped a crisp, light, warm baguette. Through hard work and ingenuity, the Vietnamese can make this tasty sandwich for about 20,000VND (about 1 USD).
The traditional banh mi already has a strong French influence with the charcuterie and baguette so we have created a US$100 product by making the banh mi even more French by adding sautéed foie gras and black truffle to the sandwich.
I want to make the sandwich luxurious but at the same time retain the integrity and balance of flavours that makes it so delicious. I think overall we have created a sense of curiosity and getting more people talking about Vietnamese traditional cuisine as well as considering the possibility of a New Vietnamese Cuisine for the New Vietnam.