Bristol is a city with its finger firmly on the pulse when it comes to dining out; its flourishing food scene—with its emphasis on independence and creativity—is surely one reason why the city is regularly cited as one of the best places to live in the United Kingdom.

Looking for the hottest restaurants in town? Here's where to go:

Casamia
Set in the old Bristol General Hospital building on the harborside and run by Peter Sanchez-Iglesias, Casamia has held a Michelin star since 2009. It's welcoming and homely, with a serving team who are charming and professional in equal measure; proof if ever it were needed that a star doesn't equal stuffy! The chefs bring the plates to your table themselves, and the skillfully prepared dishes are boldly flavored and highly creative.
Paco Tapas
This buzzy tapas bar is owned by the same family as nearby Casamia and named after its patriarch, Mr. Sanchez-Iglesias Senior. The eight-seater counter is set around a large open grill where top quality ingredients are cooked, creating authentic Spanish dishes which are full of flavor. Try the Chef's Menu for a best-of-the-best tour of Spain, with the likes of clams, jamón croquettes and wood-roast
gambas
.
wilks
An elegant yet unpretentious neighborhood restaurant run by experienced couple, James and Christine Wilkins. Chef James is well-traveled and skillfully balances different textures with flavors from around the globe. The menu lists top quality French and British ingredients—and dishes are crafted using carefully honed techniques and a light touch.
Bulrush
A relaxed, cozy restaurant set over two floors; sit downstairs to soak up the atmosphere from the on-view kitchen. Cooking showcases local—often foraged or organic—ingredients and preserving and pickling play a key role. The imaginative and well-balanced tasting menu is the most popular choice; combinations are original and provide plenty of contrasts.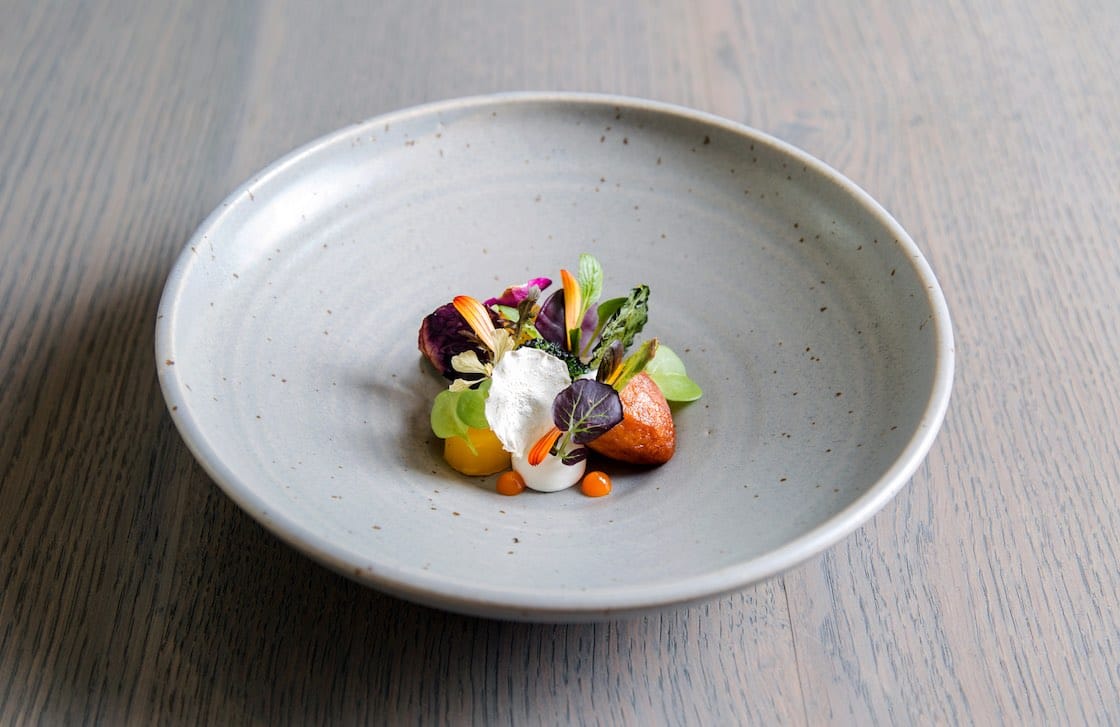 (Photo courtesy of Casamia.)
The best of the MICHELIN Experience in your inbox
Stay on the top of the best restaurants, offers, lifestyle, and events recommended in our guide cities.
Subscribe
Bell's Diner & Bar Rooms
This bustling city institution has an über-cool bohemian feel, with evidence of its days as a grocer's shop in each of the little rooms—and vinyl played on an old record player. The fresh Mediterranean cooking shows a good understanding of ingredients, and dishes are full of color and flavor. The well written wine list offers some 75 milliliter nips and service is friendly and engaging.

Root
Vegetables take center stage at this welcoming restaurant, with meat and fish taking a back seat. It's set in five first-floor shipping containers on the Wapping Wharf redevelopment; the large terrace is a popular spot come summer—and the young team runs the place with smiles on their faces. Seasonal produce from small local suppliers is used in simple yet flavor-packed combinations; they reckon three small plates per person is about right.

Tare
Also located in several shipping containers on the popular Wapping Wharf redevelopment—and named after the term for their empty weight—is this tiny restaurant with space for only 10 tables, run by two young chefs and their charming team. The concise menu lists creative modern dishes—which are both pretty on the plate and full of flavor.

Tare
Second Floor at Harvey Nichols
A spacious and elegant light-filled restaurant with stylish gold décor. There's a lunch menu for good value and a concise à la carte list offering original, modern dishes. A chic lounge bar is available for cocktails and light bites, and the staff displays attentive service.

Adelina Yard
The experienced chef/owners named their first restaurant after their old home. Well-presented, well-balanced modern dishes are brought to the tables by the chefs. Sit at the far end of the simple L-shaped room, overlooking the quay.

BOX-E
Wapping Wharf is home to Cargo, a retail yard made of converted shipping containers, and on the first floor is intimate BOX-E, a compact restaurant clad in chipboard. Dishes are modern and colorful, and the panna cotta is a must.

No Man's Grace
A simple, stripped-back restaurant with a decked terrace; proudly run by an experienced young chef. To the regulars this is both their local and a special occasion place, which gives it an atmospheric neighborhood feel. Unfussy cooking relies on just a few ingredients, allowing their flavors to shine.

Nutmeg
A long, narrow restaurant with a boldly stenciled wall, the à la carte menu at Nutmeg covers all 29 states of India, while the tasting menu rotates through the regions. Cooking is vibrant, spices are ground daily and the breads are delicious.

Wilsons
Wilsons really fits the bill of being a proper neighborhood restaurant. Vodkas infused with various fruits sit on the bar and large blackboards list the day's dishes. Highly seasonal cooking is gutsy, generous and flavorsome and some of the ingredients come from their own smallholding.

Kensington Arms
It might be painted 'stealth' grey but this smart Victorian-style pub stands out a mile for its warm neighborhood atmosphere. The menu evolves throughout the week and is a curious mix of the traditional and the modern.

Victoria Park
Pub classics, pizza and a great garden—this neighborhood pub is named after the nearby park and its jewel in the crown is its spacious terrace and tiered gardens which offer lovely views over the rooftops. Menus list a great mix of dishes that you'll know and love.

Hero image courtesy of Diego Torres.