The days when airport restaurants provided average meals to rushing passengers have long gone. As people fly more frequently, quality dining options before and after flights have come in high demand, prompting many chefs to step into the less explored territory. These days, airports have evolved into diversified culinary microcosms with acclaimed high-end establishments and eateries serving good food on-the-go.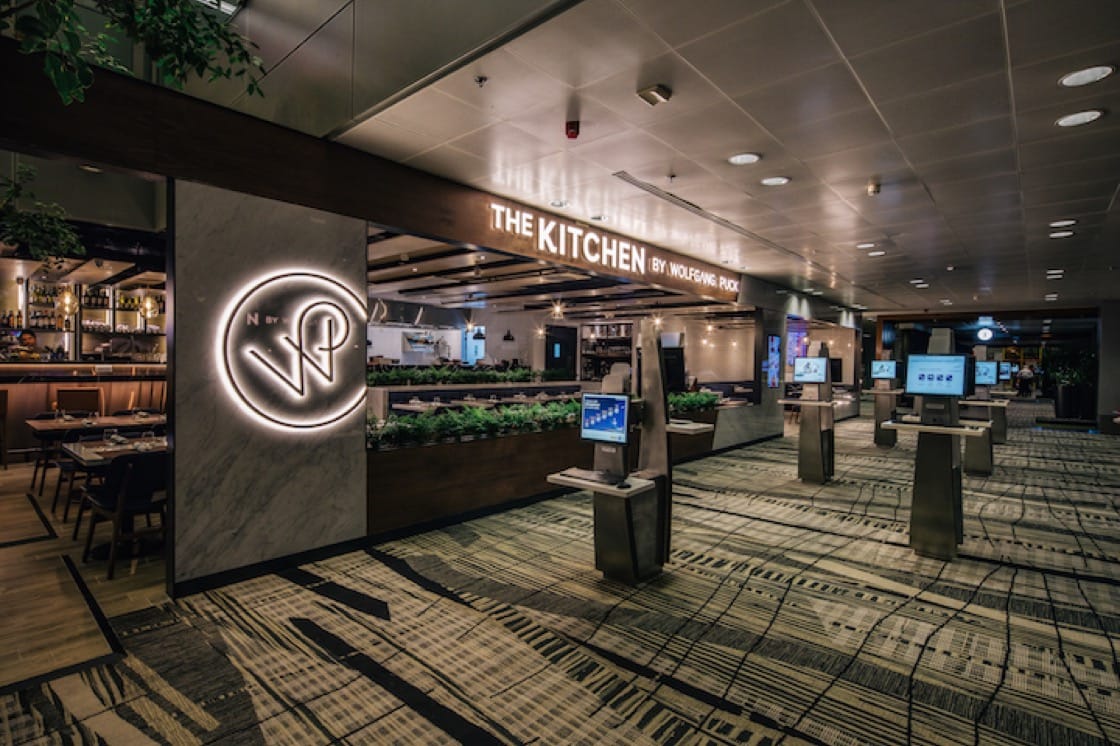 The Kitchen by Wolfgang Puck
Singapore Changi Airport, Terminal 3

The Kitchen is celebrity chef Wolfgang Puck's third venture in Singapore, after one Michelin-starred
Cut
and
Spago
in Bayfront. The special location of The Kitchen inspires Puck to incorporate dishes from various cuisines in his menu, including sour and spicy soup with chicken and shiitake mushroom, as well as Korean kimchi short ribs. The restaurant features casual dining at a lower price point. It opens from 6:00 a.m. to 1:00 a.m. to accommodate travelers on different schedules, with breakfast options prepared for early flyers.
(Photo courtesy of San Francisco International Airport.)
San Francisco International Airport, International Terminal
Named for the wild mustard flowers that bloom in the vineyards every spring, fans of Cindy Pawlcyn's
Napa Valley stalwart
will be delighted to find an outpost at SFO. Calling themselves a "fancy rib joint," Mustards dishes up American fare like little gem Caesar salad, Mongolian pork chop with sweet and sour red cabbage and baby back ribs with golden raisin slaw.
(Photo courtesy of Hung's Delicacies.)
Hong Kong International Airport, Terminal 2
Chiu Chow braised meat, or
lo mei
, is the speciality of Hung's Delicacies, and other signature dishes such as marinated goose slices, duck tongue in Chinese liquor and chicken's leg tendon with sesame are best served with the joint's homemade XO and chile sauces. Its approachable price level and authenticity attract diners from Hong Kong and all over the world. The branch of Hung's Delicacies in North Point was awarded one Michelin star in the MICHELIN Guide Hong Kong and Macau for five consecutive years between 2010 and 2014 before closing for rental reasons. You can also find this local favorite in the branches in Kwun Tong and Macau.
(Photo courtesy of OTG Management.)
Cotto
New York's LaGuardia Airport, Terminal C

Opened in 2014, Cotto is led by culinary luminary Michael White. The mint green dining tables and chairs makes for a jovial environment along with floor-to-ceiling windows. In addition to freshly baked pizza and pasta, the restaurant menu encompasses all kinds of antipasti, panini and gelati. Make sure you order garganelli with radicchio, speck and truffle butter before heading out.
Ming Court. (Photo courtesy of Cordis Hotels.)
Ming Court
Beijing Capital International Airport, Terminal 3
Ming Court bases its foundation on the eponymous
sister restaurant
in the Cordis Hotel, Hong Kong, which boasts one Michelin Star. It serves exceptional and native Cantonese cuisine, prepared by head chef Chan Yuen Lung. Special promotions, like the past collaboration with chef Mango Tsang Chiu Lit from Ming Court Hong Kong, give patrons something new to look for each time they visit.
Saison. (Photo courtesy of OTG Management.)
Newark Liberty International Airport, Terminal C
Alain Ducasse
is one of the household names when it comes to French cuisine, and you'll find all the classics at Saison in Newark Liberty International Airport. Dishes such as coq au vin, foie gras, escargot and
os à moelle
—a.k.a., bone marrow—pamper guests with delicate flavors. The venture's wine collection is also not to be missed, something to note in your travel diary.
Fish tacos at Border Grill. (Photo courtesy of Border Grill.)
Los Angeles International Airport, Tom Bradley International Terminal
Susan Feniger and Mary Sue Milliken opened an outpost of their modern Mexican eatery in LAX in 2013. On the menu at the relaxed cantina are a selection of quesadillas, tacos and burritos, as well as taquitos, tamales and chile rellenos.
(Photo by Simone Cannetty-Clarke.)
Heathrow, The Queen's Terminal
Heston Blumenthal's upscale cafe at Heathrow "caters to passengers who want exceptional food quickly," per the restaurant's website. Open for breakfast, lunch and dinner, guests can expect British favorites like day boat Cornish fish and chips with mushy peas and chicken tikka masala. A variety of pizzas, sandwiches and burgers are also on offer.
(Photo courtesy of 1300 on Fillmore.)
San Francisco International Airport, Terminal G
Co-owners Monetta White and David Lawrence moved their Southern-inspired eatery from San Francisco's Fillmore Jazz District to SFO in 2017. Hungry travelers will revel in menu items like barbecue shrimp n' grits, three-hour maple syrup-braised beef short ribs, tasso ham deviled eggs and fried chicken and rosemary waffles with chile-maple syrup.
---
This story was originally written by Tang Jie and translated by Vincent Leung. Click here to read the original version of this story.