Tsuta

1 Chome-14-1 Sugamo, Toshima-ku, Tōkyō-to 170-0002, Japan
Tel: +81 3-3943-1007
The world's only Michelin-starred ramen carries the title for good reason - as you slurp up the bowl of piping hot noodles, complex layers of umami slowly unravel in your mouth, thanks to the meticulous combination of chicken, beef and hamaguri clams that are simmered into its dashi broth. The 'Japanese Soba Noodle' moniker in its signboard is no misnomer, in case you were wondering. Tsuta's thin ramen is made in-house based on chef-owner Yuki Onishi's original recipe that works in buckwheat, an ingredient that forms the basis of soba noodles. Though the shoyu ramen is the most popular here, don't miss its seasonally changing specials or "collections", inspired by Onishi's foreign travels as a former apparel salesman, such as a tsukumen (cold soba noodles) served with a coriander and ginger dip.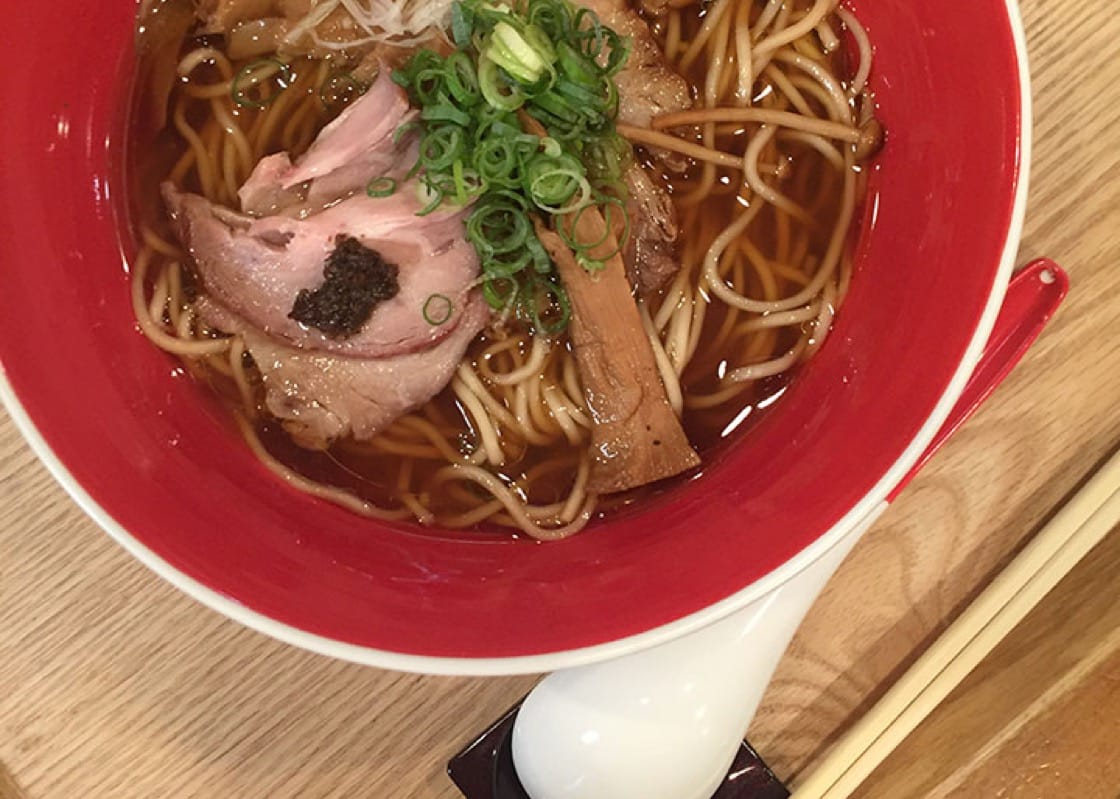 Kyourakutei

Kagurazaka hall 1F, 3-6, Kagurazaka, Shinjuku-ku, Tokyo, 162-0825, Japan
Tel: +81 3-3269-3233
One of eight Michelin-starred soba restaurants in the 2016 Michelin Guide Tokyo, Kyourakutei is located in a little alley off the Kagurazaki dori, about a 10-minute walk from Iidabashi station. Kyourakutei specialises in the art of making teuchi (hand-cut) soba noodles using grain like seeds sourced from Aizu in Fukushima prefecture, where the owner is from. And it isn't just marketing spiel: all their noodles are freshly milled on the day that they are served. Watch this happen before your very eyes on the millstone placed by the entrance.
Kyourakutei's English menu comes complete with hand-drawn cartoon doodles and the recommended ¥2,400 Ten Zaru and Kisetsu Ten Zaru sets (S$32 each) offer a decent soba and tempura combination for first-time visitors unsure of what to order. Clamber onto the counter seats by the open kitchen for the best view of fresh vegetables and ingredients such as Japanese tiger shrimp and conger eel being deep-fried to a golden crisp in a light film of tempura batter. After finishing the noodles, they bring you a pot of sobayu (broth), which you can pour into your cup of dipping sauce and slurp up for a comforting finish to a delightful meal.
The best of the MICHELIN Experience in your inbox
Stay on the top of the best restaurants, offers, lifestyle, and events recommended in our guide cities.
Subscribe
Katsu Zen
6-8-7 Ginza, Chuo, Tokyo 104-0061, Japan
Tel: +81 3-3289-8988
The only Michelin-starred tonkatsu restaurant in the Michelin Guide Tokyo sits on the fourth floor of a swanky Ginza shopping mall that is also home to department store Barneys. It was started by Etsuo Nagai , who has over 50 years of experience cooking this Japanese dish, and today runs it with his wife Kayoko, son Daisuke and his soft-spoken daughter Tomomi, who runs the front of house. Nagai's quest for perfection shows in his homemade panko breadcrumbs that are deep fried to a finer, lighter crisp than in other eateries. The black Berkshire kurobuta pork they use is from a free-range farm on the hillside of Mount Kirishima in Kyushu.
Reservations are necessary as there are only eight bar seats and a private room available, but this makes it easy to strike up conversation with the eatery's regular diners, largely well-dressed and well-travelled Japanese businessmen. For a la carte orders, you can customise your bowl by choosing from three types of pork: kurobuta, the chef's pork selection or Iberico, and between different cuts such as classic tonkatsu loin and tenderloin, or grilled or roast loin. Lunch sets start from ¥3,800 (S$51) and from ¥8,000 (S$108) at dinner for a full-course meal inclusive of a daily starter, seasonal salad, a dish of seafood from Tsukiji market, a daily special dish, a plate of tonkatsu, rice, miso soup and dessert.
Nakajima
B1 Nichihara Building, 3-32-5 Shinjuku, Shinjuku-ku, Tokyo, Japan
Tel: +81 3-3356-4534
Nakajima may be hidden in the basement floor of a nondescript buildings not far from Shinjuku station, but it doesn't take much effort to find it: simply look out for the queues that snake out of the restaurant, up the stairs and onto the ground floor. The crowds are there for good reason - Nakajima serves up a set lunch at a bargain price of ¥800 (S$11) in a beautiful wood-decked kappo-style dining room. Iwashi (sardines) freshly carted over from Tsukiji market take the spotlight at lunch, and you can have them in any one of five ways: served as sashimi tossed with sesame, fried with panko, salt baked, simmered in a soy sauce dashi, or rendered into an egg casserole on a sizzling hot plate. The set menu is rounded out with a miso soup, rice, and tsukemono (pickled vegetables), served with green tea.
The queues move quickly outside this eat-and-run joint, and service is professional and efficient. Snag a counter seat for a front-row view of the kitchen action as chefs prep for the dinner service that costs upwards of ¥5000 (S$68).
This post was made possible thanks to the support of Delta Air Lines. Delta Air Lines flies direct from Singapore to Tokyo once a day from S$590. Plan your trip now.