Located in the French Belle Époque styled L'Escape Hotel in downtown Seoul, L'Amant Secret is a contemporary restaurant led by Head Chef Son Jong-won, which is one of the newest 1-MICHELIN Star restaurants in Seoul. The lushly decorated restaurant captivates diners by offering a special dining experience that captures the authentic atmosphere of Seoul, a style of cuisine that you won't find in New York or Paris. From street foods to traditional dishes with a long history, dishes that are familiar to Koreans are reinterpreted with chef Son's sophisticated and creative sensibilities and unfolded on guests' dining table.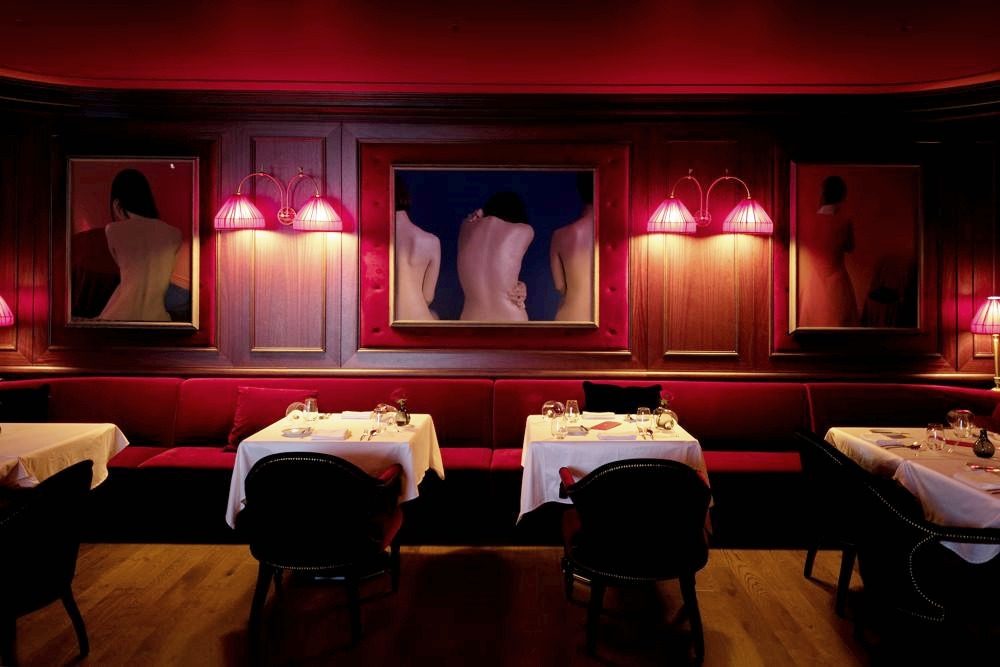 Dining room decked in artwork at L'Amant Secret ⓒL'Amant Secret
What's your cuisine philosophy at L'Amant Secret?
Finding good ingredients, handling them well, and delivering each item's natural taste in the best condition is the fundamental strength of good cooking. In addition, I hope 'dining out' with us is not a rigid event, but a fun and enjoyable experience – like a pleasant journey. Once someone visits here, I want to make this place their favorite restaurant. When there's something to celebrate, hopefully L'Amant Secret would be the first option that comes to mind at an important moment.

In my opinion, the essence of fine dining is 'pleasure'. I try to pay close attention to small details so that our guests can feel comfortable while enjoying to the maximum the pleasure of food and hospitality. When we serve our dishes, we show our guests the ingredients in the cooking process, such as the whole quail in hay smoke before portioning it, and I always aim to personally serve at each table at least once and communicate with the diners.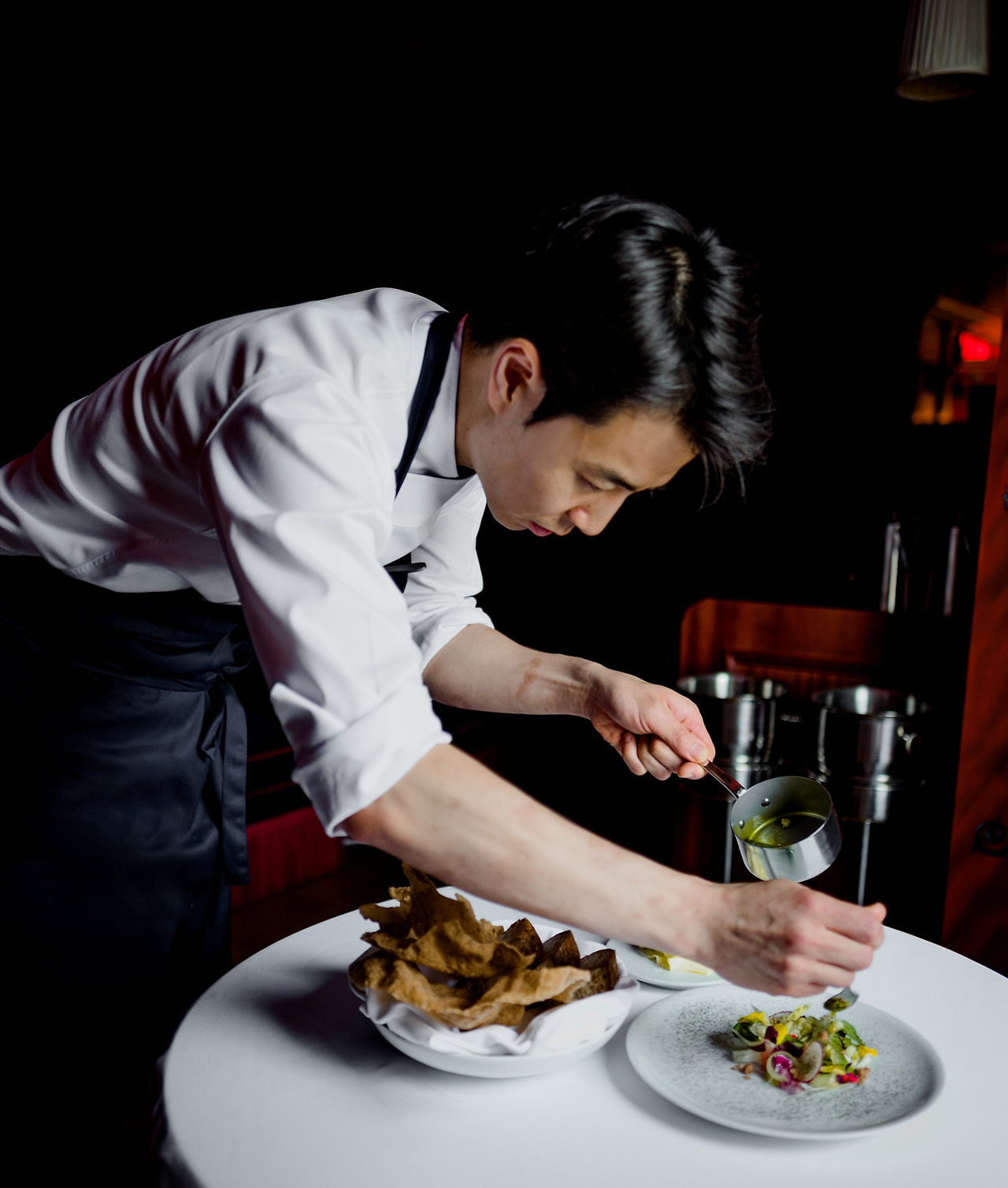 Chef Son Jong-won personally serves at the dining table to connect with guests ⓒL'Amant Secret
What is one of L'Amant Secret's signature dishes?
Just as there is a family motto at home, we also have a motto. It's a simple word – evolve. We have retained our Egg and Caviar menu since the opening until now, and this reflects our attitude towards food as it continues to evolve little by little in every way, including recipes, sauces, presentations, and plates.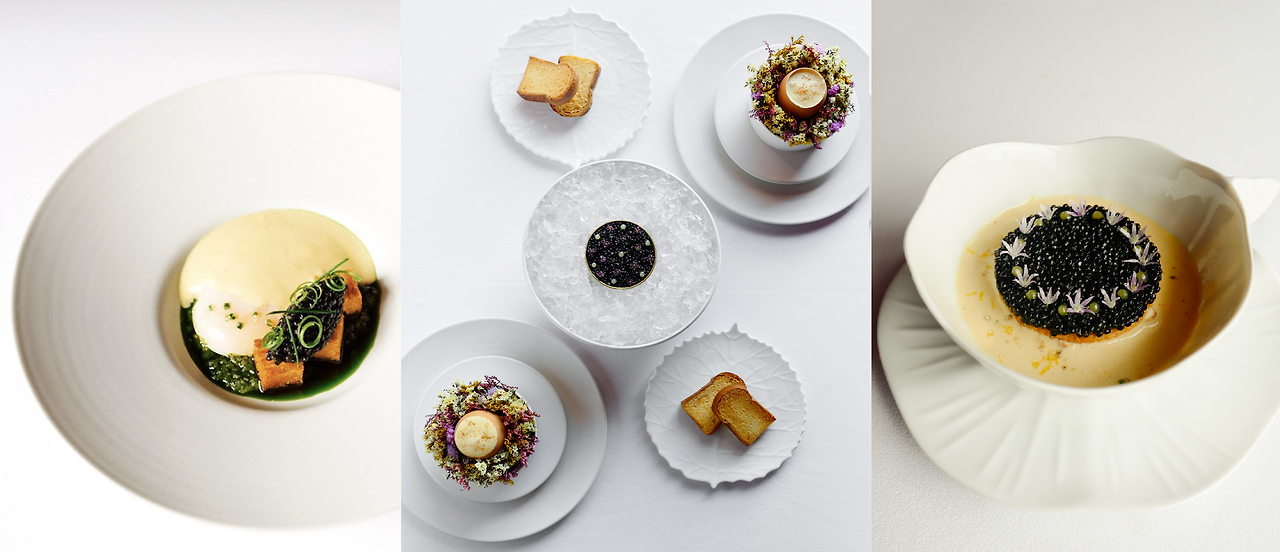 Various versions of the Egg & Caviar Menu ⓒL'Amant Secret
And there are so many great restaurants all over the world, but my mission is to create an authentic cuisine that can only be enjoyed here in Seoul, Korea. Let me describe a dish that incorporates the sensibility and culture of this dynamic city with a long history. Recently, we added a welcoming course of our menu called Namsan Trail; Namsan is the mountain you can gaze at from the window of our dining room. We prepared small bites of popular street foods in our L'Amant Secret's way, such as roasted chestnuts, tornado potatoes and gimbap that are typically enjoyed while walking down Namsan Ridge.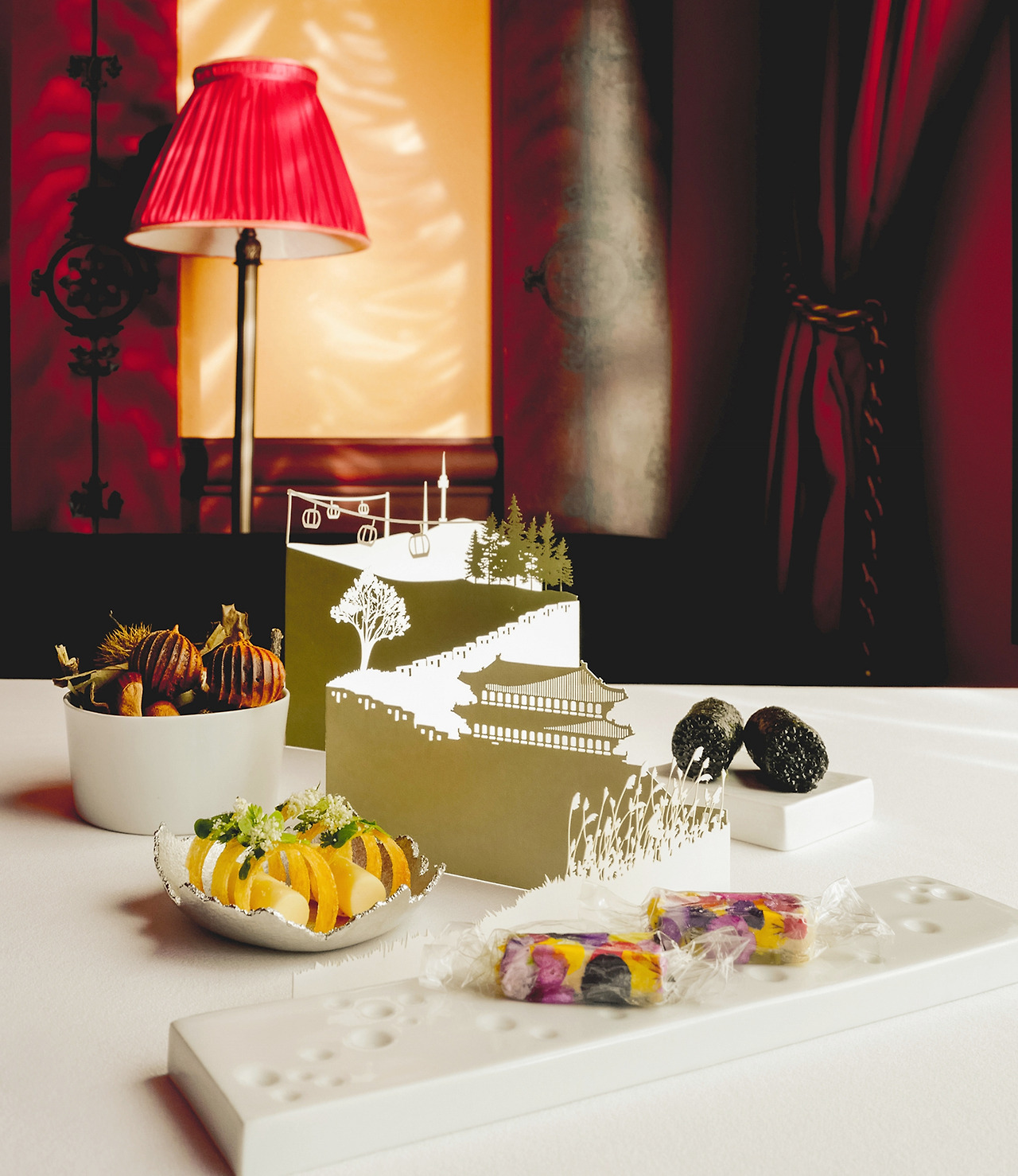 Small bites inspired by street food – Namsan Trail ⓒL'Amant Secret
What was your first encounter with the MICHELIN Guide?
Before I decided to make cooking my vocation, I was studying at an engineering college in Indiana, USA. On a trip to Chicago with some friends, we were looking to eat something extraordinarily delicious. In 2005, MICHELIN Guide had begun to review restaurants in the US, and at that time, there was a Chicago restaurant list too. So, we made a reservation at Spiaggia, one of the 1 Star restaurants in this famous guidebook.

Many things surprised me while dining there, such as the numerous varieties of bread, and the synchronized service as the waiters came to our table and served our dishes at the same moment to all. This was my first MICHELIN star experience, and it left a deep impression. After that, I visited other places that this red book introduced. While doing my culinary studies in New York, my MICHELIN Guide was always by my side.


What were your thoughts when you first heard from the MICHELIN Guide?
When I received the call that I was invited to the Michelin Star Revelation event, I felt more cautious than excited. It's known that restaurants that receive the Star would be called, but perhaps that may not be the case for us, I thought. After receiving the Star at the ceremony, I prayed. I thanked our kitchen team, the service team, and everyone who created and supported this space.


Lamb dish inspired by a description of lamb stew from an Ernest Hemingway novel ⓒL'Amant Secret
As a chef, what does having a MICHELIN star mean to you?
This restaurant is not very large, but it is crafted by many people's efforts, attention, and love. This space could never be achieved by one person's efforts. We've been through numerous challenges after opening the restaurant, including this pandemic, but receiving a MICHELIN Star is a reward for those who helped this restaurant grow further in their respective roles. The world's best guide has recognized that our commitment to our vocation was strong. I've worked in MICHELIN Star restaurants in the US, so I know how precious this star is. It's such an honor for the chef.


How did you and your team celebrate?
Unfortunately, we haven't had a chance to celebrate together. It was the busiest season for the restaurant as the MICHELIN Star was unveiled at the end of the year with all the holiday events. Also, I was cautious about gathering people together because we had to take Covid-19 precautions. It bothers me that we didn't have a proper celebration together, for the team members to sit down together to eat, drink and laugh without worries about this pandemic.

On the day of the Star Revelation event, we had full tables of guests at lunch and dinner service. Before lunch service, the kitchen team and the service team gathered for a meeting and I declared, "Let's work fully as a MICHELIN Star restaurant!" That was our new resolution – as a way of celebrating. And that day, we shared our joy by serving Champagne with our guests.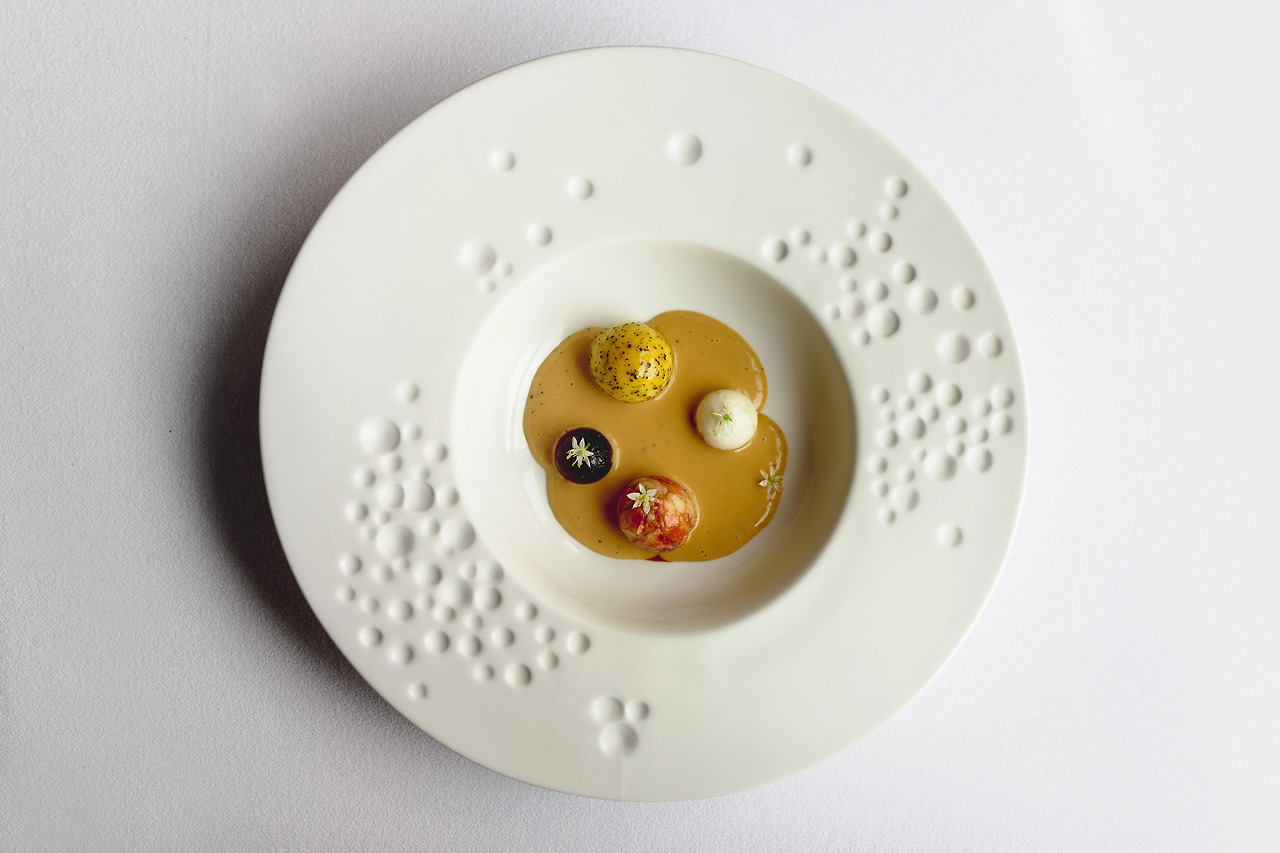 Lobster dish at L'Amant SecretⓒL'Amant Secret
How do you see the influence of the MICHELIN Star on your career?
It hasn't been long since we received a star, so I don't know yet how it affects my career as a chef. My daily routine has always been the same before and after. There is no change in waking up in the morning, drinking a cup of coffee, exercising lightly, and cooking and serving at the restaurant.

In line with our motto to evolve, I want to achieve the best I can as a chef, and the best state from the restaurant's perspective. To do so, it is important to improve in the countless repetition. Even after 10 years, I want to wake up in the morning, drink coffee, and do my best to cook.

The ultimate goal is to become a good senior chef, both in cooking and personality, just like my mentor chef Corey Lee of Benu. Whenever I face difficulties, I still ask myself "How would I have dealt with it if I were Chef Corey?" Wouldn't it be a great achievement in my career if I became a person like that?

LEARN MORE: The First Day We Got Our Michelin Stars: Benu's Corey Lee

Do you have any advice for young chefs aiming for MICHELIN stars?
It's really hard to make cooking your career. It is more of an endless marathon rather than a short sprint. It is important to always maintain your pace so that you do not faint or give up in the middle. There's no better way to find pleasure in your work. I spend most of the day cooking, so if it's not fun, imagine how hard it would be?

Many chefs say that you should not work to win MICHELIN Stars, but by focusing on making a great restaurant, you may get a good evaluation. Do not confuse the purpose with the incidental evaluation that follows. Stay focused and carry on! Personally, I try to keep the peace by creating a daily routine, and I try to make each day a better one than yesterday.

I can give advice to young cooks because I started a little earlier than them. However, I treat all of them as my colleagues, and I think some of them will be greater chefs in 10 or 20 years. The answer lies in the practice of responding "how to fill your time, day by day".

This article was originally written in Korean by Julia Lee and edited in English by June Lee.