As a world-renowned culinary destination, it's undeniable that Bangkok's street food hawkers are keeping an important part of the Big Mango's legacy alive. And the Bib Gourmand selection in the MICHELIN Guide Thailand 2022 edition confirms just that.

The Bib Gourmand distinction, symbolized by the famed 'Bibendum' or 'Michelin Man' licking his lips, is awarded to eateries that offer quality cuisine carefully prepared and reasonably priced with very good value-for-money at a maximum of THB 1,000 (a three-course meal: starter, main course, and dessert – exclusive of beverage).

Here are the latest Bib Gourmand eateries in Bangkok that are freshly listed in the MICHELIN Guide Thailand 2022 and we want you to check out.

Kaeng Pa (Loong Sa-Nga), one of Nonthaburians' favourite food joints. (© MICHELIN Guide Thailand)
Kaeng Pa (Loong Sa-Nga)
Kaeng Pa's interior is simple, but its outdoor area embraces nature, with its curved tree trunk tables and benches and an arboretum of trees. Using herbs and spices of the forest as seasoning, game meats feature prominently – the succulent stir-fried deer with cumin leaves is a must-try. The signature dish, jungle curry soup with hand-minced fish, is served in a great curry soup with lip-smacking ingredients like red chilli, fingerroot and turkey berry.

Address: 285/162-3 Ngamwongwarn 23 Alley Lane 11, Bang Khen, Nonthaburi. Tel. +66 2 952 9992



Fried Banana Rama 5
Every day, in a small alley in Nonthaburi, a long queue forms for the deep-fried battered banana with its crispy golden-brown texture. A special machine removes the excess oil to ensure the crispy finish. Other treats include taro and potato, and a deep-fried potato dough ball.

Address: 116/ Soi 1, Bang Si Thong, Nonthaburi. Tel +66 83 818 5566

Ket O Cha
Perennially crowded, this local favourite has a legacy spanning several decades. It specialises in aromatic noodle soup, with a peppery fragrance and mild sweet and salty taste. Diners can choose from tender slow-cooked beef, juicy blanched beef slices, and bouncy homemade beef balls.

Address: ​​Soi Phatthanakan 53, Bangkok. Tel. +66 81 445 3006

Delicious boiled pork slices is a must-try at Koa Chun Huad. (© MICHELIN Guide Thailand)
Koa Chun Huad
For more than five decades, Koa Chun Huad, with its simple interior, has been attracting throngs of locals on the Thonburi side. Named after the chef-owner who has worked in many a kitchen in Chinatown, it serves classic Thai-Chinese flavours. Every dish impresses but the highlights are the boiled pork slices, perfectly complemented by a soybean sauce; and the Chinese vegetable stew with an alluring amalgam of sweet and bitter natural flavours.

Address: Soi Somdet Phrachao Taksin 34 (Kobo), Bukkhalo, Bangkok. Tel. +66 2 468 2383

An affordable spot for delicious Thai food by one MICHELIN Starred Saneh Jaan. (© Loukjaan by Saneh Jaan)
Loukjaan by Saneh Jaan
The spacious yet homely Loukjaan is the elegantly decorated sister restaurant of Saneh Jaan. The open kitchen runs the length of one wall so guests can watch a hearty menu being lovingly prepared as if by their own grandmother. Try the dishes that are rare in Bangkok, like Mon-style red curry with grilled pork, or the toothsome deep-fried crispy shrimps with northern herbs and spices. Fermented pork lovers must order the stir-fried cowslip flowers with glass noodles and sour pork.

Address: 80 Soi Tonson, Lumphini, Bangkok. Tel. +66 2 095 9999



A favourite Northern Thai food joint of Bangkokians in Sammakorn area. (© MICHELIN Guide Thailand)
Maan Muang
This lovely wooden Lanna house with rustic charm will magically whisk you off to Chiang Mai. The dining area under the raised house is decorated with traditional Thai wooden furniture and earthenware. The staff too are dressed in Northern Thai fashions and speak in a regional dialect. But it's the dizzying array of dishes and beautiful blend of northern ingredients that tops it off. The Thai curry soup with pork ribs and jackfruit hits the spot.

Address: 165/7 Soi Ramkhamhaeng 112 Ramkhamhaeng Road, Sapan Sung, Bangkok. Tel. +66 2 729 6275

Mae Khlong Hua Pla Mo Fai in Phran Nok of Bangkok. (© MICHELIN Guide Thailand)
Mae Khlong Hua Pla Mo Fai
Simple in its design with a white pavilion and modest dining tables, the restaurant has a small garden with some outdoor seating. The owners are hands-on, preparing every dish with care. The stir-fried crab has a naturally sweet meat and wok-fried aroma, and is served with glass noodles, spicy chilli and crunchy mimosa. The large butterfly-cut river fish is nicely char-grilled. The grilled river prawns, meanwhile, are clearly the people's favourite.

Address: 198 Phran Nok-Phutthamonthon Sai 4, Bang Phrom, Bangkok. Tel. +66 97 028 9093



Por. Pochaya
Unwavering quality and rare dishes have kept loyal fans visiting this traditional Thai-Chinese spot for over 30 years. Among the top-sellers are crab omelette and stir-fried beef with cumin leaves. Crowds are to be expected, so go early or book. It's closed weekends and holidays.

Address: 654-656 Wisut Kasat Road, Ban Pantom, Bangkok. Tel. +66 2 282 4363

Sri Trat
If you've been to the coastal province of Trat on the border of Cambodia, you'll doubtless recall its fiery seafood and curries. At Sri Trat, the owners bring the province's famed cuisine to Bangkok via their mother's favourite recipes. They also honour her, not only with a funky mural, but also by expertly crafting eastern dishes like savoury stir-fried tiger prawn with garlic, chilli, and fish sauce and spicy sea bass soup with salacca and shrimp paste.

Address: 90 Soi Sukhumvit 33, Sukhumvit Road, Khlong Tan Nuea, Bangkok. Tel. +66 2 088 0968

A Vietnamese eatery that has been opened for over 30 years. (© Thien Duong)
Thien Duong
Thien Duong is a showcase of Vietnamese classical design; the antique artworks, mustard-coloured walls, rose-pink granite table tops, shiny black floor tiles and exposed ceiling are an interior design lover's paradise. The menu too is an exhibition of authentic Vietnamese style and is presented by a chef with an eye for detail. The skewered minced prawns with sugarcane and grilled pork sausage are both nicely crafted, with juicy flavours and complex textures.

Address: 116 Saladaeng Road, Si Lom, Bangkok. Tel. +66 2 200 9009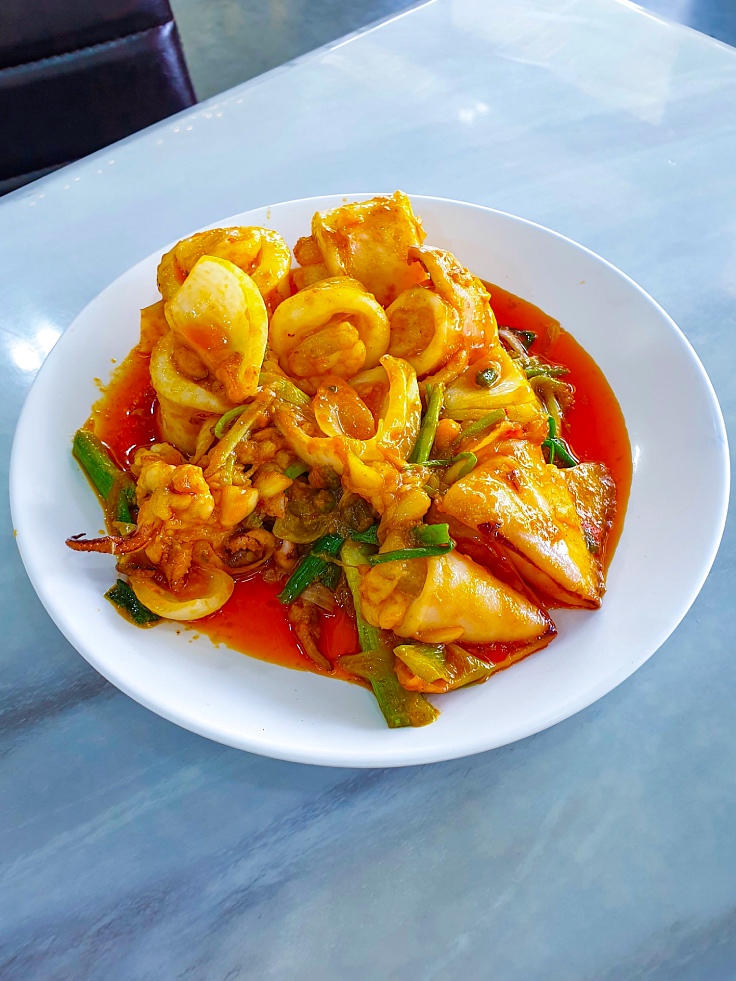 Nong Rim Klong
Nong Rim Klong has been reincarnated from a canal-side food stall to a shophouse across two floors. The quality of the fresh seafood, served in generous portions, is the highlight. The scrambled eggs with crab meat are deliciously creamy and the sea bass tom yam soup hits the spot.

Address: 51 Ekkamai 23 Alley, Khlong Tan Nuea, Bangkok. Tel. +66 86 044 9478