Henrique Sá Pessoa is on a meteoric rise. His flagship restaurant Alma, an elegant 44-seater, was recognised with one star in the MICHELIN Guide Spain & Portugal 2017 only nine months after re-opening in downtown Lisbon's Chiado district. A second star was added two years later. Sá Pessoa's name is now synonymous with Portuguese gastronomy. He has appeared on television shows and opened restaurants all over the world, including his latest one, Chiado, based in Macau's Sands Cotai Central.

But beyond his celebrity status and the wave of new expansions, Sá Pessoa still has a soft spot for Alma, the very first restaurant he owned and opened in 2009. He considers it his "soul-searching" project (its name literally translates as 'soul' in Portuguese) and calls it a "tangible reflection of his spiritual being". The restaurant's growth reflects the cornerstone moments of his culinary career, from the high of finding his calling in a foreign land, to the low of having to take a year-long hiatus from cooking what he liked.
The exterior of Alma in downtown Lisbon (Pic: Alma)
"The biggest challenge you have to face is really yourself," says the chef.
He attended the Pennsylvania Institute of Culinary Arts in 1994 and joined a restaurant at a five-star hotel in London three years later. It was a trial by fire, he recalls. He had to overcome significant cultural differences and the "tough love" of his superior, who has since become one of his best friends, but he came out of it with valuable knowledge about French cooking. His horizons were further expanded by a stint in Australia between 1999 and 2002, which offered him a glimpse into different Asian cuisines and ingredients.

In 2009, Sá Pessoa left a prestigious position as the head chef of the Sheraton Lisbon Hotel to open Alma. As Portugal was undergoing the stiffest financial crisis the country has ever seen, he adopted a "low-cost fine dining" approach to showcase creative dishes with affordable ingredients, which won him many faithful supporters. But things quickly took a dark turn as the economy further deteriorated in 2012.
"We were a little bit lost because we knew being in the location that we were, and with our structure, we couldn't really grow, and nobody would be willing to invest in a fine dining restaurant at that time because there were just no customers for it."

He eventually shut down the restaurant in 2014, and a tough year followed. While he managed to secure a business partner to work on a less ambitious restaurant, his desire to cook his own food remained unfulfilled.

"My self-esteem was shattered. A lot of chefs go through what I call 'cooking depression', where you feel like all the other chefs are better than you. You just lose your confidence," he shared.
On hindsight, the Portuguese chef recognises that it may have been a blessing in disguise. The time off gave him the mental space to envision the food and the experience he wanted to give his customers. When he opened the new Alma in its current venue, he immediately picked up where he left off.

"It was crucial. I'm pretty sure if I closed a restaurant and opened another one in three or four months, it would not have been like this. It would have been different. So, I'm really glad that I had time to think about it."

Sá Pessoa's soulful restaurant shines even brighter as it rises from the ashes. Compared to his previous venture, the second Alma puts a stronger emphasis on Portuguese gastronomic traditions, ingredients and cooking techniques diners cannot find anywhere else. Olive oil and herbs constitute the foundation of his cooking. And the brightest spotlight is shone on seafood: one of the restaurant's two tasting menus, Costa a Costa (Coast to Coast), is dedicated entirely to the bounties of the Atlantic Ocean. To procure the best catch, he works with a seafood supplier who is also a marine biologist, who, as the chef joked, has an obsession for locating delicious and unique species.
Seafood is a highlight at Alma (Pic: Alma)
"When he comes with a fish that he finds amazing but he doesn't know what to do with it, he would expect me [to figure out the best way to prepare it] like, 'Listen, I'm going to give you this product. I know it's great. I'm sure you can turn it into something unique.'"
The foreign flavours Sá Pessoa picked up during his early days working in kitchens around the world used to feature more prominently in his cuisine. Now, they have morphed into a supporting role to provide new perspectives to what Portuguese food can be. For instance, his take on a local fish and seafood soup is infused with kombu, sea lettuce and lemongrass for 24 hours. This new preparation method brings a light and refreshing quality to a Portuguese classic. It also highlights the potential of seaweed, an overlooked ingredient that coastal Portugal has in abundance. The chef has been in contact with another marine life specialist in central Portugal in search of extraordinary seaweed varieties.

Red bell pepper tempura, a very well-received amuse bouche served at Alma, is another example. Its roots are inherently Portuguese: tempura is loosely based on the Portuguese deep-fried green bean peixinhos da horta ,Sá Pessoa says. His version, covered with a black tempura made with powdered burnt leek and served with red bell pepper coulis for dipping, further accentuates the red bell pepper, a mainstay in the local diet that is often paired with grilled sardines in the summer.


The interiors of two-MICHELIN-starred Alma (Pic: Andre Xavier)
His Macau outpost Chiado, likewise, is a modern, seafood-forward restaurant designed to update the impression that Macanese diners may have of Portuguese cuisine.
Now at the height of his career, Sá Pessoa often reminisces about how it all began. He recalls a mentor who once told him that he is "going to be huge one day". "When you hear something like this when you are 19 years old, you don't really think much about it. It wasn't until 20 years later that I realised he was on to something," Sá Pessoa says.
Now a mentor to his own staff, spotting and grooming talent is something he values. "I'm at that age at which I can look at someone coming to my kitchen for a month or two, and I can say they could be someone really big one day. The biggest satisfaction to a chef and a mentor is to look at your students, your followers, your employees, and see that they're reaching their full potential, and that you've influenced them to be the best that they can be," he says.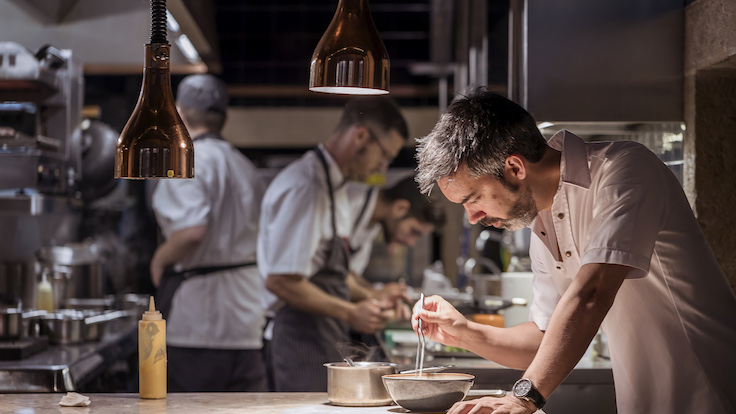 At Alma, the spotlight is on Portuguese gastronomic traditions (Pic: Alma)
What was your first encounter with the MICHELIN Guide?
It was when I moved to London after finishing culinary school in 1997. As soon as I arrived in London, I started hearing about MICHELIN-starred restaurants. I didn't know what they were. A friend of mine explained the star system to me and I became fascinated with the level of attention to detail that was involved in running these restaurants. I knew right away that fine dining was I wanted to do.

How did you feel when Alma was awarded the first and second MICHELIN star?
It actually brought tears to my eyes, because my self-esteem before the opening was not at its highest. I was very doubtful about what was going to happen because our restaurant was not your typical MICHELIN-starred restaurant. So, when we finally got the recognition, it was a relief. The second star was even more special because it was given out during the first-ever celebration event held in Lisbon. To be awarded two stars in my own city made it even more special.

How did you celebrate?
I was in Spain when I got the first star, so it was kind of a shame that I couldn't see the team straightaway. I only returned the next day. They told me as soon as the star were given — the phone started ringing and they went crazy over there. When I arrived, we went crazy again. With the second star, it was a lot quicker because after I left the event, I was back in the restaurant with the whole team within 10 minutes. And yeah, we just went crazy.

Have the stars changed your direction in any way?
Thankfully, we were successful from day one. But obviously the MICHELIN Guide has changed the diners' expectations and restaurant's revenue. Alma now has a two-month waiting list and that didn't happen before the star. We're fully aware that it has given us that opportunity, and we accept this, along with the responsibility. Once you have the knocked on the door, you have to deliver every day, and that's the challenge. But that's the challenge that the whole team wants.

What advice would you give to the young chefs out there who want to get the star one day?
The biggest advice I can give is don't be in a hurry, because running a MICHELIN-starred restaurant involves a lot of maturity. It takes up a part of your life. When you get it too young, you become a little bit trapped. I was 40 when I got the first star. If you asked me if I had wanted the star before that, maybe I did. But was I ready for it? Maybe I wasn't. I'm glad that I got it at this age when the way I think is already different from when I was 20 or 30.