A sunny "bouna sera" of the turquoise-eyed Alessio at the door is a good enough beginning and when a plate of rosy mortadella with a timbale of herb-scented focaccia arrives spontaneously at the table even before you've had the time to settle in, there's promise in the air. "Ecco un po'di mortadella," announces Dimitri, a red-and-white T-shirt clad Italian who seems right off of a Venetian gondola.

Meanwhile, four chefs navigate like fish in an aquarium around steaming pots in the glassed-in atelier kitchen, one chef with AD embroidered on his sleeve—AD as in Alain Ducasse. The stylized A of Cucina is another subtle hint to the identity of the chef behind this new restaurant located in the Maison de la Mutualité in Paris, a historic Left Bank monument that welcomes conferences and events.

Cucina, translated simply to "cuisine," is the name of the most recent addition to the multi-starred Alain Ducasse's ever-widening galaxy of restaurants. It opened at the end of last year on the site formerly occupied by another triple-starred casual concept, Yannick Alléno's Terroir Parisien.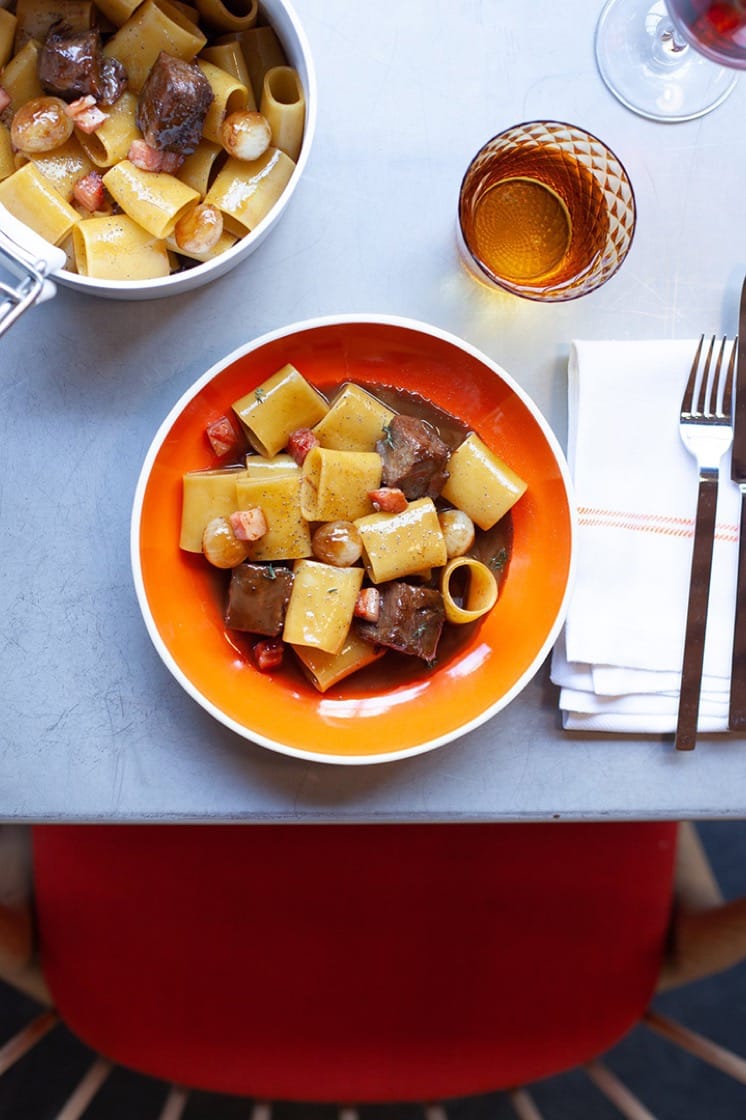 Head chef Matteo Lorenzini executes a carefully crafted menu featuring some simple favorites.
The décor by the much-in-demand designer Jean-Michel Wilmotte is casual chic with funky touches, including shelves lined with giant cans of Italian tomatoes, bowls of fake veggies and, suspended above the central bar, bright red fabric sausages and hams stuffed and stitched by Brooklyn, New York artist Yuki & Daughters. Zinc tables, brick-colored banquettes and Scandinavian-style wooden chairs set a convivial mood, while a giant portrait of Catherine de' Medici hung high on a central wall casts a benevolent eye over the full house.

From her lofty post, Queen Catherine seems to be reminding us that French gastronomy owes a great deal to her influence, following her arrival in France in 1533 to marry the future Henri II. Alain Ducasse, ardent defender of French cuisine, pays tribute to her in his choice of the trattoria-style for this new concept. The cuisine, authentically Italian, is orchestrated by Siena-born head chef Matteo Lorenzini, who honed his skills at Ducasse's three-Michelin-starred Le Louis XV restaurant in Monaco.

He executes a carefully crafted menu featuring some simple favorites. To start, a choice of antipasti including pine-nut studded caponatina, a ball of mozzarella with puntarelle spears (a variety of chicory), a light vitello tonnato or a delicately seasoned carpaccio di spigola (carpaccio of sea bass). Order three (€16,) five (€22) or seven (€28) of these mini-portion antipasti to be shared.

There are also two pizzetti (mini pizzas), and a delicious focaccia al formaggi, an ultra thin, crisp focaccia scented with stracchino cheese, the perfect partner for salumeria (cured hams and other Italian charcuterie).

High on the hit parade of primi piatti is the bucatini cacio e pepe, (€12), fat spaghetti seasoned simply with Pecorino cheese and black pepper, or the paccheri alla guancia di manzo (€18), large, short-tube pasta in a flavorful sauce of beef cheeks, both served in deep stove-to-table-type serving pans set center table to facilitate sharing.

For the secondi, there are four choices, two fish and two meat, including the cassoeula Lombarda (€25), Lombardy-style short ribs and sausage simmered with cabbage, a hearty peasant-style dish "using all those parts that the upper classes never ate," Dimitri explains.

An impressive selection of wines, essentially Italian, chosen by Alain Ducasse's monsieur vin, Gérard Margeon, accompanies the menu. Desserts are the usual Italian suspects, including panna cotta, tiramisu and a gelato made with chocolate from Alain Ducasse's Manufacture.

As they say in Queen Catherine's homeland, buono e simplissimo.

Photos by Aurélie Miquel.