A new generation of chefs is taking this tendency to the next level, with a commitment to cooking ingredients sourced from the immediate surroundings of their establishments. In addition to vegetable and animal produce from local farms, this cohort likes to add in wild elements gathered in the countryside, forests or rivers. For example, they incorporate a lot of herbs, plants and mushrooms into their dishes, but also game (feathered and four-legged) – hunted sustainably – or locally caught fish. Finally, these chefs are turning their hand to producing their own fruit and vegetables, honey, cheese and butter, and sometimes even meat.


Pavus : born to be wild
"
As far back as I can remember I always wanted to be a chef. Opening my own restaurant was my dream
," enthuses Marko Pavčnik, chef and owner of Pavus. Perched on top of a hill overlooking the town of Laško – famous for its beer and thermal baths – the restaurant is ensconced in the converted Laško Tabor Castle, which has existed since the 11th century. At one time a hunting lodge and later a defence post belonging to the counts of Celje, it has been the turf of the chef and his team since 2011. It is in this fairy-tale setting that Marko Pavčnik presents his vision of today's Slovenian gastronomy, food that is perfectly in tune with its environment. His cooking is creative and original, but he does not spurn the country's culinary traditions, rather he offers his own personal reinterpretation of it, while elevating local produce.
Castle Lasko Pavus / Boris Vrabec
Pavčnik's perfect mastery of the techniques of fine cuisine allows him to create spectacular dishes, but it is actually his ardent work with wild ingredients that sets him apart. "Almost every day, my day begins with a walk in the countryside and forest around my restaurant. I pick aromatic herbs, plants, berries, mushrooms…". His cooking goes hand in hand with nature, evolving with the seasons and the weather. He owes his knowledge of botany to Dario Cortese, author of a reference book on edible plants in Slovenian nature. Inspired by his books, Pavčnik went on to work with the botanist, who has since passed away. "Dario Cortese knew all the plants, but he didn't know how to cook them," recalls the chef.

Today, Pavčnik excels at preparing and cooking these wild ingredients, even running courses on the subject. All the dishes on his menu contain them. "There is always a phase of experimentation with the plants I collect in the forest or elsewhere. My team and I try different preparation techniques, then we try combining them with other flavours".

Chef Marko Pavcnik / Boris Vrabec
In this spirit, his famous herb soup is emblematic. "It would be very difficult for me to remove this dish from the menu, because of the risk of ruffling the feathers of regulars and visitors," he says. The soup contains between 15 and 20 different herbs, depending on the season, mostly picked by the chef. The taste of this robust, luscious signature dish remains in the mouth long after you have put your spoon down.

Beer, a speciality of the town of Laško, is also present in certain dishes on the menu, such as the local trout made with a beer and ponzu sauce. Pavčnik adapted this Japanese recipe using almost only local produce… signalling that he has not forgotten his roots.

Galerija okusov / Rok Dezelak
Galerija okusov : bringing local produce (back) to life
Halfway between Ljubljana and Maribor, the pleasant Lower Savinja Valley is covered with hops fields and large apple orchards. To find the Galerija okusov restaurant, you enter the Baroque Novo Celje Park and walk around its 1760 mansion, inspired by Schönbrunn Castle in Vienna. Set in an outbuilding surrounded by century-old trees, this restaurant with contemporary decor is one of the musts for food lovers visiting the region.
Here, too, the food is inspired by nature and the best of the produce it yields. Marko Magajne, the 30-year-old chef, has been involved in the project since its inception. His ambition is to reinvent Slovenian cuisine, without neglecting family recipes, those that invariably provoke nostalgia. To achieve this, his approach is to create refined cuisine: "
I never use more than three ingredients in a dish. It's a matter of harmony but also respect for the produce
."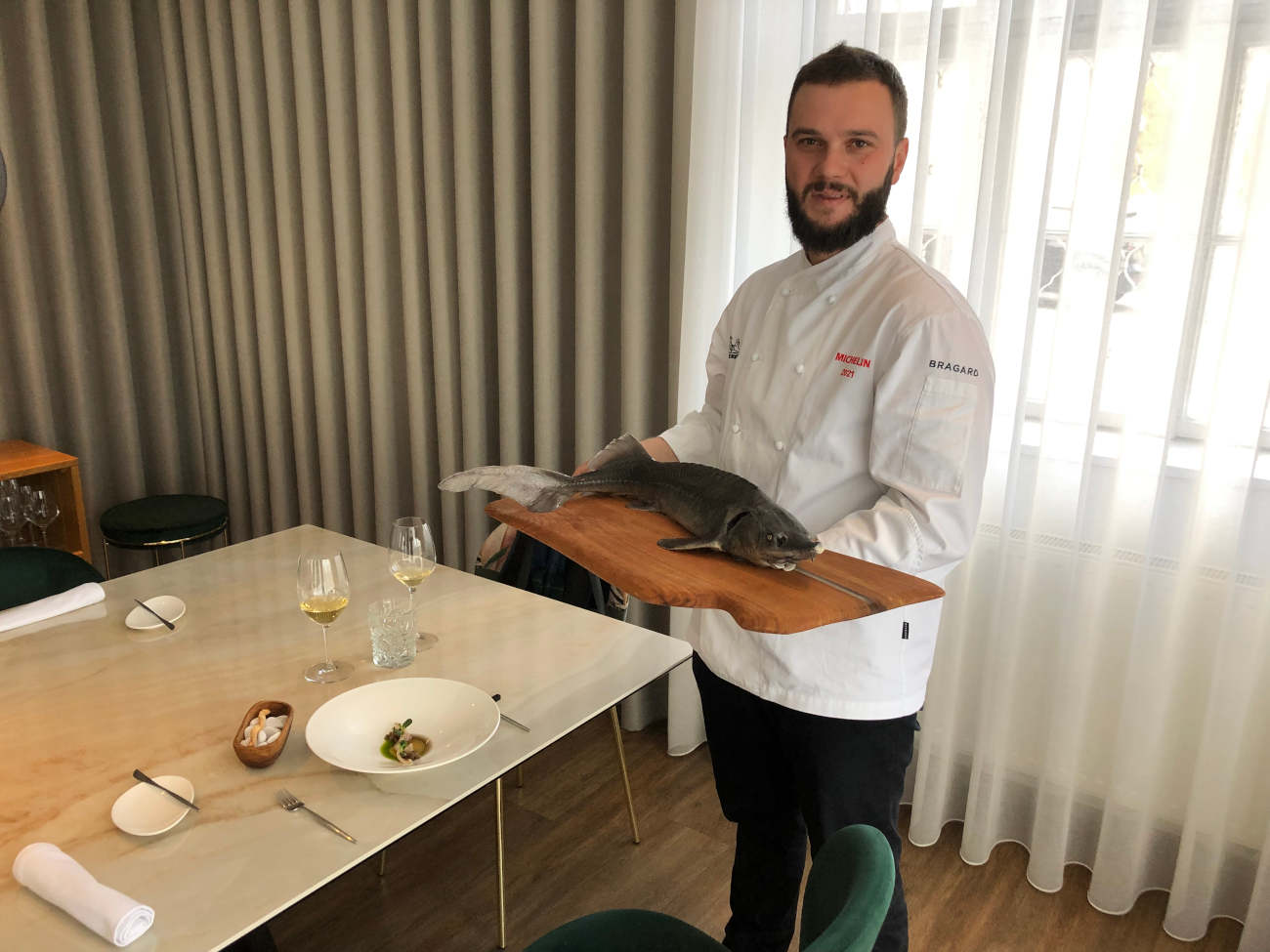 Chef Marko Magajne / Jean Tiffon
For Gašper Puhan, owner of the restaurant, the name of the game is to elevate the treasures of the local land and laud those behind its production. "We only work with producers who we know personally, most of whom are located close to our establishment. For example the trout and sturgeon farmer, who supplies exceptionally high-quality fish, or the neighbouring market gardener, who delivers seasonal produce every morning, whether it be asparagus or strawberries. We really feel like we're part of a family," the chef tells us with a smile.

This gives the menu a real identity, reflecting local produce but also the surrounding nature. "Every season, we try to use wild produce from the region, such as flowers, mushrooms and game," says Gašper Puhan. And the house honey is harvested from the flowers of the acacia trees planted in the grounds.

Galerija okusov / Rok Dezelak
This recognition of the benefits of nature and local traditions does not hinder creativity and modernity. The contemporary decor of the restaurant, designed by Gašper Puhan, is testament to this. He chose to use local materials and to work with local craftsmen and designers. Galerija okusov is committed both to recycling its waste and to sustainability more broadly.

With the same motivation to promote local productions, the wine list, which counts nearly 600 items, focuses on the region's wines. Gašper Puhan, who also designed the spectacular cellar that serves as the restaurant's antechamber, describes his aim: "to serve wines that are authentic, always honest, never erring". Somehow this also encapsulates the ethos of the restaurant.

Hero Image : Pavus dish Smoked trout with beer sauce / Rok Dezelak