The sea breeze whipping through your hair. Waking up to the sight of an endless horizon. Holidaying on a cruise is surely respite for the soul, made better with lavish spreads to wine and dine the nights away.
With more specialty restaurants appearing on cruise ships, top chefs are being tapped on to create exquisite dishes that elevate the dining experience. Yet cooking up a fine meal on a luxury liner is no easy feat. Just ask chefs
Emmanuel Renaut
and Richard Chen. Renaut is owner of three-Michelin-starred
Flocons de Sel
in eastern France, while Chen was formerly executive chef at Wing Lei restaurant in
Wynn Las Vegas hotel
. In 2008, under Chen's leadership, Wing Lei became the only Chinese restaurant in North America to be awarded one Michelin star.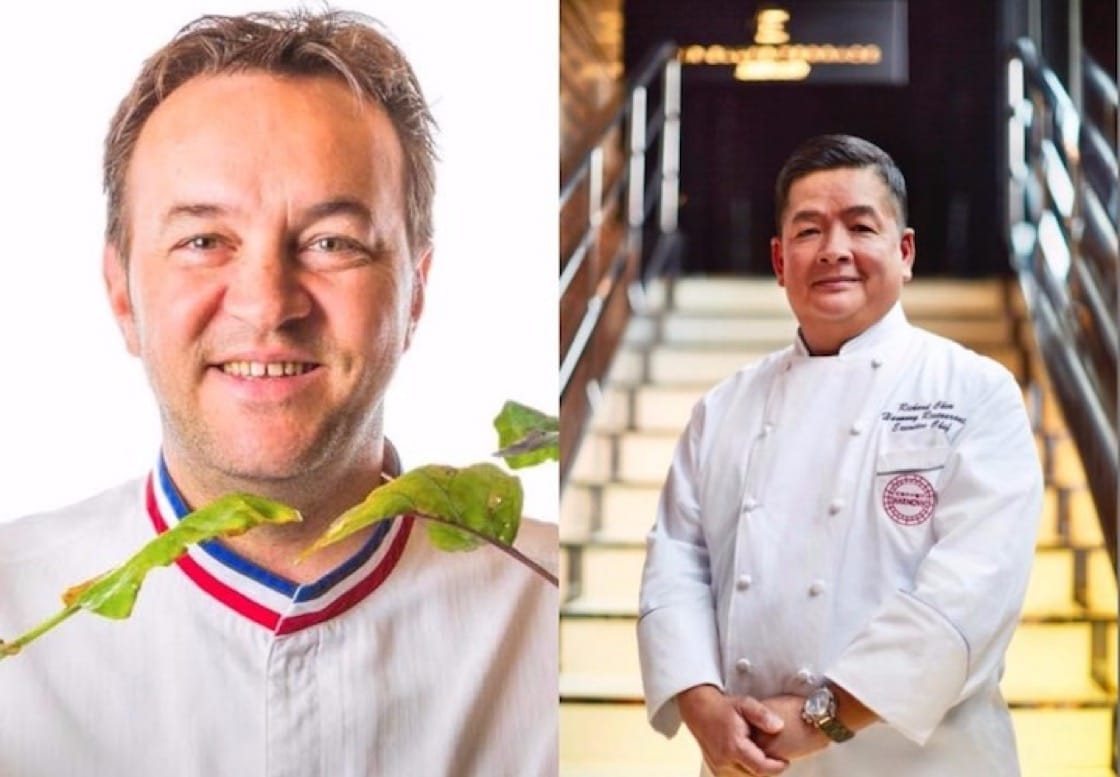 Both chefs have designed the menus for two specialty restaurants on-board Majestic Princess, the latest ship in the fleet owned by
Princess Cruises
. Majestic Princess is the only cruise ship in the region that features two speciality restaurants offering menus created in collaboration with chefs from Michelin-starred restaurants.
At
La Mer
, Renaut turns out more casual versions of his dishes from Flocons de Sel. Pate en croute (creamy duck liver baked in a buttery pie crust), for instance, and crispy egg dishes are homelier dishes reminiscent of his grandma's cooking. "La Mer on the Majestic Princess plays on the contrast in between La Mer ( the sea) and La Terre (the land, earth). The cuisine style is simpler and casual, representative of a bistro in a France, with dishes inspired from some of my signature dishes at Flocons de Sel such as the Lobster and Scorpionfish Biscuit with Lobster jus," shares Renaut.
Over at
Harmony restaurant
, Chen is bringing his style of fusion Cantonese cuisine to the fore. While Cantonese classics such as Peking duck remain on the menu at Harmony, Chen turns the crisp-skinned delicacy into lighter dishes such as a Peking duck salad with orange and truffle vinaigrette, as well as a shredded roasted duck and chives soup.
"'I was contacted by Princess Cruises and, presented this unique opportunity and challenge to open a modern Cantonese restaurant on a luxury cruise ship, I immediately accepted it," says Chen.
But how do chefs prepare for long voyages with multiple sea days? And where do they hide the good stuff (read: caviar)? We find out what it is like preparing to feed over 3,500 people aboard the ship.
Plan ahead, way ahead

One thing's for sure: Stocking up the galley of a cruise ship is vastly different from that of a restaurant's kitchen.

"All food needs to be ordered and planned properly. You can't just place an emergency call when you are out at sea," says Renaut. This means planning menus and ordering supplies as early as two months in advance. He continues: "Careful planning needs to be made to make sure we have the right amount of ingredients on-board as suppliers do not come to the restaurant's back door every day and you cannot go to the market to discover great seasonal products on a day to day basis."
It is also important to stock up certain items based on the demographics of guests on-board. For instance, guests from UK usually prefer lamb, while Americans prefer beef and Chinese guests like pork dishes.
Cooking without fire
As fire is a major safety hazard on-board every ship, kitchen equipment is limited to electric stoves and ovens. But that doesn't mean the chefs at Harmony restaurant are unable to recreate
wok hei
, a key hallmark of Cantonese cooking.
Getting the wok hot enough on an induction stove (watch for it to start smoking), for instance, can come very close to recreating that charred flavour. It also means chefs put more emphasis on creating deeply-flavoured soups and tasty sauces used in the dishes.

Freshest first

Perishable items like vegetables and fish are usually prepared and served first, before the frozen and dried items are served.

Innovation and skills are key traits a chef must have when cooking onboard Majestic Princess. Sometimes, when the ship does not dock at a port to stock up after a few days, chefs have to make do with what they have and whip up dishes that can still invoke surprise. Take cooking with vegetables. A slow-cooked cabbage or braised celery hearts in a flavourful sauce will accompany a dish beautifully, while carrots are pureed and enriched with herbs, seasoning and butter.
Marzipan, anyone?

The pastry kitchen might be busy turning out pretty cakes and freshly-baked goods by day, but four staff stay up at night kneading high quality almond paste (marzipan) – a favourite sweet amongst ship guests. On Majestic Princess, room service is free and round-the-clock. This means guests get to indulge in popular late-night snacks that include burgers with chips, wanton soup and chocolate cookies with milk.

Pasta is a must-have

Pasta is one of the key ingredients that is stocked onboard the ship. Not only does it keep well, but it is also a versatile ingredient that goes well with many things. 200 kg of pasta is cooked daily on the cruise ship.

Where's the caviar?

It wouldn't be a luxurious experience without the good stuff — just don't expect it to be lying out in the open. Expensive ingredients such as caviar and saffron are kept with the bottles of fine wine, champagne and cognac. All under lock and key, we suspect.
---
Princess Cruises Contest
Majestic Princess will be embarking on its Silk Road Sea Route voyage from 21 May 2017, making her maiden call to Singapore on 18 June 2017. For a chance to dine aboard the luxury liner when she arrives in Singapore for her maiden call on 18 June, answer this question: "
Emmanuel Renaut of three-Michelin-starred Flocons de Sel has designed dishes for one specialty restaurant on-board Majestic Princess. What is the name of this restaurant?"

Click here for more details on how to take part in this contest!