I
n 2017,
CNN put Taipei on the list of 10 best cities for vegans
alongside Berlin, Toronto, New York and Los Angeles, crediting the 1.7 million non-meat eating population on the island. Vegetarian food in Taiwan has long seeped into every level of the local dining scene, from chain restaurants in every neighbourhood to spectacular buffet services to fine dining. It's rarely a concern for vegetarians here to have to step out of an eatery because of the lack of options. A healthy number of restaurants selected in the first edition of the MICHELIN Guide boast a fantastic selection of vegetarian dishes on their menus. Regardless of what motivates you to take meat off the diet and how long you do it, let's dive into the world of sweet and delicious vegetables.
Three Michelin-starred Le Palais in Taipei
Le Palais
Three stars, MICHELIN Guide Taipei 2018

The two executive chefs at Le Palais have more signature dishes in their bag of tricks than the reputed crispy roast baby duck. Their vegetarian version of Buddha's Temptation from the vegetarian set menu, for instance, requires a high level of care and experience — par-cooked daikon and deep-fried shiitake mushroom, king trumpet mushroom and taro are cooked for 30 minutes along with fresh daikon, wheat gluten roll, gingko nut and goji berry in a vegetable broth that had been simmering for three hours in advance. The clay pot rice, with fragrant, oil-velveted vegetarian ham and shiitake mushroom, is just as much a head-turner in the eight-course menu. It's served with a clay pot rice sauce combining two soya sauces made of black bean and soya bean respectively.
One-starred Ya Ge has great vegetarian dishes and dim sum
Ya Ge
One star, MICHELIN Guide Taipei 2018

The vegetarian dishes and dim sum at Ya Ge are often considered a great hidden menu for those in the know, with the line-up modified every three months to keep it fresh and seasonal. In the latest menu, there are afternoon dim sum options such as steamed matsutake mushroom and wild fungus dumpling, steamed rice roll with assorted vegetables and fungi, as well as pan-fried porcini buns. The eclectic a la carte dishes range from cordyceps flowers, tofu sheets, tribute vegetable; steamed eggplant with pickled blassica pith; as well as tofu and wild mushroom casserole with black truffle sauce. Also available is a seven-course vegetarian menu.
Basil and mock "pork uterus" at Serenity
Serenity
Bib Gourmand, MICHELIN Guide Taipei 2018

Serenity is Taiwan's only vegetarian Sichuan restaurant. It ticks onion and garlic off its list of ingredients. The owner has been following a vegan diet after converting to Buddhism, but his preference for strong flavours inspired him to cook vegetarian dishes as if they contained meat, and that became the direction of his venture since Serenity opened 12 years ago. Basil "pork uterus", the restaurant's signature dish, actually employs king trumpet mushroom as a substitute. A rarely seen and skill-driven creation, it has the fungus velveted in water before shredded and rolled by hand to resemble its meat counterpart. The mushroom is then marinated in master stock, deep-fried and stir-fried upon order. The vegetarian Gong Bao chicken hardly looks or tastes any different than the original. The classic napa cabbage salad with tofu receives a luxurious update with black truffle.
Steamed dumplings with minced vegetables at Dian Shui Lou
Dian Shui Lou (Songshan)
Bib Gourmand, MICHELIN Guide Taipei 2018

Not only were the inspectors of the MICHELIN Guide enamoured by the quaint Southern Chinese atmosphere of the restaurant, the Zhejiang cuisine there also captured their hearts. Its steamed dumplings with minced vegetables combine Shanghai baby bok choy with spiced dried tofu, shiitake mushroom, bamboo shoot and king trumpet mushroom to achieve a variety of textures in one bite. Other regional specialities like snow cabbage and bai ye tofu, technique-demanding deep-fried salt and pepper bamboo shoot, as well as verdant tofu and vegetable soup can be made with onion and garlic taken out to fit the needs of the diners. Don't forget to order a plate of steamed rice cake with red bean when you are reserving a table.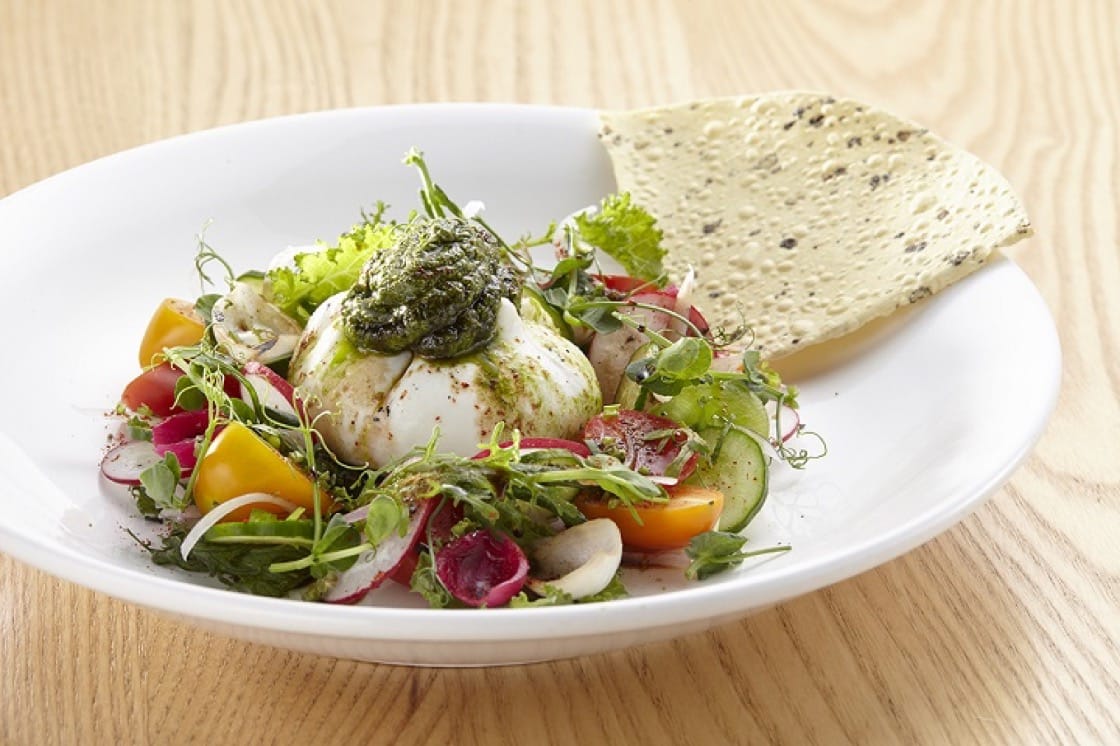 Joseph Bistro's signature green masala burrata cheese salad
Joseph Bistro
Bib Gourmand, MICHELIN Guide Taipei 2018

Chef of the restaurant Joseph Vaz comes from Goa, Southern India, where many of the country's vegetarians congregate. Naturally, Indian vegetarian dishes are the bistro's strong suit. It also caters to those who avoid garlic, onion and other stimulants — they just need to state their preferences while ordering. The menu rotates every three to four months, but fans of the green masala burrata cheese salad can be assured that the signature dish will remain.
---
This article is written by Zheng Qian Yu and translated by Vincent Leung. See the original story here.