The Michelin Nordic Countries Guide 2019 was launched on February 18th 2019 in Aarhus, at a live streaming ceremony attended by 500 guests, chefs and members of the press (watch it here)

As well as announcing all the new recipients of Stars and Bib Gourmands in Denmark, Finland, Iceland, Norway and Sweden, International Director of the Michelin Guides, Gwendal Poullennec also presented three special awards:

Young Chef 2019
Sustainable Restaurant 2019
Welcome & Service Award 2019


Here's your guide to who won them and why:

Nordic Guide Young Chef of the Year: Poul Andrias Ziska
Nordic Guide Young Chef of the Year:
Poul Andrias Ziska

The Michelin Award for the Nordic Guide Young Chef of the Year 2019 went to Poul Andrias Ziska of KOKS restaurant in the Faroe Islands.

28 year old Poul grew up in Tórshavn, the capital of the Faroe Islands, and his first experience in the food industry was a job in a pizzeria aged 14. He later worked under Leif Sørensen – who was perhaps his greatest influence – and has completed stages at Geranium, Noma and Mugaritz.

After a brief stint at Geranium in Copenhagen, Poul returned to the Faroe Islands in January 2014 to take over as head chef of KOKS; a picturesque 18C former farmhouse in a beautiful yet remote location high in the mountains.

In 2017, the Faroe Islands were added to the Michelin Nordic Countries Guide for the first time and KOKS entered the selection with One Michelin Star.

Two years later, in the Michelin Nordic Countries Guide 2019, KOKS has been awarded Two Michelin Stars; an award held by only 10 restaurants in the Nordic countries.

The Michelin Inspectors were hugely impressed by Poul's maturity, forward-thinking creativity and respect for the wonderful ingredients grown, fished and foraged from the unique Faroese landscape.

His pride and knowledge in the use of tried and tested traditional techniques such as fermentation, salting, pickling and curing, allied with a modern approach, creates terrific dishes with purity, complexity and a superb balance of flavours.


@poulandrias

@koks_restaurant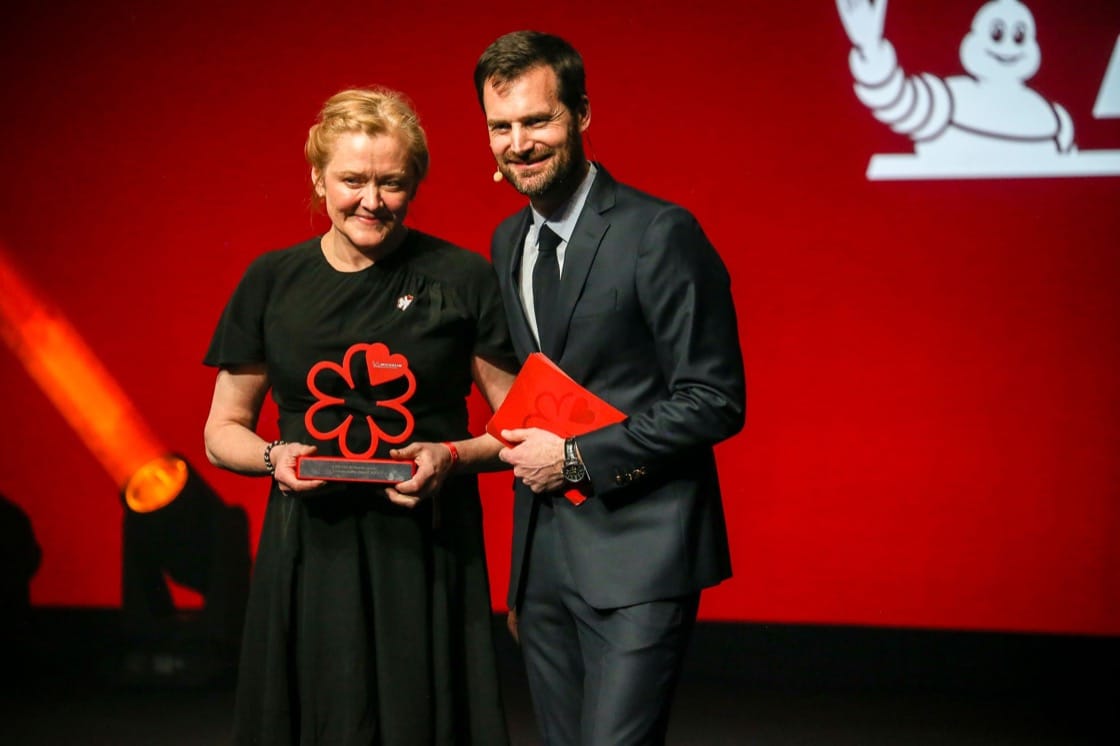 Sustainable Restaurant of the Year: Credo – Trondheim
Sustainable Restaurant of the Year:
Credo – Trondheim (Heidi Bjerkan)

The Michelin Award for the Nordic Guide Sustainable Restaurant of the Year 2019 went to Credo, a restaurant which moved to its current location in an impressive modern urban development in 2018.

It is set in a former factory which once made stainless steel milk tanks; the conversion of this 1947 building itself a good example of sustainable redevelopment, with its astute and striking use of a brownfield site.

Heidi Bjerkan, the experienced chef-owner of Credo, grew up in Trondheim, where she spent much time on her grandfather's boat. Her career in the food industry began when she was eighteen years old with a summer job at the café at Østbanehallen, and has included an eight year period as head chef for the Norwegian Royal Family.

Credo was awarded a Michelin Star in the Michelin Nordic Countries Guide 2019 for its creative yet unshowy cooking, which is natural in style and respectful of tradition.

Not only does Credo create superlative cuisine, it also leads the way when it comes to ecological responsibility. This is a restaurant where 'sustainable' is much more than a buzz-word and where all of the restaurant's waste is composted to feed the herb and vegetable beds which they have on-site.

The restaurant champions the produce of the Trøndelag region, and careful sourcing is key to their ingredient-led 20-26 course surprise menu. Central to their admirable philosophy is their support of local artisan producers and farms, and they have particularly close ties with Fannremsgården and Skjølberg Søndre in Orkdal.


@Restaurantcredo

@RestaurantCredo

Welcome & Service Award of the Year: Henne Kirkeby Kro: Paul Cunningham and Garrey Dawson
Welcome & Service Award of the Year:
Henne Kirkeby Kro: Paul Cunningham and Garrey Dawson

The Michelin Nordic Guide Welcome and Service Award 2019 went to Henne Kirkeby Kro, in Henne, Denmark.

From the moment you pull up at this beautiful thatched inn, until the time comes to return to real life, you find yourself captivated by the magic of Henne.

There's its delightful setting in the Danish countryside; and the technically accomplished, Two Michelin Star cooking of Paul Cunningham – but it's also the friendliness and warmth of the service team that makes a meal at Henne Kirkeby Kro such a special experience.

Service is overseen by charismatic restaurant manager, Garrey Dawson, whose strong presence, composure and kindness make him a real asset to the business. He and his team run the place in a professional yet wonderfully natural manner, making their guests feel instantly at home.

Whether they work in the kitchen or out front, it is clear to see that every member of the Henne team pulls together; the result being smooth, organised service which is full of enthusiasm and free from any unnecessary formality.

Dishes are succinctly described and come at an even pace; wines are explained in as much depth as guests require – and if you leave your choice to the sommelier, you won't be disappointed, nor left out of pocket. Bespoke menus are printed out and presented to diners as a keepsake; the kind of attention to detail which ensures a meal at Henne will live long in the memory.


@hennekirkebykro

@coquus69

@GDDawson73