Blanca
261 Moore St., Brooklyn, 11206, United States
149 - 198 USD • Contemporary
Blanca
261 Moore St., Brooklyn, 11206, United States
149 - 198 USD • Contemporary
MICHELIN Guide's Point Of View
This gleaming kitchen for serious eaters is located deep within the compound that helped elevate this industrial quadrant of Bushwick into a perch for haute cuisine. It takes a bit of a luck to score a seat at Blanca, as seating is limited and very much in demand, but you'll feel blessed indeed once you settle in. Here, products and dishes take inspiration from around the world, while warm, fluid service keeps the mood friendly among the small group. Blanca serves a carefully conceived multi-course tasting that promises immense creativity and an artist's ability to weave an unforgettable experience. This is dinner theater, with all eyes fixed on the open kitchen of Chef Carlo Mirarchi quietly turning out plates of perfection. The execution, even in simple dishes, is par excellence. Menus aren't presented until the end of the meal, but list dishes like sunflower seed "milk" topped with Pink Lady apple cubes and a mouth-coating grating of foie gras, tied together with chili and salt flakes. Fantastic pastas include tightly wound strands of cavatappi tossed in a spicy, creamy sauce made ultra-rich with the addition of Hokkaido uni. Makrut lime makes coconut ice and cashew ice cream refreshing and quite delicious.
Show More
Show Less
n Two MICHELIN Stars: Excellent cooking, worth a detour!
ó Comfortable restaurant
Related Reads
When creating quality products, devotion to detail is paramount in the foundation for success, no matter which type of production category.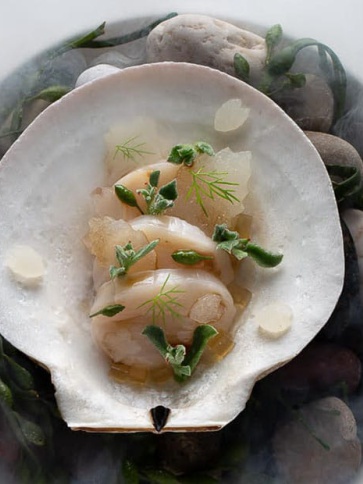 Blanca's Carlo Mirarchi, The Musket Room's Matt Lambert, and Faro's Kevin Adey are cooking alongside Carrie and Rupert Blease this week.
The wildly popular pizza restaurant in Brooklyn celebrates a decade of operation.
Subscribe to our newsletter and be the first to get news and updates about the MICHELIN Guide
Subscribe
Follow the MICHELIN Guide on social media for updates and behind-the-scenes information