You may have heard of Michelin's unique restaurant rating system, but how much do you really know what the coveted stars stand for? Here's a quick guide to the MICHELIN Guide's starry universe.

---
Stars and Covers
The MICHELIN Guide conveys its restaurant reviews through two to three-line short summaries and an extensive system of symbols, the most revered of which are its globally renowned stars. Restaurants may receive zero to 3 stars for the quality of their food based on five criteria: quality of the ingredients used, mastery of flavor and cooking techniques, the personality of the chef in his cuisine, value for money and consistency between visits.
Restaurant inspectors do not look at the interior decor, table setting, or service quality when awarding stars - these are instead indicated by the number of 'covers' it receives, represented by the fork and spoon symbol.
The best of the MICHELIN Experience in your inbox
Stay on top of the best restaurants, lifestyle, and events recommended in our guide cities.
Subscribe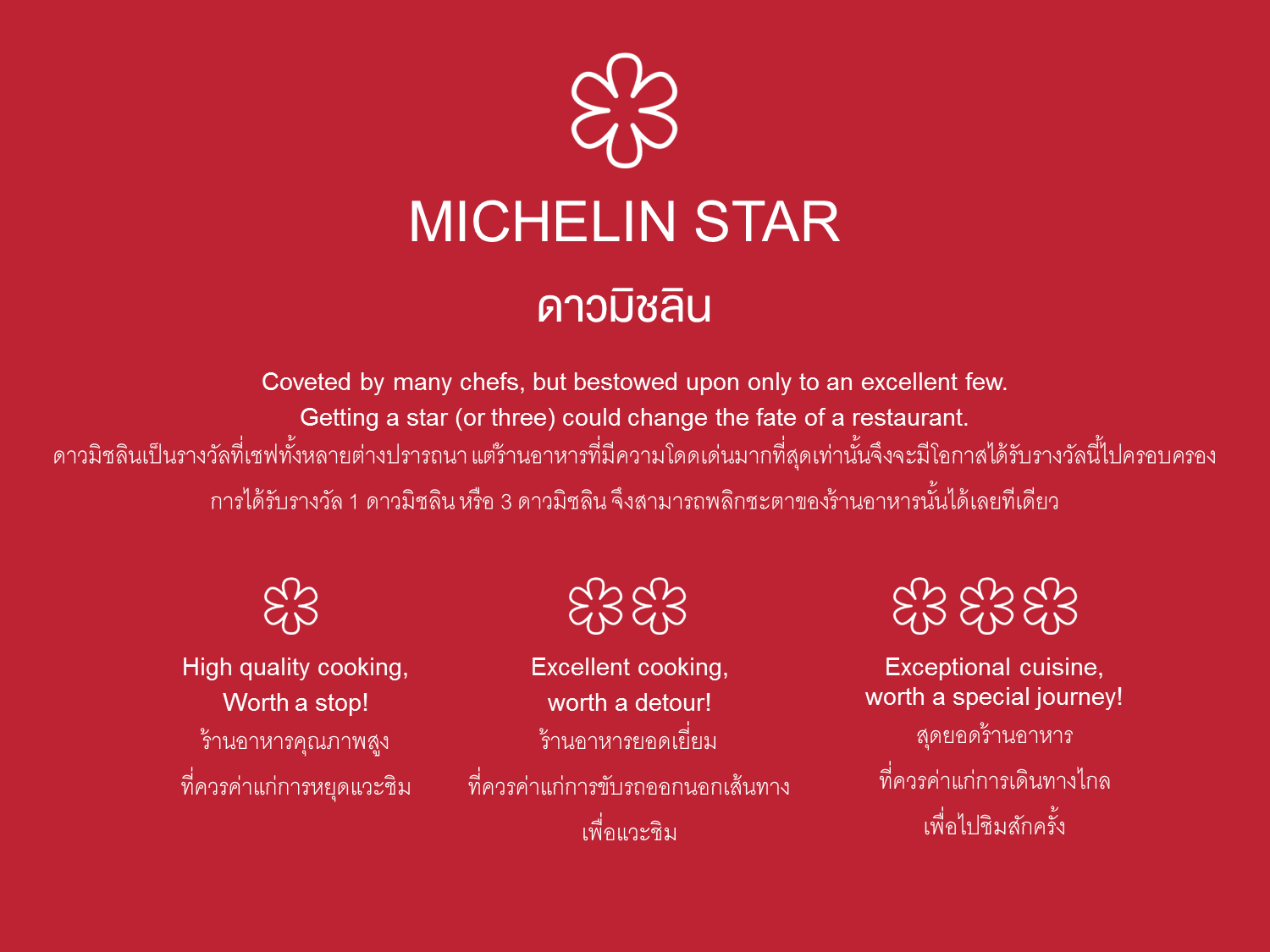 Bib Gourmand and The Plate MICHELIN
Not quite a star, but most definitely not a consolation prize, the Bib Gourmand - named after Bibendum, the friendly Michelin Man and the official company mascot for the Michelin Group - is a just-as-esteemed rating that recognizes friendly establishments that serve good food at moderate prices.
As MICHELIN Guide inspectors travel and taste their way through fine dining establishments around the globe, they are also on the constant lookout for restaurants that offer high-quality food at pocket-friendly prices. These accumulated observations resulted in the creation of a separate rating category to recognize such restaurants.

Initially, restaurants were flagged with a red "R" symbol to indicate to readers that they were destinations that served "good cuisine at reasonable prices". Namely, a three-course meal with starter, main course and dessert, within a fixed price range (which today stands at €36 in most European cities, US$40 in American cities, HK300 in Hong Kong and Y5,000 in Tokyo).

In 1997, the Bib Gourmand symbol - the image of the Michelin Man licking his lips - was debuted in the MICHELIN Guide for the first time. Since then, Bibendum has become a well-loved beacon for value-seeking diners looking out for good deals.

Thanks to Bibendum and the Bib Gourmand, Michelin inspectors have noted the increase in the number of restaurateurs dedicated to providing authentic dining experiences by way of quality cuisine at affordable prices in approachable and friendly establishments.


In the latest 2016 edition of the Paris guide, a brand new L'assiette or The Plate symbol was launched to recognize restaurants that 'simply serve good food'.

Recognizing Local Flavors
The MICHELIN Guide does recognize local food variance too: In territories such as Spain, noteworthy tapas bars are recognized by an additional wine and toothpick symbol, quality pubs in the UK/Ireland guide are marked with a beer mug symbol and street-food stalls are recognized with a cart symbol in Asia.
Restaurants with notable wine, sake and cocktail lists are recognized with the grape, sake bottle and cocktail glass symbols respectively.
About MICHELIN Guide Restaurant Inspectors
Food trends, cooking techniques and dining scenes come and go, but over a century, the MICHELIN Guide has held firm on its founding mission – to foster a culture of travel and eating out – and it's this promise of helping people that puts the MICHELIN Guide above all other restaurant guides.

MICHELIN Guide Inspector's Core values:

Anonymity: Although our inspectors are employees of Michelin, they're above all customers first - just like you. Testing restaurants in complete anonymity in order to ensure that they do not receive any special treatment is essential to the credibility of the MICHELIN Guide.

Independence: Michelin Inspectors are employees of the Michelin Group only and are not linked to any other organisations. Inspectors always pay for their meals in full to ensure independence.

Expertise: Our inspectors are experts in food, dining and hotel sectors with many years of experience working in the hospitality industry.

Reliability: The different categories awarded by the guide are never the result of one inspector's assessment. Michelin Stars are given by a collective of inspectors who visit the establishment multiple times.

Passion: What would be the point of so much work and such a strict approach if our inspectors weren't passionate about food? Most Michelin Inspectors have either worked in the hospitality business or cooked in kitchens themselves – rest assured our reviews are written with passion, integrity and knowledge.

Quality: Any restaurant can be reviewed for our guides as long as the establishment is deemed high quality based off Michelin's 5 restaurant rating criteria.

Michelin Inspector's 5 Restaurant Rating Criteria:
1. Quality of products
2. Mastery of flavour and cooking techniques
3. The personality of the chef represented in the dining experience
4. Value for money
5. Consistency between inspectors' visits

Click here see an interview with a MICHELIN Inspector.