Without a doubt one of Serbia's must-see sights, Belgrade is one of the oldest cities in Europe and is now the technological, financial and economic heart of the country. Remains from the Neolithic era can be seen in its surrounding areas, while the city itself was founded in the third century BC by the Celts who named it Singidunum.

The city changed with the arrival of the Romans in the first century, was subsequently conquered by the Slavs in the 6th century, and was destroyed and rebuilt as many as 38 times over the centuries. Belgrade became the capital of Serbia in 1841.

The city has a wealth of cultural highlights to delight visitors, such as the National Museum, Military Museum, Contemporary Art Museum, and Nikola Tesla Museum, as well as the Pobednik (The Victor) and Prince Mihajlo monuments, and the Beli Dvor (White Palace), the residence of the royal family. Alongside these historic sights, the capital also boasts new urban spaces, parks and gardens, as well as a whole host of entertainment and nightlife venues.

Music enthusiasts can attend major classical concerts performed by the Belgrade Philharmonic orchestra, while lovers of contemporary theater might like to attend the annual BITEF festival, which showcases plays staged by new and emerging theater companies. If you visit Belgrade in April, don't miss the festival of dance, which attracts crowds from around the world every year.

Alongside the city's traditions for music, art, cinema and sport, Belgrade also offers myriad choices for food-lovers. Different cultures have left their mark on Belgrade over the centuries, giving the city its unique, traditional yet cosmopolitan gastronomic character. Among the city's many restaurants, Salon 1905, an elegant address in the iconic Geozavod building right in the heart of the old town, stands out in particular.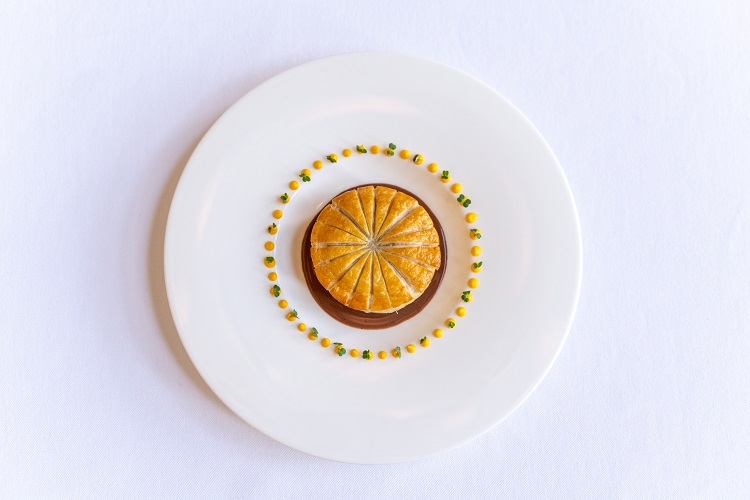 Vladimir Miladinović
This district is known as Savamala (from Savska mahala), an old area of Belgrade which, after it was freed from Turkish dominance, was inhabited by shopkeepers and merchants attracted here by the trading licences offered by Prince Miloš Obrenović to anyone who set up their trade in this district. Savamala – today decorated by famous graffiti artists from all over the world – was Belgrade's first commercial centre largely thanks to Luka Ćelović, one of the directors of the Belgrade Cooperative, whose headquarters were situated in the building now occupied by Salon 1905.
This building, a symbol of early 20C architecture, is a masterpiece which combines Baroque and Art Nouveau styles, with a spectacular interior decor of brass, marble and gold, adorned with female busts and floral decoration. Nowadays, this historic venue offers visitors a refined and unique gastronomic experience.

At the helm of Salon 1905 is chef David Šimunić, a former student of architecture who decided to become a chef to combine his love of art and architecture with his passion for food. After years spent working in Italy, Greece and other parts of the Mediterranean, he returned home where he adds his own personal touch to traditional Serbian recipes. His dishes are recognizably traditional in flavour while at the same time demonstrating precise and careful attention to detail in their presentation.


Chef David Šimunić - Vladimir Miladinović
" 'Serbian princesses would go to the stream to get water'. This phrase by poet Jovan Dučić helps to explain our philosophy", says chef David Simnic. "Serbia is a country with strong rural traditions, and this is demonstrated very clearly in its food and recipes. We want to combine this simplicity with a more refined and elegant feel. 'Rustic aristocracy' is our motto".

"Serbia has a continental climate, with hot summers and harsh winters, so we have many different ways of preparing food for the warmest and coldest months of the year", the chef continues. "That's why we serve two tasting menus which follow the seasons, both of which feature ingredients from small local producers with a particular emphasis on organic produce".


At the moment, the chef is focusing on summer in Serbia, with its wild herbs, fresh scents, and the authentic flavour of fresh goat's milk. Starters include dried Serbian trout with mixed dried herbs; risotto with fermented garlic and dehydrated vegetable powder; and "Gomboce" dumplings filled with three cheeses from three different Serbian regions (Srem, Banat and Bačka).
The same emphasis on local ingredients can be found in the restaurant's main dishes, from the duck breast marinated in red wine and Tamjanika grape sauce (the duck is sourced from a farm just outside the city) to the puff pastry pie filled with Šumadija rabbit marinated for 24 hours in local wine and then cooked in the oven with vegetables – a real work of art.
Other delicious dishes include the Tournedos Rossini made with beef from Mt Golija and the steamed fillet of trout topped with maraschino cherries and šljivovica sauce, served with organic turnip panna cotta.


"One of our most typical dishes is Sarma – in Cyrillic: сарма – white cabbage leaves stuffed with a mixture of minced meat, egg, onion, herbs and spices", the chef adds. "This type of dish is typical of the Middle East, but you have to remember that Serbia was for a long time occupied, under the Ottoman Empire, and so they are a part of our culture as well. I have reinterpreted this traditional recipe by substituting the fresh cabbage with fermented cabbage leaves and using a mix of pork and beef for the filling, which is then cooked with smoked pork ribs to add a more intense flavour. In addition, this peasant dish is prepared in our restaurant with only the best ingredients: the beef comes from our native Buša mountain breed; the pork is Mangulica, which is famous for its tender, delicate flavour; we use kočanski rice, the best regional variety; and the cabbage is organic and fermented in our own kitchens. Our over-riding aim is to carry forward our local traditions well into the future".

As well as its two seasonal menus, the restaurant also offers a menu featuring the iconic dishes which made its name, while its wine list showcases Serbia's most renowned wines alongside the best labels from France, Italy and the New World. On Friday and Saturday evenings, the ambience here is enhanced by live jazz music performed by a soloist on the piano or a trio of double-bass, drums and pianist. For a relaxing drink after dinner, the delightful oak bar, which is as elegant as the rest of the restaurant, is the perfect spot to unwind and enjoy yourself late into the night.


Seasonal, local ingredients, a touch of creativity and highly attentive service all combine to make Salon 1905 one of the most elegant and fascinating addresses in which to begin your exploration of Belgrade's rich and varied cuisine.


Vladimir Miladinović
Hero image: Vladimir Miladinović
This post is brought to you in partnership with NATIONAL TOURISM ORGANISATION OF SERBIA