Chef Heinz Beck is not what you'd expect from the person behind Rome's only three-Michelin-starred restaurant, La Pergola. For starters, Beck is on a mission to make fine dining healthy-ish—not exactly something you expect in a place where Amatriciana is a way of life. Also, Beck is German—not Italian.

But that hasn't stopped the country he calls home from embracing him, or his food.

"Initially I wanted to stay for two years, learning a new language and learning a new culture. Before coming here, I had never been [to] Italy," says Beck, who came to the restaurant in 1994 and describes his style as "light and healthy cooking of Mediterranean flavors."

Beck, who, along with 10 other prominent Italian chefs founded the "Order of the Knights of Italian Cuisine," spent his early years working in Michelin-starred restaurants such as Tantris in Munich, (the now-defunct) Tristán in Mallorca and Residenz Heinz Winkler in Aschau, Germany.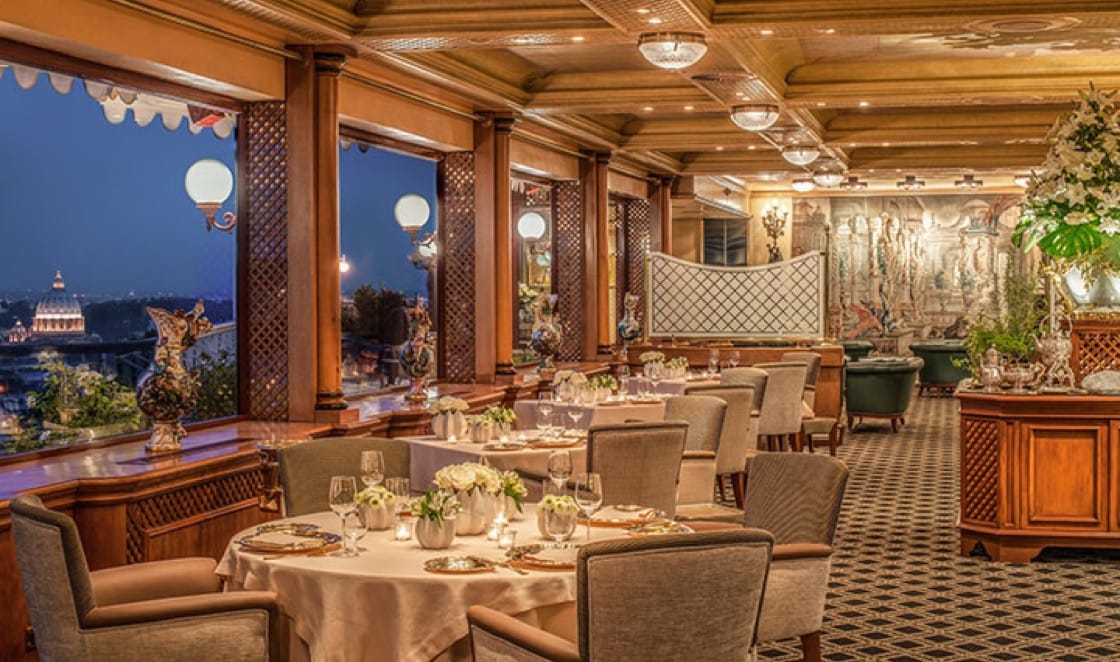 La Pergola is Rome's only restaurant to don three Michelin stars. (Photo courtesy of Cavalieri, A Waldorf Astoria Resort.)
Now, he has three stars of his own at La Pergola. Creativity is what has kept him here 24 years later. "Everyday something new, everyday something more," he says. In 2000, the chef starting doing research with professors on "the effect of food" on health and the human body.

His signature dish, a perfect example of the chef's quest for a lighter way of cooking, is the other-worldly fagottelli "La Pergola," Beck's riff on carbonara. The trick here is that chef fills the freshly-made pasta with a mixture of egg yolk, Pecorino, cream and pepper instead of adding a heavy sauce at that end, and once cooked, finishes the tiny pouches with a simple mixture of olive oil, guanciale and zucchini. While not exactly diet-friendly, the dish leaves diners not in a food coma, but rather wanting more.

Rabbit tortellini with carrot and chamomile. (Photo courtesy of Heinz Beck's Facebook page.)
Nowadays, he is working on dishes like duck foie gras powder with red berries and rabbit tortellini with carrot and chamomile scent. The prolific cookbook author and certified sommelier has also studied the science of health and nutrition extensively, his approach to cooking almost formulaic in nature.

La Pergola's website reiterates this approach: "Every dish is a vision; as every recipe is the result of a meticulous analysis of every detail and of every aspect. Singular elements that multiply their value within the sum of the whole they represent."

The magic of La Pergola, however, might arguably be in the hands of Beck's secret weapon: master sommelier Marco Reitano. Reitano is affable and elegant, not unlike many of the adventurous wines he pours from their custom-built limestone cellar—allegedly the largest in Italy—which contains more than 72,000 bottles sourced from Algeria, Japan and everywhere in between, and ranging in price from €60 to €31,000.

Marco Reitano has curated not one, but two extensive wine lists for La Pergola. (Photo courtesy of the Waldorf-Astoria Rome Cavalieri Facebook page.)
Reitano, who joined Beck as a young 22-year-old and has stayed for more than two decades, "has curated two extraordinary wine lists, one from around the world and another exclusively Italian," including rarities such as a 1922 Château Lafite Rothschild and a 1945 Pétrus. Reitano may not be the man associated with the stars, but he certainly has received recognition in his own right: He's won Best Italian Sommelier at the Premio Internazionale del Vino (basically, Italy's Academy Awards for wine) and has been appointed chevalier by the Ordre des Coteaux de Champagne (the official fraternity of the major Champagne brands) for his encyclopedic wine list.

Just as Beck is trying to break the mold when it comes to nutrition and fine dining, Reitano is breathing life into the restaurant's ornate, frescoed dining room on the top floor of the Rome Cavalieri—a Waldorf-Astoria resort that sits on 15 private acres and is just as stunning as the food coming out of the La Pergola kitchen—one bottle at a time. With Heinz and Reitano at the helm, the restaurant—set atop Rome's Monte Mario with stunning panoramic views of the Vatican, the Piazza Venezia and everything in between—rests as king of the hill in the Eternal City quite literally.

Photo of Heinz Beck courtesy of Cavalieri, A Waldorf Astoria Resort.