The MICHELIN Guide Kuala Lumpur and Penang is pleased to present its inaugural selection of Starred and Bib Gourmand restaurants in the capital of Malaysia on Tuesday 13 December, 2022 at the Berjaya Times Square Hotel, Kuala Lumpur.

Bib Gourmand and Star Revelation Announcement
The much-loved Bib Gourmand selection, which lists restaurants offering 'good quality, good value cooking', will be released during the Star Revelation ceremony.
Selection criteria for Bib Gourmand and MICHELIN Stars adhere to a global standard where anonymous Michelin inspectors review all cuisines, and evaluate only the quality of the dishes. All establishments are chosen according to the same five criteria used by Michelin inspectors around the world: quality of the ingredients; mastery of cooking techniques; the harmony of the flavours; expression of the chef's personality in the cuisine; and consistency, both over time and across the entire menu. Location, décor, service and available facilities are not part of the selection criteria.
Time: From 6:30PM local time
Date: Tuesday 13 December, 2022
Location: Berjaya Times Square Hotel, Kuala Lumpur
*Please note this is an invitation only event, viewers can enjoy star revelation live stream via the MICHELIN Guide Youtube or MICHELIN Guide Facebook page.
Guests attending the exclusive invite only celebration will be treated to a six-course gala dinner presented by MICHELIN Starred restaurant and local chefs from around-the-world.
FEATURED CHEFS
Chef Julien Tongourian,mmmRestaurant Robuchon au Dôme, Macau

Chef Julien Tongourian is currently the Chef de Cuisine (Executive Chef) of Robuchon au Dôme at Grand Lisboa in Macau.
What our inspectors said about Robuchon au Dôme
Its lofty position atop the Grand Lisboa hotel lets diners take in breathtaking views and is a great setting for the renowned contemporary French cuisine. Choose the 7- or 10-course degustation menu at dinner; or one of the sets at lunch. Dishes are intricate, beautifully plated and pack an array of intense flavours, with the stunning dessert trolley providing a fitting finale. The restaurant boasts one of the best wine lists in Asia. Read full review here.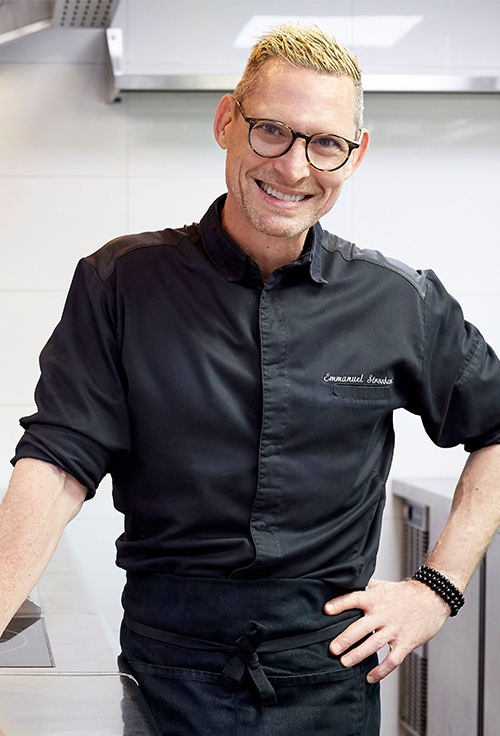 Chef Emmanuel Stroobant,mm Restaurant Saint Pierre, Singapore
Belgium-born turned Singaporean, Emmanuel Stroobant is one of the pioneers who helped shape Singapore's fine dining scene at a time when chefs of his culinary inclination were few and far between. Since he launched Saint Pierre in 2000, he has turned it into one of Singapore's longest-running French fine dining restaurants and a highly regarded dining institution.
What our inspectors said about Saint Pierre
The unobstructed views of the Marina Bay, smart décor and discreet service don't outshine Chef Emmanuel's modern French cuisine, underpinned by solid skills... Read full review here.
Chef Liew Shiao Khuen (Kwen Liew),mRestaurant Pertinence, Paris, France
Born in Kuala Lumpur, Kwen Liew never thought that she would become a chef. A penchant for cooking videos turned into stints at professional culinary courses at Le Cordon Bleu in Sydney and Bangkok, which cemented her dream of owning her own restaurant in France. Liew pursued a pastry diplôme at France's Ecole Nationale Supérieure de Pâtisserie. She then interned at a few restaurants in Paris and Singapore before finally returning back to Paris...
Within the first year of opening, Pertinence was recognised with one MICHELIN Star in February 2018. At 29, Liew is the first and only Malaysian female chef whose restaurant is recognised with one MICHELIN Star. Read full review here.
Chef Darren Teoh, Restaurant Dewakan (Kuala Lumpur, Malaysia)
Darren's philosophy is simple. Be curious, have courage, value your roots. His focus has always been about a deep, reverent connection between the indigenous of Malaysia and the freedom to express his values through food. Dewakan is Darren's expression of cooking with purpose. This decision sets the stage for imaginative, inventive servings of modern Malaysian cuisine using indigenous ingredients such as kulim, ketumpang air, keluak and tenggek burung.
About Restaurant Dewakan
A combination of Malay words dewa' (god), and makan' (food), Dewakan honours and celebrates God s bounty from the farms, seas, mountains, and jungles of Malaysia... Restaurant website here.
Chef Zach Choong, Kebaya Dining Room (George Town, Malaysia)
Born and raised in George Town, Penang, Chef Zach has been surrounded with Penang hawker fare, lots of home cooked dishes and eclectic architecture. The call to the culinary arts was an obvious one after he underwent training in Europe and briefly in the U.S. After much exposure to french culinary institutions he got his exposure to Southeast Asian food via three masters of Thai cuisine: Chef David Thompson and Chef Prim, Nahm Bangkok followed by Chef Dylan of bo.lan.

About Kebaya Dining Room
Armed with their passed on secrets, Kebaya applies very innovative cooking methods using traditional Malaysian flavour profiles, Vietnamese lightness, Thai spiciness, and traditional French cooking styles... Restaurant website here.
Chefs Lee Zhe Xi & Soh Yong Zhi Restaurant Eat and Cook (Kuala Lumpur, Malaysia)
Chef Zhe Xi is a true food lover and always the one to finish off the left-overs in the fridge. His childhood years were spent in enjoyment standing next to his grandmother in the kitchen, prepping and cooking together. Chef Yong Zhi Born in the peaceful town of Taiping known for its kopitiam culture. He often revisits the memory of a wanton noodle stall next to a Chinese Temple runned by twin aunties and the curry chicken and nasi kunyit from the kopitiam in town.
About Restaurant Eat and Cook
Welcome to Eat and Cook, the pioneers of Malaysian Omakase. The name of our restaurant sums up. You enter with an appetite to eat and our chefs will decide what to cook right in front of you... Restaurant website here.
This Event has now ended. Check back shortly for updates on upcoming Events.