The end of Hong Kong's fifth wave marked the return of dinner service, and with restaurants opening until midnight starting from 19 May, it's safe to say that the dining scene is back to life again, with a raft of restaurants opening their doors across the city.
Here are some of the most exciting dining options to try now.
Chef Antonio Oviedo and general manager Anton Marquez (left); Erizo (right)
Agora by Antonio Oviedo opens in Tai Kwun
Madrid-born chef Antonio Oviedo, who is best known for his tapas bar 22 Ships on Ship Street, has teamed up with JIA group again to open Agora—Tai Kwun's latest Spanish fine dining concept. Having honed his culinary skills at some of the top restaurants in Madrid including one-MICHELIN-starred Zaranda, Oviedo made a name for himself as the sous chef of one-MICHELIN-starred Iggy's in Singapore before moving to Hong Kong in 2020.
Opening for dinner service only, Agora will serve two seasonal tasting menus, highlighting seasonal ingredients sourced from the greater area of Spain, from Verdial extra virgin olive oil cultivated in Málaga to choricero chili pepper—a dehydrated, non-spicy variety of Spanish red pepper.
Designed by general manager Anton Marquez, the wine programme will spotlight Spanish wine varieties, featuring more than 20 Spanish appellations and over 90 Spanish labels, complete with a selection of French Champagne and fine wines.
As part of Agora's philanthropic mission, the restaurant will donate 1% of every bill to World Central Kitchen (WCK) to provide meals to disadvantaged communities in the wake of natural disasters.
Shop 14, G/F D Hall, Tai Kwun 10 Hollywood Road, Central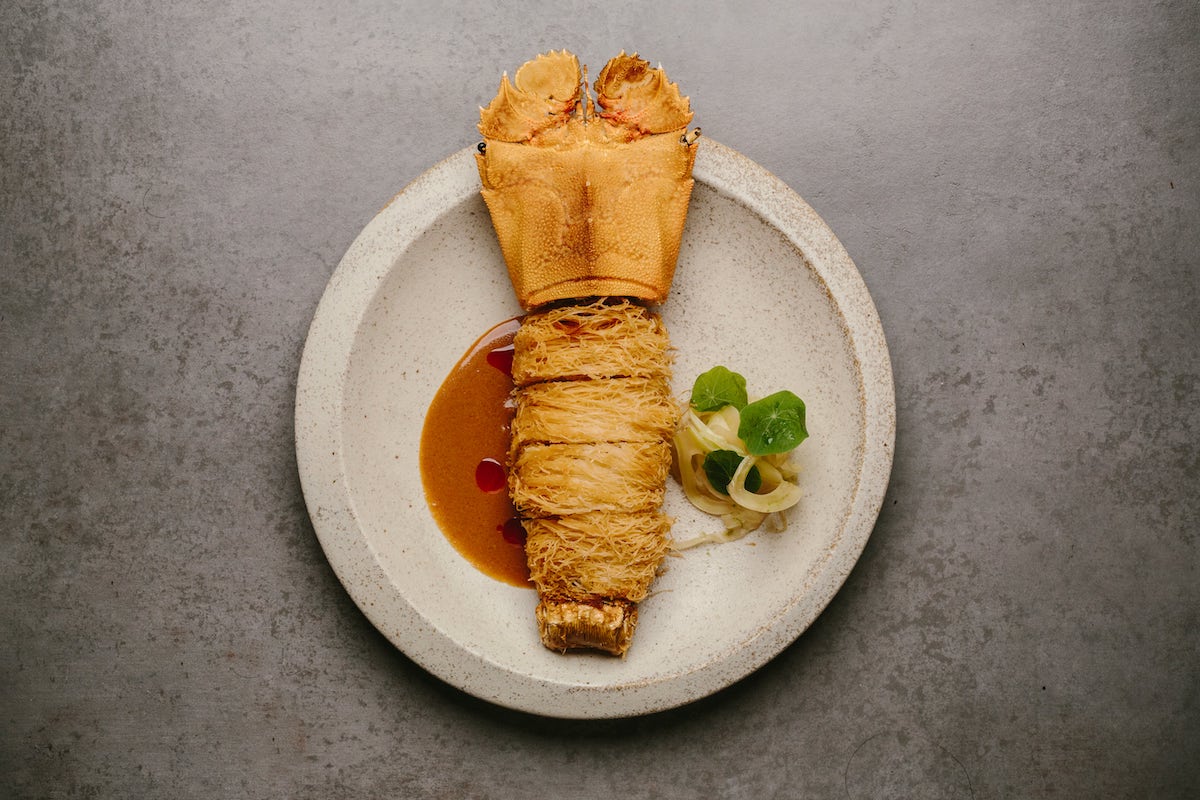 Flathead lobster kataifi (Photo: Censu)
Censu welcomes dinner guests with a new spring menu
Almost a year after its opening in July 2021, Censu, a 40-seat contemporary Japanese restaurant in Sheung Wan's Gough Street, swings into Spring with a new menu celebrating the best produce of the season.
The a la carte menu features new dishes such as the mackerel sashimi pickled with yuzu vinegar, served lightly torched and topped with shredded parmesan cheese, horseradish and karasumi. From the grill, opt for the sawara plated with fresh coriander miso and pomelo for a refreshing, citrusy kick.
Other highlights include the bamboo tempura paired with Censu's house-special ebi fish cake served on a bed of kombu dashi; a flathead lobster kataifi meticulously wrapped in shredded potatoes and a scallop prawn mousse, and deep fried to golden brown and crispy; a Three Yellow Chicken paella inspired by Singapore Hainan chicken rice and Spanish paella served with Koshihikari rice cooked in a Hainan chicken and scallop dashi broth. The menu is rounded off with a coconut sorbet made in-house and comes with pineapple granita and shiratama dango.
Helmed by chef Shun Sato, previously of Belon, Censu embraces the philosophy of wabi-sabi in every aspect, from the minimalist interior to the quietly confident cuisine.
28-30 Gough Street, Central, Hong Kong

Ramato is the latest neighbourhood Italian restaurant with a menu by chef Antimo Maria Merone (Photo: Ramato)
Ramato opens on 208 Hollywood Road
A newcomer to the Sheung Wan neighbourhood, Ramato has taken over the space that previously housed 208 Duecento Otto. With a menu developed by chef Antimo Maria Merone of Estro, Ramato serves up family-style, rustic southern Italian fare inspired by the chef's memories of home.
Choose from a selection of antipasti, ranging from local clams sautéed with garlic, parsley, Datterino tomatoes and white wine to burrata with camone tomato and basil. The pasta dishes are equally hearty, with options including homemade pappardelle ragu with simmered eggplant and Sagabuta pork ragu seasoned with black pepper and parmigiano, homemade fettuccine with king prawns, zucchini and mint, and homemade gnocchi with broccoli sauce, anchovy essence and bottarga—all served in generous portions.
The restaurant currently offers three main dishes (secondi): a 1.5kg baked sea bass, XL king prawns with Mediterranean herbs, and a 500g grilled M5 Australian wagyu rib eye. Don't leave without trying the traditional southern Italian-style desserts, especially the tiramisu, limoncello baba and Sicilian cannolo.

G/F, 208 Hollywood Road, Sheung Wan, Hong Kong

Chef Jeston Chua (left); whole turbot (right) (Photo: Vivant)
Vivant opens on 8 Lyndhurst Terrace
Twins Kitchen has teamed up with ex-Belon and Batard chef Jeston Chua to open a new modern European bistro, Vivant. The a la carte menu focuses on seafood and seasonality, highlighting classic French bistro favourites with a twist such as threadfin fish with piperade served on fondant potato and red pepper dashi, roasted local turbot with Colbert sauce, and braised short ribs with sauce au poivre (peppercorn sauce).
With a prime location on 8 Lyndhurst Terrace, Vivant offers a diverse selection of beverages, ranging from craft beers, ciders, natural wines to non-alcoholic options, making it the perfect spot to chill out after a long day.
"Vivant means 'alive', 'lively' in French. The word itself is reminiscent of the French bistronomy culture and its dynamism. But it's also a cry out from us, in this general climate for F&B in Hong Kong. We are still alive. Hong Kong is still alive," says co-owner Caleb Ng.
Shop 2, G/F, 8 Lyndhurst Terrace, Central, Hong Kong