The Michelin Guide Athens 2021 was unveiled on Tuesday 16th November. It's the first year that the Selection has been published in digital format only – you can view the listings here on the website or on the free Michelin Guide iOS and Android apps.

Seven restaurants were added for 2021. We take a closer look at what makes them so special.

ONE MICHELIN STAR
Pelagos

Overlooking a sheltered bay on the 'Athens Riviera' is the Four Seasons Palace Hotel and, within it, sits Pelagos: the Greek word for 'Ocean' and a fitting name considering its sea views, 1930s Art Deco ocean liner styling and seafood focus.

Italian-born Luca Piscazzi left his role as Head Chef La Dame de Pic in London to take over the kitchen and in a short space of time has stamped his personality on the cooking: a blend of refined French techniques and prime Mediterranean ingredients which incorporates sophistication, creativity and, above all, bold, harmonious flavours.

Start with one of the signature martinis from the trolley, then choose one of the three tasting menus for the full experience. Service is of the highest level and comes with real passion and plenty of personality.

Pelagos - One Michelin Star
MICHELIN BIB GOURMAND
Cerdo Negro 1985

Brothers Konstantinos and Yiorgos Alexopoulos have combined their Greek heritage with a passion for Spanish cuisine at this small taverna in the up-and-coming Gazi neighbourhood.

It's named 'Black Pig' in homage to the famous Spanish Iberico breed, the music is turned up loud, and the brothers – who are wonderful hosts – appear to enjoy themselves as much as their guests.

Most of the cooking takes places over a wood fire, which adds plenty of flavour to the generously proportioned dishes that are more than adequate to share. Homemade breads, dips, charcuterie and their signature mutton all feature, as well as a delicious ceviche of sea bass. Prices represent incredible value.

Cerdo Negro 1985 - Michelin Bib Gourmand
RESTAURANT ADDITIONS
Le Pavillon

French-born chef Jean-Charles Métayer admits it was love at first sight when he came across this charming, whitewashed villa designed following the principles of the German Bauhaus movement. Situated around 6km northeast of the city centre, it is now home to his first restaurant.

Menus are predominantly seafood based, utilising the bounty of the Aegean and Ionian Seas, as well as the North Atlantic Ocean. Cooking shows respect for classic French techniques but also demonstrates refinement, with the flavours being more subtle and delicate than the typical bold Mediterranean style.

Service is attentive and structured, and Jean-Charles personally welcomes each diner to his restaurant.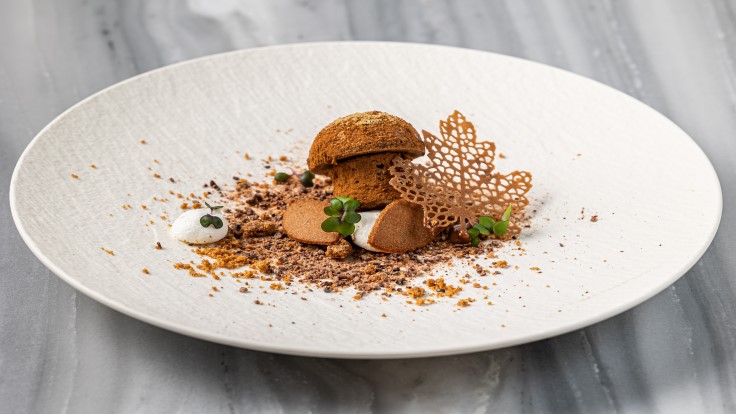 Le Pavillon - Restaurant Addition
Athénée

Athenians will probably recognise this restaurant by its former name – Zonars – a splendid art deco building which opened in the 1930s and was the place for the rich, famous and fashionable to meet. Today, it sports a new name, Athénée, and has been lovingly restored to its former glory by the Panas family.

It now has a classic French brasserie style and offers something to suit everyone by opening from morning until late. Classic Greek dishes are executed with the utmost respect to tradition, sushi provides something for those looking for a lighter option, and the pastries and desserts from their in-house bakery really come into their own for afternoon tea.

Service is professional and attentive, and you are welcome to stay for as little or long as you like. One thing is for sure… this looks set to become the place to be seen once again.

Aleria

A carefully restored, mid-19C neoclassical former residence provides the setting for this two-floored restaurant, which comes with some rather eye-catching décor. It is, however, its walled garden which is the jewel in its crown – a real hidden gem and one of the best places to sit in Athens in the summer months.

Chef Gikas Xenakis serves his own modern interpretations of Greek classics using produce from the mainland and surrounding islands. Classic Greek ingredients feature in interesting, colourful combinations on two set menus: 'Garden & Nature' or 'Earth & Sea'. If you choose the latter, keep an eye out for their signature dishes – the omega 3 meatballs and the 16-hour slow-braised lamb.

It's well worth going for the Greek wine pairings from the extensive list, where new, progressive winemakers who are shaking up and steadily re-invigorating the industry, are the focus. The passionate team who run this restaurant really add to the overall experience.

Annie Fine Cooking

Set on a leafy, tree-lined street is this rather smart, colourfully decorated neighbourhood restaurant which spills out onto a pavement terrace. It's run with real passion by three hands-on owners and is named in honour of the owner's mother, who reputedly kept a fine table – and whose love of all things culinary has clearly been passed on to her daughter.

Cooking celebrates the country's produce, with natural flavours and a distinct balance of sweet and sour shining through. Dishes have a modern Greek style and the carefully matched flavours and textures can't help but put a smile on your face.

There is an honesty and homeliness to the cooking too – and the large open kitchen which greets you as you walk in the door adds to the feeling of dining in someone's home.

Okio - Restaurant Addition
Okio

Floor-to-ceiling windows flood the interior of this cool, laid-back restaurant with light, creating a seamless transition between the inside and outside; if you opt for outside, head for a table to the side for a more secluded experience. Chunky wood tables provide a contrast to white marble pillars and a marble bar, while greenery adds a natural feel.

Start with a cocktail while choosing from the interesting menu: you can either go down the traditional 3 course route or opt, instead, for plates to share. Good quality ingredients are used in dishes which are confidently prepared yet pleasingly unadorned, and the experienced chef adds a touch of originality and playfulness to many of the combinations.

Fish and shellfish are a focus of the dynamic kitchen team, with some Asian flavours being added to a Mediterranean base. Desserts, in particular, are given a unique stamp, and the serving team are keen to advise on the menu from start to finish.