From tacos with smoked brisket and chili slaw to braised octopus tostadas, zingy aguachile and tender tamales, these are the best Mexican restaurants in Manhattan, from MICHELIN Guide New York City.
First things first: order a mezcal from the massive selection, then settle in to peruse the list of small plates. A party of two could easily sample every delicious morsel on the menu, but this kitchen team really rocks the Arctic char tostada. Other delights include the chicken enchiladas; quinoa, yogurt and tomatoes done pico de gallo-style; as well as farro and quail egg meatballs.
US$25-50
Atla. Photo @bernardoarcev/Instagram
Exuding both an industrial-chic aura and Caribbean-lush demeanor, the space is focused around a stunning central wood sculpture and massive windows that showcase the lively bustle of Broome Street. Chef Ivy Stark's passion for classical Mexican cuisine is evident in her meticulous mole and delicate tortillas, as well as more original creations including molotes—here, these crispy masa shells are filled with creamy, cilantro-flecked crab. Taco fillings are consistently delicious—from shatteringly crisp squash-blossom tempura to savory carnitas.
US$50-75
One glance at the menu here will tell you why this kitchen is so beloved. Duck carnitas, though pricey, are impressive with their perfectly cooked and crisped duck and eye-catching cast iron skillet plating, but it's the flavorful sweet, spicy, and nutty cobia al pastor that is an utter delight. This cooking is clever, and, at times, surprisingly delicate. Husk meringue, filled with corn mousse, is a dessert staple.
US$65-150
Cosme. Photo by Michelin North America
The menu bears chef Alex Stupak's signature creative flair, offering a range of small bites, tacos and shareable large plates. Sample the clever spins on salsa, like a wickedly good smoky cashew version that arrives along with the sampler starter; or the irresistible lamb sweetbread tacos with a flutter of white onion and bright cilantro. Stupak is also a serious pastry chef and his talent shows in desserts, like the "avocado."
US$39-80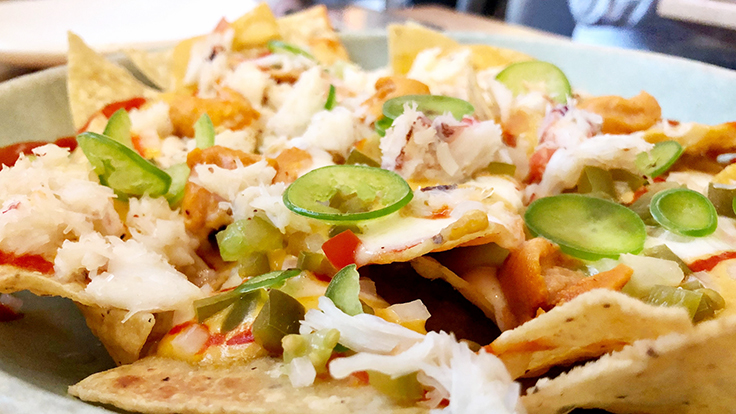 Empellón. Photo by Michelin North America
There's nary an oozing quesadilla in sight here, since this kitchen is completely vegan. What you will find are such winning dishes as beet and pumpkin empanadas with a flavorful chimichurri and chile de arbol for additional ka-pow. The chorizo tacos, which sub seitan for spicy pork sausage, are wrapped inside turmeric tortillas and dipped in a fiery salsa. Then, chile rellenos—stuffed with corn, coconut cheese, squash, and spinach—are equal parts sweet and savory.
US$20-40
Jajaja. Photo by Michelin North America
Upscale Mexican dining thrives at Chef Richard Sandoval's
muy popular
Maya. Slick with polished dark wood furnishings, vibrant tiled flooring and accent walls the color of a ripe mango, this is always a fun scene. Antojitos, such as squash blossom quesadillas and their trio of salsas, headline as starters. Tasty tacos are stuffed with smoked brisket and creamy chili slaw. Heartier dishes feature huitlacoche and wild mushroom enchiladas swathed in a creamy, fire-roasted poblano chile sauce.
US$25-50
Maya. Photo by Matt Ritscher, courtesy of Maya
Housed within a brick storefront across from the City College of New York, this spot is a true neighborhood gem. Its interior is simple, outfitted with wood tables, warm lighting, and a Dia de los Muertos mural. The street food of Mexico City inspires Chef Cassandra Rhodes' concise, well-conceived menu. Authentic tacos and antojitos pepper the carte, alongside homey creations like braised chicken salsa verde enchiladas, smothered in melted queso Oaxaca; or braised octopus tostadas, paired with mandarin salsa. Save room for irresistible churros, served with chocolate- and cinnamon-caramel sauces.
US$25-57
Oso. Photo @oso_harlem/Instagram
Bringing a dose of Mexico City chic to the area, this restaurant takes its name from the ancient Mesoamerican fable of an ant and incorporates that imagery throughout the setting. The menu is an unrestricted look at this nation's cuisine. It is only fitting that specialties here include the Climbing Ant cocktail with tequila, Aperol and mole bitters; guacamole seasoned with crushed ant salt; and grasshopper-crusted shrimp tacos. Bug-free creations are just as appealing, as in tacos with fried cod cheek and cabbage-mango slaw.
US$25-50
The Black Ant. Photo @eatinnyc/Instagram
Hero image: Cosme. Photo by Michelin North America