| | |
| --- | --- |
| MICHELIN Guide Dining Series 1st Edition: French cuisine with a Thai twist - Night #1 | MICHELIN Guide Dining Series 1st Edition: French cuisine with a Thai twist - Night #2 |
Join us for the inaugural dinner of the Michelin Guide Dining Series, an exclusive quarterly event that brings together two renowned Michelin-starred chefs for a unique dining experience in the City of Angels. Each dinner will showcase the exceptional talents of the chefs, allowing them to share their individual personalities and culinary prowess with a new audience. But the events are not only a meeting of great talents. They also represent an opportunity to try one-of-a-kind creations that challenge the chefs, pushing them beyond the boundaries of their usual repertoire.
Featured Chefs
Arnaud Dunand-Sauthier, Chef de Cuisine Le Normandie @ The Mandarin Oriental Hotel, Bangkok
Originally from Savoie, Chef Arnaud has over two decades of experience in fine dining, having worked with renowned culinary talent worldwide, including Georges Blanc in Vonnas and Marc Veyrat in L'Auberge de L'Eridan. He also spent three years at Maison Lameloise in Burgundy before venturing to Le Crillon in Paris under the leadership of Jean-Francois Piège.
Chef Arnaud is delighted to share his culinary passion, where he takes Le Normandie's loyal diners to new heights of fine dining excellence and delights. He introduces a new generation of culinary explorers to the sophistication of his haute cuisine.
For this extraordinary young talent, his passion for food is as spectacular as his zest for life. "I am a young man myself who is travelling the world in search of new experiences and gastronomy, and Le Normandie is my opportunity to share the best of my culinary journey so far with fellow travellers." says Chef Arnaud.
Ryuki Kawasaki, Chef de Cuisine Mezzaluna @ The lebua Hotel, Bangkok
Chef Ryuki Kawasaki developed his lifelong love of cooking as a child at his grandmother's side. He says "All Japanese women have a passion for cooking and I spent a lot of time in the kitchen with my grandma and learned how to cook traditional Japanese".
Ryuki followed his heart and attended Culinary School in Tokyo, specializing in French and European cuisine, followed by Chateau de l'Eclair in France, where he received the "Best Chef of the Year in School'' award.
Straight out of school, he worked for some of the most legendary Michelin-Starred restaurants in Europe, Japan and United States (Paul Bocuse, Taillevent Robuchon and TWIST) where he mastered his culinary skills and learned to manage the kitchen for more than 18 years.
In 2015, chef Ryuki decided to join the iconic Mezzaluna – The Dome at lebua's in Bangkok where he gives free reign to his passion and creativity to design his own style of cuisine combining exclusive locally sourced Thai ingredients, his Japanese heritage and his professional training.

Photo Caption - From L-R: Chef Arnaud Dunand Sauthier, LeNormandie @ The Mandarin Oriental (Two Michelin Stars), Chef Ryuki Kawasaki, Mezzaluna @ lebua Hotel (Two Michelin Stars)
MENU*
Canapes By chef Arnaud Dunand-Sauthier and chef Ryuki Kawasaki
Hokkaido scallop "Carpaccio" Jicama, heart of palm, yuzu-orange, bottarga, tom yum powder By chef Ryuki Kawasaki
Heart of salmon cured and slightly smoked capsicum green curry, celery and honey By chef Arnaud Dunand-Sauthier
Kinmedai "soy glazed" foie gras custard, jasmine & wild rice crisps, gaeng jued consommé By chef Ryuki Kawasaki
Line caught wild turbot from Le Guilvinec tomato, chilli and green papaya By chef Arnaud Dunand-Sauthier
Saga Wagyu beef "Kor Moo Yang Marinated" firefly squid, Thai asparagus, watercress puree By chef Ryuki Kawasaki
Steamed meringue (floating island) wild green tea from Chiang Rai, lemongrass and sesame By chef Arnaud Dunand-Sauthier & chef Christophe Sapy
Mignardises By chef Arnaud Dunand-Sauthier & chef Ryuki Kawasaki
*All courses paired with carefully selected wines and Champagne.

VENUES
Night 1: 27 March, 2018 - Le Normandie @ The Mandarin Oriental Hotel, Bangkok
Since opening in 1958, Le Normandie at The Mandarin Oriental has earned a reputation as a premier destination for those looking for sophisticated French cuisine. Situated in the hotel's Garden Wing, Le Normandie offers breathtaking views over the Chao Phraya River through floor-to-ceiling windows. The elegant surroundings featuring vintage crystal chandeliers and stunning flower arrangements create a unique air of sophistication.
Awarded 2 Michelin Stars in the inaugural Michelin Guide Bangkok, Le Normandie is acclaimed for its contemporary French cuisine by Chef Arnaud Dunand-Sauthier. Impeccable service, pure and precise flavours, wonderful taste combinations and the subtlety of herbs, and seasonings offer a genuine and unique experience of haute cuisine.
Night 2: 28 March, 2018 - Mezzaluna @ The lebua Hotel, Bangkok
Perched on the 65th floor of the Dome at Lebua Hotel, Mezzaluna offers sky-high dining and breathtaking 180-degree city views. Mezzaluna boasts an open kitchen, a half-moon design overlooking the Chao Phraya river and a polished teak staircase leading to tables impeccably positioned for privacy.
Only the finest seasonal ingredients are used at Mezzaluna, from international growers as well as local artisanal producers – often royally initiated projects and always with an emphasis on organic farming methods. Homemade herbal oils, vinegars, bouillons, and fruits and vegetables extracts are used for the smoking, pickling, drying, curing and grilling that are done on-site. The flavours are balanced and sophisticated, and the food is creative and technically precise.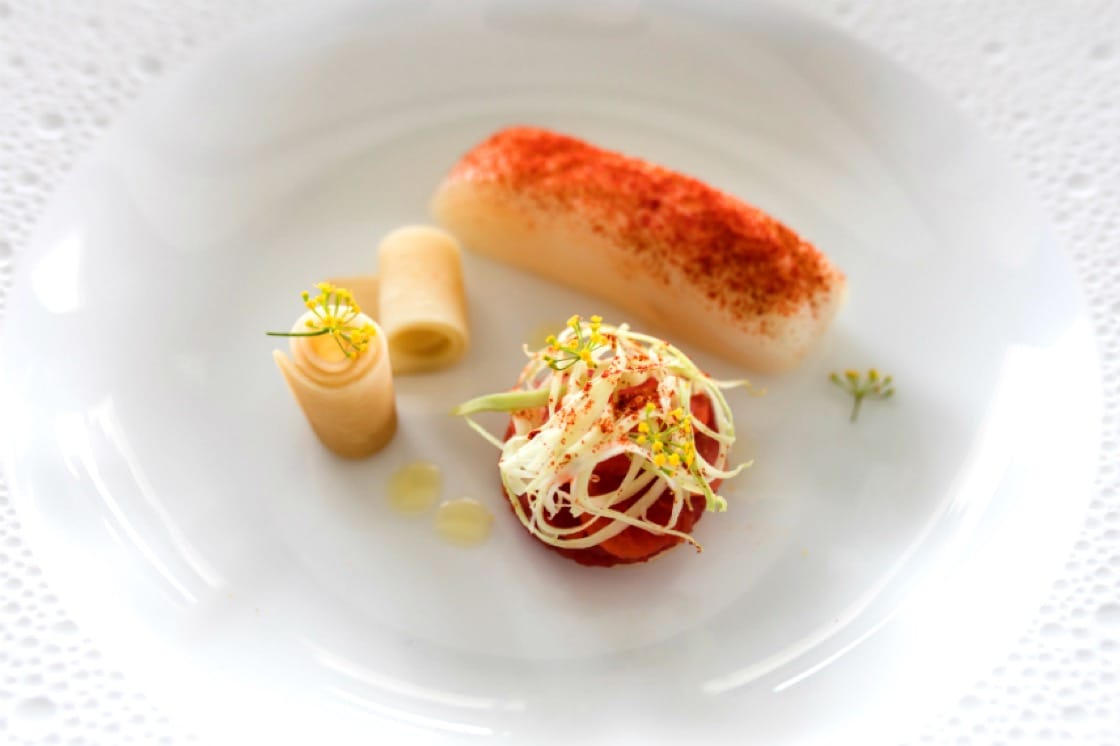 This Event has now ended. Check back shortly for updates on upcoming Events.