You may already be familiar with the MICHELIN Guide's 'Live Additions'. Introduced in mid-2021 in countries including Spain, France and Great Britain & Ireland, these regular Live Releases reveal some of the Michelin Inspectors' favourite new additions. These updates take place throughout the year, ahead of the annual Michelin Star Revelation and the unveiling of the yearly distinctions and awards.

April 2022 marks the turn of the Nordic Countries Guide for their Live Releases. This Guide covers five different countries: Denmark, Finland, Iceland, Norway and Sweden. We kick off proceedings with the latter... and the other countries will follow on a monthly basis up until the annual launch event, when the establishments receiving Michelin Stars, Bib Gourmands and Green Stars are announced and the full selection for all five countries is released.

You'll find the newly recommended restaurants listed on both the website and the app: they're easy to spot, as they're highlighted by a 'New' symbol. Some of these may go on to earn distinctions at the Michelin Star Revelation ceremony later in the year, so why not get in quick and see which is set to become your new favourite?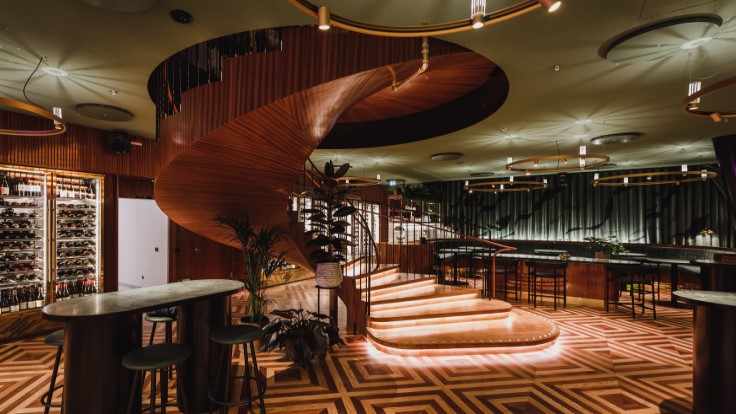 Brasserie Astoria
In a busy street close to the expensive shopping boutiques sits the former Astoria Cinema, which has been carefully restored to offer all the charm and opulence of yesteryear. The impressive entrance leads down a double staircase to a luxurious bar with a long counter and a whole wall of wine cabinets, and, at the centre of the room, an illuminated spiral staircase. This leads up to the bustling brasserie and a smaller, more intimate side room hung with colourful art. You can dine in any room, from an à la carte of flavoursome, classically based dishes, some of which are finished at your table.
Nour
Pass by the busy ground floor restaurant and bar and head up to the third floor of this city centre townhouse; here you'll find a discreet, intimate restaurant with a much more sedate atmosphere, that's run with warmth and enthusiasm by a charming team. Experienced chef Sayan Isaksson's heritage is reflected throughout the well-composed tasting menu, which seamlessly combines Swedish and Asian elements in original – sometimes challenging – combinations. Dishes are precisely crafted and the flavours and textures are well-thought-through.
Oxenstiernan
You certainly won't have trouble locating this bistro – a former outbuilding to a long-gone manor house – as its orange exterior stands out against the greenery of its city park location. The terrace under the trees is the perfect spot for an al fresco meal, but the regularly changing modern art in the bright, stylish interior provides plenty to talk about in the colder months. Sit at raised communal tables and enjoy unfussy, boldly flavoured Swedish dishes. A sustainable ethos runs throughout the place, from its design to the ethically sourced and foraged produce.
When well-loved restaurant Bastard closed down after a decade, locals were understandably aghast, so it's no surprise to see that its reincarnation, Ruths, is equally as popular, if not more so. At lunchtime, the lively, laid-back spot serves snacks and salads, while at dinner there's a range of satisfying Mediterranean-influenced dishes on offer. Bread and pastries from their bakery – including some exceptionally tasty sourdough – feature widely. They also make their own charcuterie and sell products to take away.
This fashionable modern brasserie sits off the atrium of a boutique townhouse hotel and even has its own entrance to the Östermalm Saluhall (an 1880s food hall where fresh produce and gourmet goods are sold from antique stalls). The owners of Two-Michelin-Starred Aloë oversee the menu here – an appealing selection of Mediterranean dishes, including dishes for two like whole roasted chicken with 'Marseille' salad. Bright, breezy service helps contribute to the lively atmosphere – which heightens as the week goes on. Start with a drink in the lovely bar.