The MICHELIN Guide Nordic Countries 2021 – covering Denmark, Finland, Iceland, Norway and Sweden – was unveiled in September. Nine new restaurants were awarded One Michelin Star. Here we learn a little more about these restaurants and find out what makes them worthy winners of such a distinction.

FINLAND

Finnjävel Salonki
Helsinki

This intimate restaurant has just ten tables and is sited within the Kunsthalle art gallery, next to its sister restaurant, the larger Sali brasserie. The set menu features modern interpretations of traditional Finnish dishes, with first class local ingredients used in detailed, technically skilled combinations. Service is chatty yet relaxed and everything – from the hand-forged cutlery to the impressive hand-blown decanters – has been made by local craftspeople.
Finnjävel Salonki, Helsinki
SWEDEN

Aira
Stockholm

Set in a delightful spot on the island waterfront, this eye-catching modern building has a beautifully finished interior, a bright and airy feel, and an impressive open kitchen at its hub. Skilfully crafted, wonderfully flavoured dishes are created from superb Scandinavian produce; choose from the à la carte or the well-balanced 10-course tasting menu. Charming service completes the picture.

Aira, Stockholm
Project
Gothenburg

Promoted from a Bib Gourmand to One Michelin Star in the 2021 guide, Project is a cosy restaurant, proudly run by a husband-and-wife team. They offer a tasting menu which showcases seasonal, local produce – some of which they grow themselves in their kitchen garden – and the resulting dishes are balanced, refined and full of flavour. Sit at the counter or, for more privacy, ask for one of the tables at the back.

Project, Gothenburg
ÅNG
Tvååker

ÅNG comprises a vineyard, hotel and spa, as well as a beautiful restaurant, owned and run by three siblings. The surprise tasting menu is built around produce from the farms and forests of the Halland region and dishes are delicate, well-balanced and very tasty. ÅNG was also the winner of a Michelin Green Star in the 2021 Guide for its commitment towards sustainability, which among other things sees the use of produce from their own organic vegetable farm, as well as a zero-waste philosophy.

ÅNG, Tvååker
Hotell Borgholm
Island of Öland

This welcoming restaurant is set within a historic hotel and has been promoted from a Bib Gourmand to One Michelin Star. It is closely connected to the beautiful island of Öland on which it is situated, both in terms of the local materials which feature and also the ingredients (many of which come from their own delightful oasis of a garden) used to create the boldly flavoured dishes. The wine list is a treasure trove for collectors and wine lovers alike.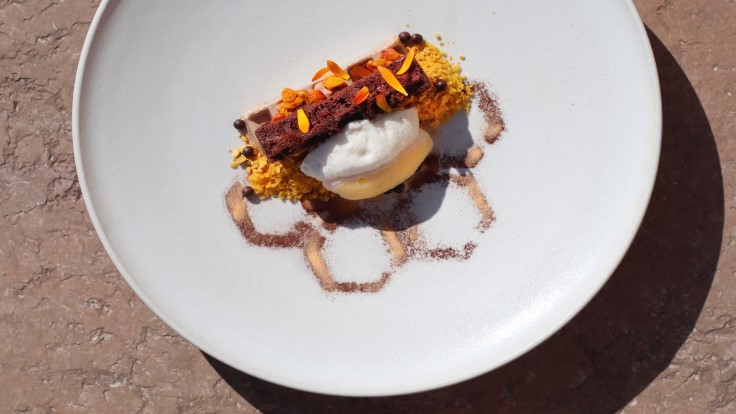 Hotell Borgholm, Island of Öland
DENMARK

The Samuel
Copenhagen

Named after the chef-owner's first born son, this cosy and romantic red-brick villa comprises several pretty, vintage-style rooms and features parquet floors, a beautiful glass cheese cabinet and a herb garden. The set, multi-course menu offers creative, delicate dishes with beautiful combinations of textures and flavours and service comes from an attentive and enthusiastic team.

The Samuel, Copenhagen
Substans
Aarhus

Situated on the top floor of an apartment block adjacent to Aarhus port, stylish, modern Substans is filled with light and has fantastic views over the surrounding seascape. The no-choice 10-course menu features the best local ingredients and the precisely cooked, sophisticated dishes offer creative combinations. The chefs finish the dishes at the central counter before presenting them to guests, and the wine pairings are well-judged.

Substans, Aarhus
LYST
Vejle

This unique restaurant is on the first floor of a striking, futuristic-looking building which stands in the sea within the town's port, and its modern interior is themed around circles. Dinner is a multi-course experience which sees diners move between a communal horseshoe counter, individual glass-topped tables and small outside terraces. Excellent quality ingredients are sourced from within a 100km radius and the creative, modern dishes are full of flavour. LYST was also a recipient of a Michelin Green Star in the 2021 Guide.

LYST, Vejle
Syttende
Sønderborg

There are stunning views over Flensburg Fjord from this luxury restaurant, which is on the 17th floor of the ultra-modern Alsik hotel. Chef Jesper Koch was raised in Southern Jutland and his set menu showcases regional produce in well-crafted, innovative dishes which boast harmonious flavour combinations. There's an impressive choice of wines and the young service team attend to guests' every need with grace and charm.

Syttende, Sønderborg