Before helming one of the best restaurants in America, New Jersey-native Michael Tusk dabbled in art, graduating from Tulane University with a degree in Art History. Having an affinity for culinary, Tusk went on to the Culinary Institute of American in Hyde Park, New York; after graduation, he traveled to Europe, cooking in Michelin-starred restaurants in France and Italy.

Tusk returned stateside in 1988, this time setting on the West Coast in San Francisco, cooking at the famed Stars and Chez Panisse. Fifteen years later, Tusk, along with his wife, Lindsay, opened Quince in North Beach at 470 Pacific Avenue. Here, Tusk and team draw inspiration from his time spent in Italy via a multi-course contemporary tasting menu running $275 per person. Quince was awarded with a Michelin star in the first edition of the San Francisco Guide in 2007, earning two in 2014 and a third in 2017. Tusk sources most of his ingredients for the restaurant—as well as his casual Italian offshoot, Cotogna, conveniently located next store—from Fresh Run Farm in nearby Bolinas. Farmer Peter Martinelli grows over 40 varieties of heirloom fruits, vegetables and flowers exclusively for both restaurants; Tusk calls Martinelli a "huge inspiration."

"He has taught me and the team everything about running a farm," he says. "Without him, our progression would not have been possible; he continuously challenges us and as a result, our guests and menu benefit from our relationship."

Here, we speak with chef Tusk about his long relationship with the red guide and what it means for him and his team.

What was your first encounter with the MICHELIN Guide?
My first encounter with the Guide was when I went to France by myself for the first time. I didn't have much money, so I would visit local bookstores and get the guide and scribble down restaurants that I wanted to try that were nearby. I have one memory in particular of browsing the guide at a bookstore in Beaune. I had a free night and was writing down the name of a restaurant that had a star called L'Ecusson (to this day, I still have the business card). I realized that the restaurant was almost directly next to the hotel where I was staying and could spot it from my window. I also still have a copy of the menu, a prix-fixe that started with a lentil and anchovy terrine followed by a dish of duck hearts and winter vegetables in a Burgundy sauce. While at dinner, I befriended a local family who shared their magnum of Gevrey-Chambertin and afterward walked next door to my hotel. Overall, it was an amazing experience. I purchased my own copy of the book for the remainder of the trip and still have it today.

What were your thoughts when you knew you received a star?
The first year we received a star was kind of surreal—our restaurant was relatively new and we were so busy that it was hard to even process it. I was alone in our office at Quince's original location on Octavia Street when I found out. Since we had never experienced this before, we weren't familiar with the protocol for what was to take place and therefore it was very exciting when the phone rang. When I answered the phone, the voice on the other end spoke in a French accent and asked if I was Michael. When I said yes, the caller said, "This is the Guide Michelin, and you have been given two stars. Congratulations on your achievement."

As I sat there in a state of shock, the phone rang again before I could inform my wife, Lindsay, and the staff of the big news. This time, the same voice said, "Michael, this is the MICHELIN Guide and you have been awarded a Michelin star. Congratulations on your achievement" At that point I was confused but was still excited, and then I realized what had happened. The caller had been going down the list and called me thinking it was Michael Mina!

View More First Stars Stories Here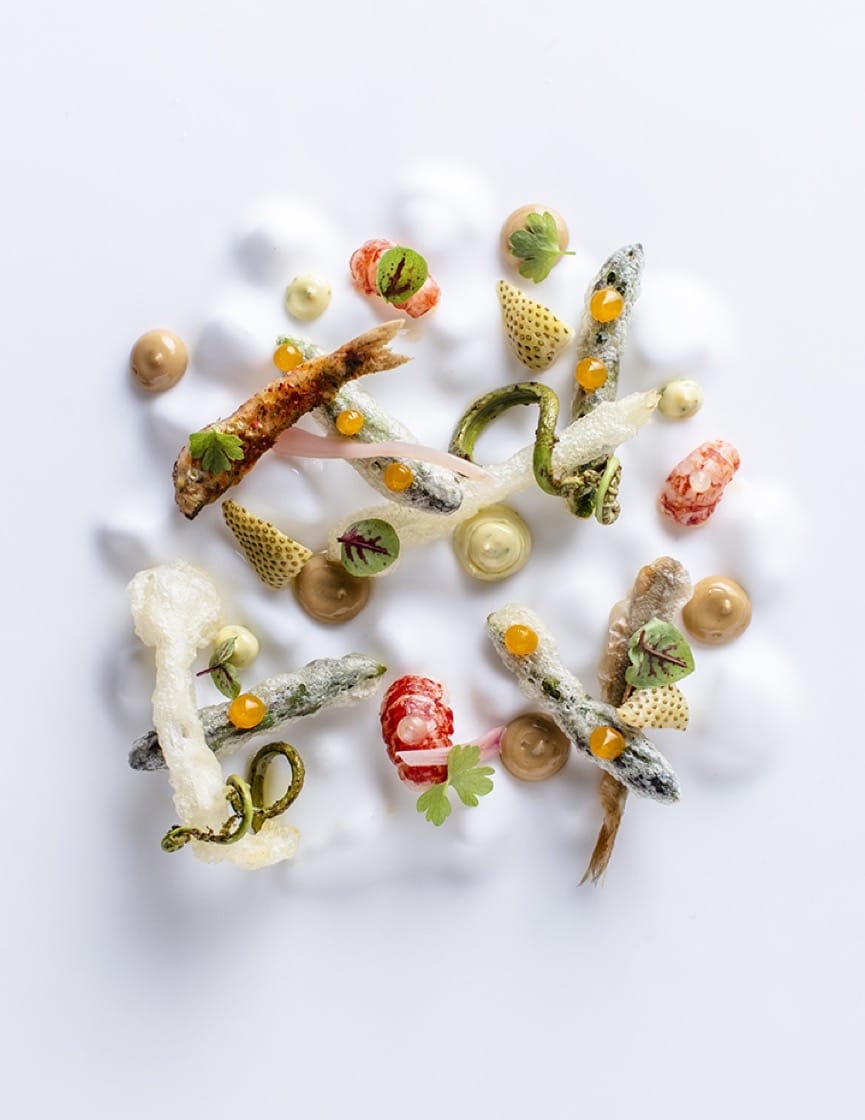 So while I felt as though I had lost a star within minutes, I wasn't expecting two and was happy for Michael Mina and his team across town. And since I didn't get to tell anybody, it was both a relief and a rollercoaster ride! I've always wanted to tell the story to the person who called me—and have seen him since—but didn't have it in me to do so. Overall, it was a great feeling. I was proud of my team and it definitely changed the dynamic of what our restaurant strived to achieve, making us all push harder than ever before. Everybody at Quince was willing to embrace the challenge—an exhilarating feeling that I will never forget.

And when you received three?
The experience was very different. At this point, I was familiar with the process and accustomed to a mid-day call. This time, the call came in earlier in the morning so it took me by complete surprise. A few Michelin representatives—including Mr. Ellis—had visited the night before, and our general manager, Zoe, thought that this was a good sign and was certain something big was going to happen. We tried to keep it to business as usual and just focus on the quality of our food and service.

When the call came, Lindsay and I were together so it made it even more special to be able to celebrate with her. So often the chef receives the accolades, but we would never have received our third star without her contributions to every aspect of running the restaurant. Not only is Lindsay crucial to our food and wine program, but also both the front of house and the business side of the operation.

How did you celebrate?
We decided to have a staff party at a friend's restaurant a couple of blocks away and have a fairly celebratory evening with lots of Champagne. All of our regulars were invited and it was a night I will never forget.

How much influence/inspiration does the Michelin Guide have on your career?
Michelin has a major influence on my career as it is an instantly recognizable organization respected by diners all around the world. Chefs enjoy the competition and the prospect of stars makes the team push harder for the guest to have the best possible experience to meet the guide's expectations and ranking. Through Michelin I've learned that you need to embrace the challenge and evolve. Michelin definitely inspires us all to create new and exciting elements to the dining experience and never take our position in the industry for granted.

Does having a star change the direction of your restaurant?
Yes, but in a positive way. You have to challenge yourself but stay honest with what you initially set out to do. The process of rising the ranks from one to three stars was exciting, and at Quince we always like to take risks and complacency is not in our vocabulary. Michelin has helped to further challenge me, Lindsay and the staff—who are more motivated than ever—take even more pride in the cooking and hospitality on a nightly basis. We had always dreamed of collaborating and subsidizing Fresh Run Farm and with Michelin stars we have made this desire attainable.

What advice do you have for young chefs aiming for Michelin stars?
Go for it. Take chances but realize that Rome nor Paris were not built in a day. It's definitely a marathon and not a sprint. Prepare yourself for the long run and surround yourself with people who believe in you and can support you through trials and tribulations. The most important thing is to believe in yourself and not let others' criticism get you down. If you believe in what you are doing and it is honest, it will be recognized. A sense of conviction is required on every level, every day, every service.

Hero photo by Matt Morris.
Inline photo of Michael Tusk by Eric Wolfinger.