Ever wonder where D.C. restaurants get their seafood? We spoke with Jeff Gaetjen, the fishmonger at BlackSalt, who gave us the lay of the land (and water). "It's been a good year for soft shell crabs in the Chesapeake Bay," he explains. "And it's rockfish season right now in Virginia, so we're getting those in." He is excited to mention "beautiful black bass coming in from Rhode Island," as well as "sea scallops from off the coast of Ocean City, Maryland." What this D.C. seafood specialist is looking forward to most, however, is Copper River salmon, expected to arrive from Alaska "any day now."

BlackSalt is just the tip of the iceberg when it comes to great seafood restaurants here in the Nation's capital. Check out what other eateries you need to keep on your radar:

Five-spiced bigeye tuna served with smoked unagi, mushroom-ginger broth, yakisoba noodles, crispy shiitakes, snow peas and baby bok choy at BlackSalt. (Photo courtesy of BlackSalt.)
Foxhall
Designation:
The Plate
What Our Inspectors Say:
"Fried, wood-grilled, simmered, steamed or raw. No, it's not a line from
Forrest Gump
. As long as it swims, you can have it any way you want it at BlackSalt. It's all fish, all the time at this fish market-cum-restaurant in Palisades. There is a lively, bistro vibe here, where the bar is made for a cocktail and a platter of freshly shucked oysters; while private booths appeal to a sophisticated, older crowd. The concise menu trawls coast to continent for inspiration, with dishes such as fried Ipswich clams and fish tacos to Provençal stew. Bigeye tuna tartare is silky; and potato-crusted skate wing is topped with a fragrant brown butter-mustard vinaigrette. Hit the market on the way out for gourmet items to stock the pantry and soups to fill the freezer."
Georgetown
Designation:
The Plate
What Our Inspectors Say:
"Fact: Fiola Mare has a primo location. Resting right at the edge of the Potomac River, the setting hugs the river so every table comes with a view. It's part of the collection of restaurants run by Fabio Trabocchi, and like its name, this kitchen is seafood driven with Italian overtones. Some dishes try too hard—the burrata has far too many competing flavors—but simple grilled seafood is always a good choice. Of course, there is no going wrong with dessert, specifically the chocolate soufflé crostata. While it may require a wait, your patience will be rewarded after one bite of the bittersweet Valrhona chocolate
cremosa
, baked to order and fluffy-as-air with a toasted hazelnut crust. And though it needs no further gussying up, it is served with torrone gelato and truffle honey."
The best of the MICHELIN Experience in your inbox
Stay on the top of the best restaurants, offers, lifestyle, and events recommended in our guide cities.
Subscribe
Seafood plateau of raw oysters, middleneck clams, shrimp cocktail, mussels in escabeche, ceviche and a chilled steamed lobster at Hank's Oyster Bar. (Photo by Rey Lopez.)
Dupont Circle, Logan Circle & Foggy Bottom
Designation:
The Plate
What Our Inspectors Say:
"The original of three locations, Hank's Oyster Bar promises a good time and a full stomach. Snag a seat on the spacious front patio or opt for a table indoors where bottles of malt vinegar and Old Bay seasoning are a sign of things to come. Meals begin with a bowl of humble Goldfish cheese crackers, and then prepare yourself for a sea, ahem, of dishes. Feast on platters of raw bar beauties to bowls of steaming chowder to oysters any way you want 'em (Hog Island style involves dunking in a tangy lemon-garlic-Tabasco-butter sauce, a sprinkling of breadcrumbs and shredded cheese, and broiling until caramelized!). Of course, lobster rolls and crab cake sandwiches with Old Bay-seasoned fries are positively Proustian, conjuring up days at the beach from years past."
Florida Avenue & Gallaudet University
Designation:
Bib Gourmand
What Our Inspectors Say:
"Lucky are the eaters who make their way to this unique seafood smokehouse. Inside the warehouse-like space, a daily market and state-of-the-art smokehouse reside at street level. Above this, find a tavern-like restaurant with a large, open-air rooftop. The fish is fresh, the staff is super-friendly, and the vibe is irresistible with occasional live music. A platter offers a broad sample of artisanal smoked goodies, like Indian candy (a sweet, salty, almost jerk-like smoked salmon); glistening, coral-pink smoked salmon; pepper-smoked salmon imbedded with crushed peppercorns; and impossibly good whitefish salad. Don't miss the chalkboard's daily specials, like tender crab cake so flaky and minimally dressed you'll think you're seaside."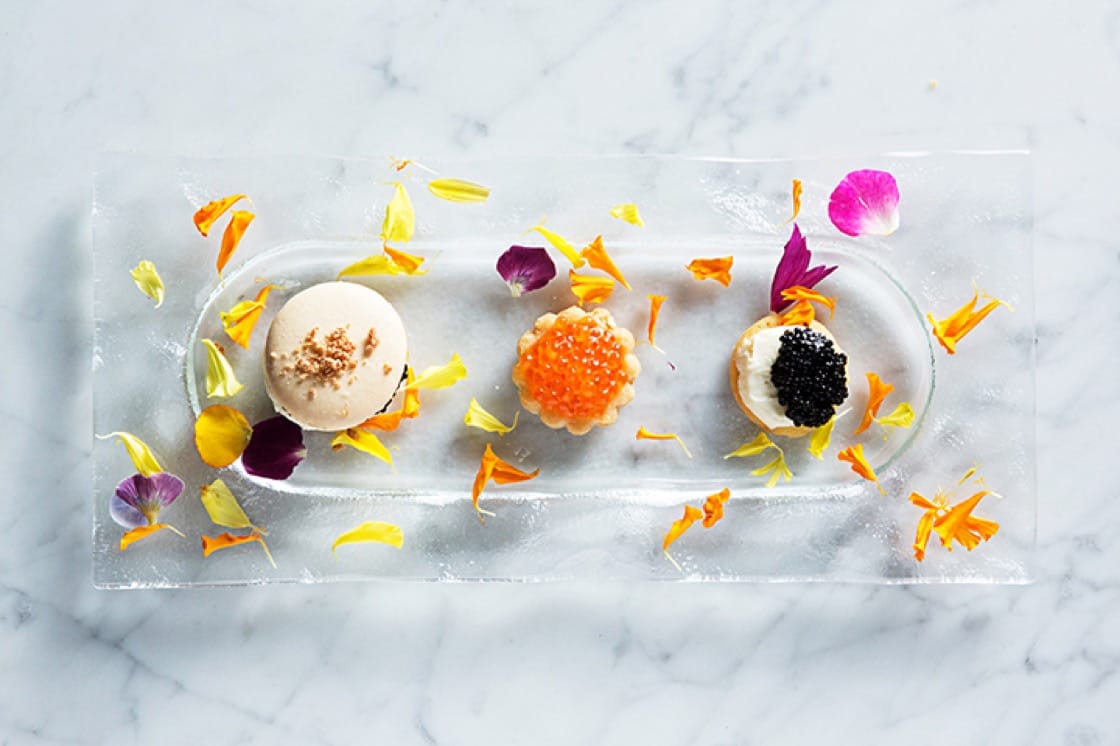 The caviar cookie trio at Siren by RW is a play on the "black & white," macarón and linzer cookies. (Photo by Scott Suchman.)
Dupont Circle, Logan Circle & Foggy Bottom
Designation:
One Star
What Our Inspectors Say:
"With its gorgeous interior decked out in lush navy walls and supple leather banquettes, Robert Wiedmaier's beautiful Siren, at The Darcy hotel, is a sophisticated ode to elevated seafood. The menu keeps things simple, dividing its offerings into categories like raw, vegetables, fish and meat. For those looking to enliven things a touch, there is an excellent caviar service and tasting menu option. Beyond the simple descriptions, the creative flourishes that dress each plate raise this kitchen's cooking to the next level. Attention to detail is evident from the start: perfectly prepared seafood platters boasting the freshest fish land on tables alongside dishes like the "Raw to Slightly Cooked" day boat scallop tiradito, coupled with a carrot- and Peruvian yellow pepper-dressing, kumquat and basil. Meat options include the tender Shenandoah lamb saddle with jasmine dirty rice, charred okra, Virginia peanuts and lobster jus. Even vegetable sides are displayed with a striking aesthetic, as in the Vidalia onion brûlée, with country ham, pecans, blistered peppers and nori. Pescatarians will swoon over the perfectly executed salt-crusted branzino, stuffed with white fish mousse and finished with caviar crème."
Capitol Hill & Navy Yard
Designation:
Bib Gourmand
What Our Inspectors Say:
"From its Navy Yard location with floor-to-ceiling windows that overlook the Anacostia River, to its playful interior design featuring a giant curtain mimicking a ship's sail as well as ocean murals, there is no mistaking that Whaley's is all about seafood. In fact, it's the kind of refuge where one comes to slurp away oyster after oyster. The oceanic flavors present in a nasturtium shrimp taco with a charred tomatillo sauce and creamy yuzu kosho is so satisfying you might want to go for two…or twenty. Smoked blue catfish topped with slivers of Benton bacon and spread over toasted bread marries its charred goodness with just the right amount of crunch. Dining à deux? The seafood risotto, with its unexpected hits of pickled Fresno chiles, is faultless."
Uni at Rappahannock Oyster Bar. (Photo courtesy of Rappahannock Oyster Bar.)
Florida Avenue & Gallaudet University
Designation:
The Plate
What Our Inspectors Say:
"Set inside the buzzing Union Market, Rappahannock Oyster Bar is oh-so-much more than a popular bivalve joint. The feel-good revival story behind it will make you feel more philanthropist than hungry diner, and the ambience is everything you'd expect and then some: counter space, communal seating, a sprinkling of outdoor tables and an open-air vibe. While the spotlight here is on the raw bar (order the sampler, a veritable love letter to the Virginia waters), the cooked dishes give those half-shells a run for their money. Clam chowder is thick, creamy, and full of briny meat, and though the steamed shrimp dish sounds simple, these spicy shell-on specimens, served with a hunk of bread, sautéed onions and peppers are a messy but delicious affair."
Spring Valley
Designation:
Bib Gourmand
What Our Inspectors Say:
"Take a break from the Beltway and head to Millie's. It's an offshoot of the Nantucket original, with a loyal whale-patterned, shorts-wearing crowd. Sound preppy? It is. The space nails that breezy, nautical vibe with navy blue booths, a ceiling strung with boats and not-too-twee ship lanterns. It's almost impossible not to be cheerful here—even the open kitchen buzzes with activity, simply enhancing the convivial aura. Equally upbeat is the menu that shines a spotlight on New England. Seared tuna tacos with wasabi cream and ceviche are light and refreshing; while the heady fragrance of the blue crab fried rice will induce envy from nearby tables. Maryland crab cake piled atop a fluffy brioche and slathered with herb aïoli tastes of summer by the sea."
Hero image of Imperial prawns bucatini courtesy of Fiola Mare.