MICHELIN Guide Chicago 2020
Roister
951 W. Fulton Market, Chicago, 60607, United States
30 - 133 USD • Contemporary
MICHELIN Guide Chicago 2020
Roister
951 W. Fulton Market, Chicago, 60607, United States
30 - 133 USD • Contemporary
MICHELIN Guide's Point Of View
Unapologetically loud and laid-back, Roister is part of Chef Grant Achatz's culinary campus, though the cooking here is far more rustic. Boldly incorporated into the dining room, the kitchen serves as the focal point—with the best seats at the counter, facing the blazing hearth. As expected, the food is creative and modern, but also soulful in incorporating the wood fire. Start with the likes of hearth-roasted rainbow carrots served with smoked labneh and pistachio croutons, before lingering over deliciously crusted salmon. In lieu of dessert, go for the baked Swiss cheese puff topped with sweet pear and peppery watercress. Brunch is hard to pass up, with crispy chicken and waffles slathered in honey butter and drizzled with whiskey syrup.
Show More
Show Less
‹ The Plate • Fresh ingredients, carefully prepared: a good meal
ó Comfortable restaurant
Related Reads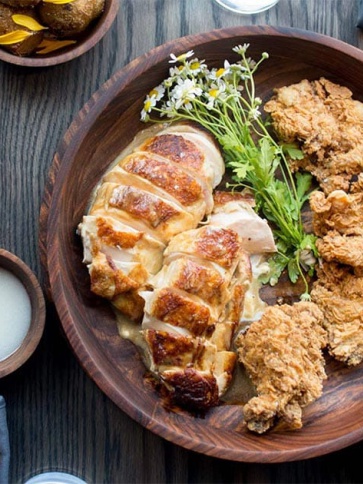 Here's where to go in the booming neighborhood.
Subscribe to our newsletter and be the first to get news and updates about the MICHELIN Guide
Subscribe
Follow the MICHELIN Guide on social media for updates and behind-the-scenes information