The phrase "seafood restaurant" connotes a staunch, predictable menu that's absolutely uncharacteristic of Jon Shook and Vinny Dotolo's popular Son of a Gun. The Los Angeles restaurant in the Beverly Grove neighborhood is as original as the duo themselves, serving dishes like striped bass with shawarma spice, flageolet beans, fennel and yogurt; country ham with honey butter and hush puppies; and an "Italian hamburger" made with Gianjuga, brioche and caramel for dessert.

Below is one of Shook's favorite recipes shared for home cooks. It's full of flavor but still light enough for late summer and early fall cook-offs.

Pro tip: the quality of fish is key here, so head to your best fishmonger.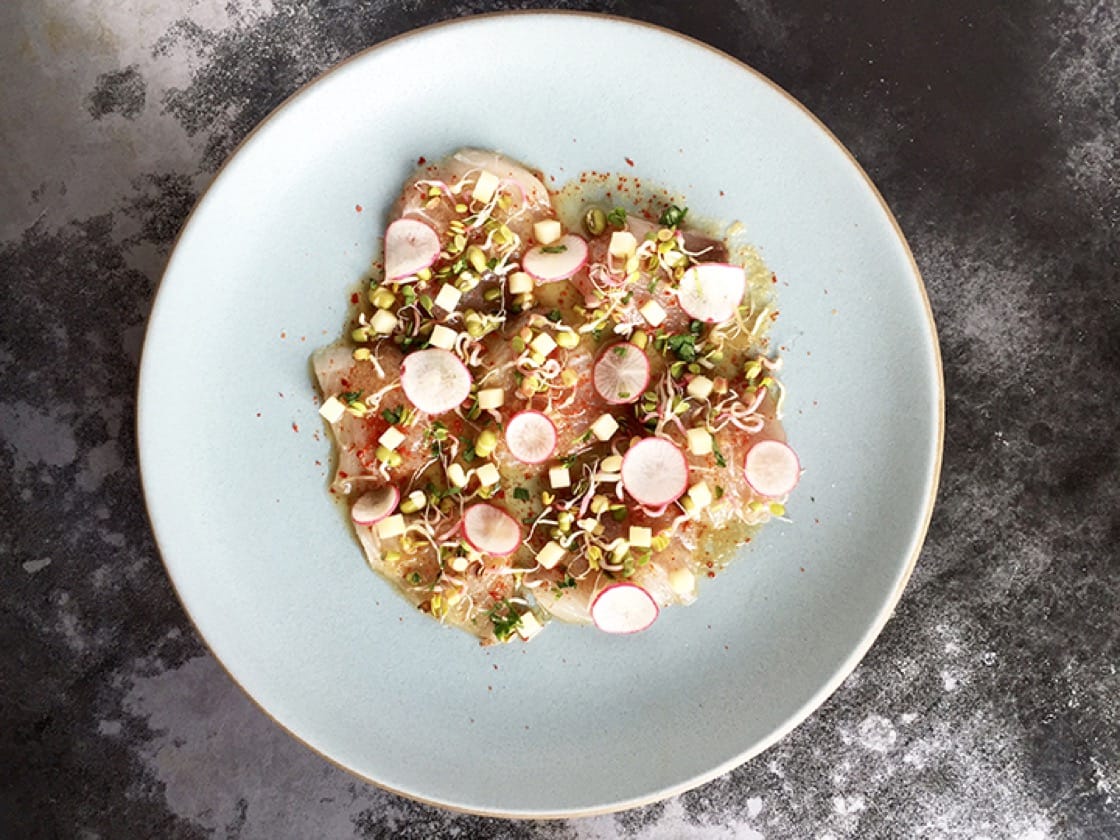 Hamachi with Galbi Vinaigrette
Courtesy of Jon Shook & Vinny Dotolo of Son of a Gun, Los Angeles

Ingredients

For the Galbi Vinaigrette:
50 grams rice wine vinegar
40 grams brown sugar
40 grams soy sauce
33 grams ginger, chopped
8 grams garlic, chopped
25 grams sesame oil

For the Hamachi:
2 ounces Hon Hamachi
Salt
1/8 teaspoon of Kochukaru (Korean chile pepper flakes)
1 small radish, thinly-sliced into rounds
1/2 tablespoon small diced apple, preferably Pink Lady
1 teaspoon mung bean sprouts
1 teaspoon radish sprouts (or broccoli sprouts)
1/4 teaspoon chopped cilantro

Method

1. Make the Galbi Vinaigrette: Add the vinegar, brown sugar, soy sauce, ginger and garlic to a food processor and process until smooth. Transfer the mixture to a mixing bowl and whisk in the sesame oil until fully incorporated. Reserve and refrigerate until needed.

2. Prepare the Hamachi: Slice the hamachi into 1/8-inch-thick slices. Place each piece of sliced fish flat onto a plate. Sprinkle with salt and Kochukaru. Spoon 1 tablespoon of galbi vinaigrette onto the fish. Scatter the radish, apple, mung bean sprouts, radish sprouts and cilantro over the fish. Serve immediately.

Photo by Brianne Chan.