Coi
373 Broadway, San Francisco, 94133, United States
75 - 150 USD • Contemporary
Coi
373 Broadway, San Francisco, 94133, United States
75 - 150 USD • Contemporary
MICHELIN Guide's Point Of View
Warm, neutral tones and a soft, diffused glow from rice-paper panels welcome diners to this jewel. Over in the kitchen, Chef Erik Anderson is kicking things up with his very own culinary style. He has steered away from seafood, and as a result one is more likely to find a panoply of game birds on the menu now. Changes aside, meals remain a well-executed show. Settle in to this admired retreat for an intimate parade of elegantly prepared and thoughtfully composed dishes. Topped with oxalis and matchsticks of radish, the citrus-infused "marshmallow" accompanied by curd is delicate and impressive. Thin slices of geoduck with tremulous clam-juice jelly is luscious, while Dungeness crab kissed by crab mayo and lemongrass-panna cotta is on point. Then relish a tourte of duck and sweetbreads, enriched by Armagnac prunes and black truffles. It's hit after haute hit, where even the humble blood orange sorbet dances on the tongue and seals the deal. The experience doesn't end there. Flip to the last page of the leather-bound wine list to discover a unique tea pairing, as well as a sweet-and-savory souvenir to enjoy tomorrow-if indeed you can wait that long.
Show More
Show Less
n Two MICHELIN Stars: Excellent cooking, worth a detour!
ô Very comfortable restaurant
Related Reads
The Mister Jiu's chef joins Carrie and Rupert Blease of Lord Stanley and Erik Anderson of Coi for "The 4x4 Dinners."
The 4x4 Dinner Series has officially launched in Manhattan this week.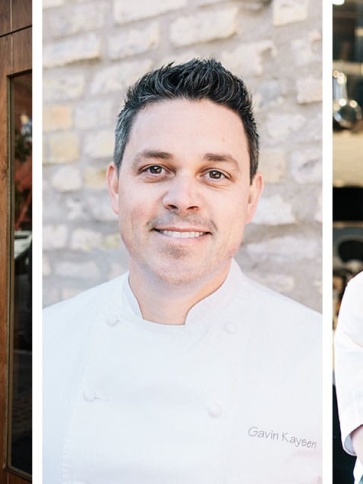 These venerable chefs are taking the Midwest by storm this June.
Subscribe to our newsletter and be the first to get news and updates about the MICHELIN Guide
Subscribe
Follow the MICHELIN Guide on social media for updates and behind-the-scenes information