The MICHELIN Guide currently recommends restaurants — from Plates to Three Stars — in over 30 countries across four continents. Many are in urban centers, easy to reach by train or taxi, but a handful are tucked away in tiny villages or out in the countryside. Some of these restaurants may be closed right now, but their surroundings are as stunning as ever. From the verdant hills outside Chiang Mai, Thailand to a seaside cliff on Madeira, these eight remote dining rooms are in surroundings as beautiful as the food.

Hakata Island, Oshima and Hakata-Oshima Bridge in the foreground. Photo © paprikaworks/iStock
At the top end of Hakata Island in Japan's Inland Sea is One MICHELIN-Starred sushi restaurant Akakichi. To get here you'll need to take a bus or taxi an hour from Imabari, the nearest city (reachable by train). The restaurant is a few minutes from the island's northern edge, and from here you can look out at the clear blue sea and neighboring islands, all part of the Setouchi Islands. Most of the ingredients at Akakichi come from Setouchi, though some from other places in Japan, and are raw, grilled, and pickled.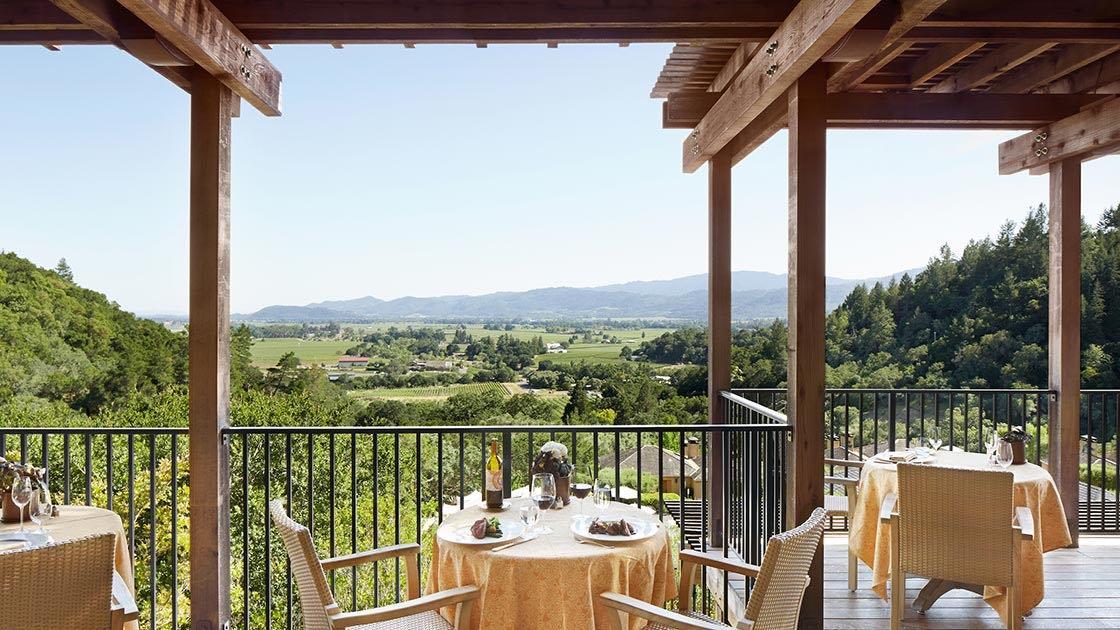 Auberge du Soleil. Photo © Trinette Reed Photography/Auberge du Soleil
Savor the view and a glass of Napa Valley wine at this luxury resort and One MICHELIN-Starred restaurant in Rutherford. The elevated terrace is an excellent spot for lunch or brunch with a view. Tables look out onto a pristine, green setting: thickets of leafy trees and acres of vineyards backed by mountains. This beautiful vista is accompanied smartly by the restaurant's Californian cuisine: ultra-fresh, local, seasonal ingredients turned into dishes like veal sweetbreads with pistachios, poached pears, raisins, and capers.
Baan Mon Muan. Photo courtesy of Baan Mon Muan
High in the fragrant green hills an hour outside Chiang Mai is this MICHELIN Plate restaurant, part of a boutique hotel by the same name. The view from up here, 1,200 meters above sea level and surrounded by dense green jungle, is sublime. It's ethereally beautiful when the fog rolls in, obscuring the mountain tops. Tuck into pan-regional Thai fare on the terrace of this Lanna-style wooden house, where the vegetables are grown on nearby farms.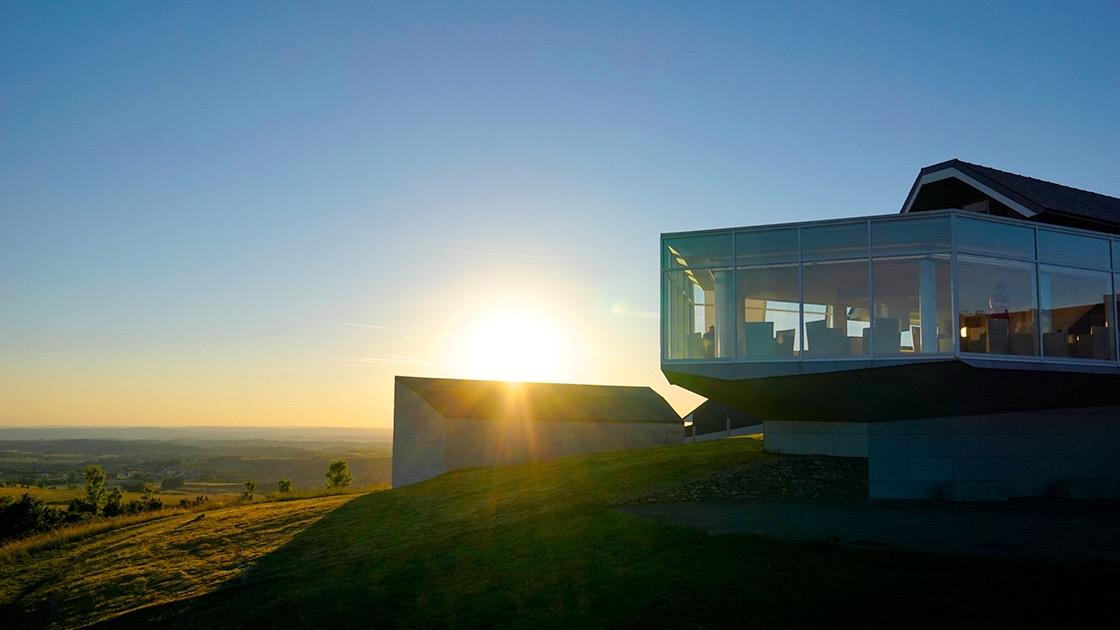 Bras. Photo © JL BELLURGET/Bras www.bras.fr
Bras - Laguiole, France
Housed in a glass box overlooking Aubrac Natural Regional Park, the view from this iconic Two MICHELIN Star restaurant goes on for miles, an endless expanse of fields and trees. Sébastien Bras has run the kitchen since 2009, working in tandem with his wife, Véronique. The menus here change seasonally but always highlight local ingredients, from a bounty of produce to beef from Aubrac cows (paired here with radishes and broad beans).
KOKS. Photo © Beinta á Torskilsheyggi/KOKS
KOKS - Faroe Islands
Eating at Two-MICHELIN-Starred KOKS, the world's most remote MICHELIN-rated restaurant, is like going to a dinner party at a rustic cabin in a verdant, often-foggy, sometimes-muddy valley. The vistas are staggering: rolling green-brown hills shrouded in fog everywhere you look and the river that runs off Lake Leynar. Local, seasonal, sustainable, free-range: these are not just buzzwords but the ethos of the restaurant. The journey to KOKS is in two parts: take a taxi or drive yourself (if foregoing the wine pairing) to the fermenting hut where snacks kick-off the experience, and then hop in a 4X4 for the bouncy off-road joyride to dinner.
Kylesku and Quinag. Photo © fbertin-photographie.ch/Kylesku Hotel
Kylesku - Scottish Highlands, United Kingdom
This 17th century coaching inn turned 11-room B&B has beautiful views of Loch Glendhuand a backdrop of undulating mountains. The MICHELIN Plate restaurant onsite is deeply committed to using
local products
in all of its dishes, and the ingredients are as fresh as can be. Langoustines and mussels come from the loch, just 200 yards from where you'll eat them; Shetland sheep and vegetables, herbs, and fruit are grown on two farms just 15 minutes down the road.
Under. Photo © Ivar Kvaal/Under
Under - Lindesnes, Norway
Half of this One MICHELIN-Starred restaurant at the southern tip of Norway is five and a half meters underwater. Over time, the structure will meld with its environment, its concrete exterior becoming an artificial reef, a home for kelp and limpets. Inside, an enormous window draws diners' eyes to the cerulean seabed. It's from this sea and the beaches that much of the menu comes (plates like sea buckthorn with seaweeds and cod loin with birch bark oil and a forest-inspired sauce).
William. Photo © Tyson Sadlo/William
William - Madeira, Autonomous Region of Portugal
The wraparound windows at One MICHELIN Star William give diners a panoramic view of the Atlantic Ocean and the curving coastline of Funchal, Madeira's capital city. The modern European restaurant sits inside a 129-year-old hotel
Belmond Reid's Palace
, built on a cliff on Madeira's southern edge. Helming the kitchen is Luís Pestana, who's been cooking in the hotel for thirty years. The restaurant's specialties include sea bass with barley and spinach in a Champagne sauce and, for dessert, Poncha (a Madeiran alcoholic punch, made with sugar, honey, and either orange of lemon juice), served with passion fruit in a crunchy meringue.
Hero Image: Fermenting hut at Hjallur, KOKS. Photo © Claes Bech-Poulsen/KOKS