Over the next few months, follow our famously anonymous inspectors, as they visit and explore each neighborhood as listed in our Guides. Beyond the MICHELIN Guide's New York selection, we also like to highlight local points of interest where one can sip, sup, or stay. This week we're on Manhattan's west side in Chelsea, which runs from 14th to 34th Streets, 6th Ave to the Hudson river.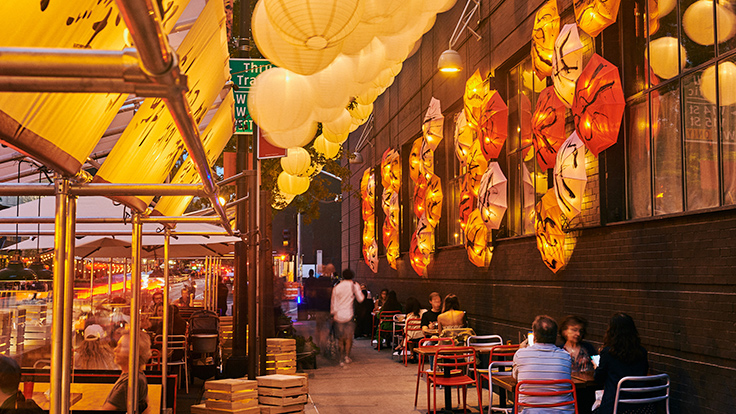 Buddakan's outdoor seating area. Photo by Louise Palmberg, courtey of STARR Restaurants
New Yorkers can never seem to get enough of Chelsea—a notably charming mecca for gleaming high-rises, stylish lofts, and quaint brownstones. Add on some serious retail therapy, restaurants aplenty, plus a world-class art scene, and the area's long-cherished status seems entirely suitable. The cultural scene is flourishing and, in an attempt to feed its urbane residents, cafés virtually run these streets. Historically, this nabe was home to a plethora of old-world luncheonettes; however, diners may now be accommodated in temples of fusion food, where the digs are chic and the cocktails pack a punch. Close at hand you'll find every type of cuisine under the sun.

A lush oasis hugging the city's edge, The High Line is a now iconic elevated green space that offers special respites for refreshment. Culture vultures may take in a bit of art at The Whitney (pay-what-you-wish Thursday 1:30-6pm; reserve in advance), after which a restorative bite can be enjoyed at the ground-floor Whitney Café. Fancy a glass of wine or aperitif? Head on over to Hearth on the High Line or Porchlight, where the crowds are buzzing and the mood is pulsating.

Chelsea Market. Photo © Ludovic Maisant/hemis.fr
Chelsea Market, in a century-old former Nabisco factory, is a culinary bazaar with brick-lined alleys that sell everything under the sun. In the morning, grab a fresh-baked loaf from Amy's Bread; for lunch, delectable crêpes at Bar Suzette. Snackers attack the aisles of Tiny Feast or gorge on a brownie or two at Fat Witch Bakery while oenophiles grab a bottle to go from Chelsea Wine Co.

Portale's bucatini. Photo courtesy of Portale
Our favorite new MICHELIN Plate restaurant in Chelsea is Portale. Trailblazing Chef Alfred Portale strikes out on his own with this innovative gem, set in a generous yet deeply intimate space. The well-curated Italian menu is decidedly not bound by tradition; and the show-stopping house-made pastas—like cavatelli laced with a pitch-perfect arrabiata over a base of cilantro pesto—showcase Portale's innovative style.

Maritime Hotel. Photo by Annie Schlchter
Where To Stay in Chelsea
How do you find a hotel experience as extraordinary as a meal from a Michelin-rated restaurant? Tablet Hotels.
The High Line Hotel
This hotel makes its home in a red-brick Gothic seminary — and its designers, the local duo Roman and Williams, were tasked with creating interiors that live up to the promise of this classic building. Spaces are generous, certainly by New York standards — the seminary students were afforded one luxury, at least — and the comforts are small, but thoughtful: down pillows, plush bathrobes, free wi-fi and C.O. Bigelow bath products. Sip Intelligentsia coffee in the quiet front or back courtyards. 60 rooms
The Maritime Hotel
This is not a traditional hotel, by any stretch—all rooms face westward, looking over the Hudson and New Jersey through five-foot porthole windows. The rooms are compact, but well-designed, with built-in furniture, so that all the necessities (storage space, work desk, flat-screen TV) easily fit into the tiny space. The décor almost borders on kitsch, but is actually quite charming, if one accepts the ship's cabin conceit in all its wood-paneled glory. 125 rooms

The Standard High Line
This Standard hotel looks more or less like a slightly bent UN building on stilts, straddling the High Line, the elevated former railway that's been turned into lower Manhattan's new green paradise. Even the interiors feel a bit utopian, decked out in a retro-future style that pays homage to Scandinavian mid-century modernism — a welcome departure from the faux-Romantic grittiness that seems to prevail in the Meatpacking District. 338 rooms

Hero image: The High Line. Photo © Albachiaraa/iStock