In 1994, self-taught chef Thomas Keller purchased a little restaurant, housed in a former French steam laundry in tiny Yountville, California, from Don and Sally Schmitt. In short order, ambitious young chefs started knocking on the door, eager to "bleed for Thomas," as Grant Achatz, one of Keller's early acolytes, once put it.

Since then, The French Laundry has become one of the country's preeminent restaurants, earning three MICHELIN stars for 12 years running. The late chef and TV personality Anthony Bourdain proclaimed it "the best restaurant in the world, period."

Known for being meticulous, demanding and extraordinarily detail-oriented, Keller places an equal premium on teamwork and he turns to sports analogies when discussing his philosophy. "I couldn't play baseball well enough to make a living at it, so I became a cook," Keller says, only half joking. Even so, he found his "experiences on the baseball diamond were applicable in the kitchen."

"The most important thing we do is take the time to hire the right people," he states. "It's like a sports franchise. We need to make sure the teams are cohesive. Then the training process begins and goes on for as long as the person is with us." This is in sharp contrast to the slapdash two weeks of training he received as a young chef. "The third thing is the mentorship process," Keller adds. "We make sure we mentor the young people both in their professional and personal lives."

Speaking of the major leagues, Keller was one of the driving forces who elevated the U.S. presence at the Bocuse d'Or, the international cooking competition named for the late chef Paul Bocuse and held every other year in Lyon, France.

Working at The French Laundry is to the future success of aspiring chefs what Harvard Law School is to up-and-coming lawyers. During the past 25 years, some phenomenal chefs, including Achatz (Alinea, Chicago), Jonathan Benno (who opened Per Se for Keller in New York City) and René Redzepi (noma, Copenhagen), have passed through Keller's kitchen and made their own marks on the culinary world.

A recent $10 million renovation has transformed the restaurant's kitchen into a sleek, state-of-the-art chef's dream. "[The French Laundry's kitchen] is in a league by itself," says designer Tim Harrison. "We addressed the ergonomics. We raised the counters from 36 to 37 1/2 inches high so you don't bend so much." Natural light and sparkling white anti-microbial surfaces fill the room, under a soaring ceiling designed to look like a white tablecloth unfurling. What chef wouldn't want to work here?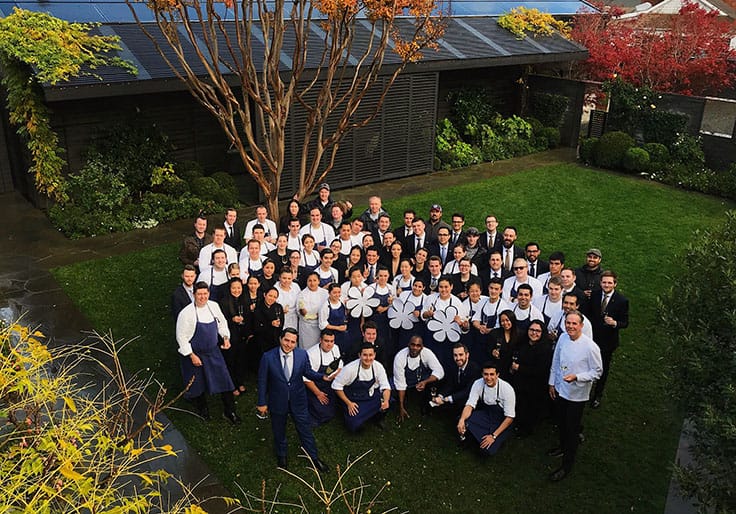 (Photo courtesy of The French Laundry/Facebook.)
In honor of The French Laundry's 25th anniversary, coming up this July, we asked six French Laundry alums to recount their most memorable experiences and the lessons they learned from working with the master.
Corey Lee
Year started at TFL:
2000
Position(s) held:
chef de partie; sous chef; chef de cuisine
Current status:
Chef/owner of three-MICHELIN-star
Benu
, one-MICHELIN-star
In Situ
and
Monsieur Benjamin
, all in San Francisco
Memorable experience:
"During my interview, I was in what was then the back prep room doing some simple tasks, and Thomas was at the pass. This was in the morning before most of the staff arrived. I fondly remember how meticulous and consistent he was in his daily routine—the way he set up his station before service, his discipline in the simplest of tasks, the ritualistic manner in which he cleaned. The image of him doing this for years really impacted me and was something I admired."
Lessons learned:
"Longevity means that you have to constantly reinvest in your restaurant, including your staff, the physical space and your cuisine."
(Photo courtesy of Corey Lee.)
Anthony Secviar
Year started at TFL:
2005
Positions held:
Chef de partie; sous chef
Current status:
Chef/owner of one-MICHELIN-starred
Protégé
, in Palo Alto
Memorable experience:
"I was a member of The French Laundry team on Sunday, October 1st, 2006. I was working the canapé station and Jean-Luc Naret, who at the time was the director of the MICHELIN Guide, was joining us for dinner. Michelin's inaugural guide to San Francisco and the Bay Area was to be announced the following morning, and everyone was on edge. The pressure of that night was crushing; it was the most stressful and focused service I have ever been a part of. After service, chef gathered the entire staff and told us that Mr. Naret had enjoyed his meal, and that he had congratulated Keller for having earned three stars in the 2006 guide. It was an incredible moment to see a man finally accomplish his dream, to be a part of such an amazing team and to have played a small part in its success. I will never forget that moment."
Lessons learned:
"Every detail counts, no matter how small or seemingly irrelevant. I learned it was okay to hold myself and those around me accountable for every aspect—and at a near OCD level of attention."
Eric Ziebold
Year started at TFL:
1996
Positions held:
Chef de partie; sous chef; chef de cuisine
Current Status:
Chef/owner of
Kinship
and
Métier
, in Washington, D.C. Both have one MICHELIN star.
Memorable experience:
"Our slow-pitch softball team. In 1996, the restaurant was doing food that most of us working there had never seen or made before. The restaurant was closed on Mondays, so The French Laundry started a softball team. To be out in the country playing slow-pitch softball together was something very unexpected. Thomas had great T-shirts and hats made for everyone—he was actually a pretty good shortstop."
Lessons learned:
"To create a restaurant culture that would be embraced not only by the guests but by our staff as well."
Mathew Peters
Year started at TFL:
2009
Position held:
Sous chef
Current status:
Peters, the first American chef to grab the culinary gold at the Bocuse d'Or in 2017, is working on opening his own restaurant in Austin, Texas.
Memorable experience:
"The first ticket I got to call out while running my first service for Chef Keller. I grew up admiring The French Laundry cookbook and never in a million years thought I would be in a position to help run this iconic restaurant. That day gave me a real sense of accomplishment and helped justify all the hard work I put into my career and love of food."
Lessons learned:
"Attention to detail and patience."
Philip Tessier
Year started at TFL:
2011
Position held:
Executive sous chef
Current status:
The first American to win Silver at the Bocuse d'Or in 2015, Tessier is pursuing his dream of owning a restaurant in Napa Valley.
Memorable experience:
"When you start at The French Laundry, it's a rude awakening—it's simultaneously exciting and challenging. There was . . . an environment that allowed each member of the team to focus on what they were responsible for. Chef was famous for asking if there was anything we needed from him. He had great respect for the environment, the cuisine and each member of the team. The experience of being in France in 2015 [at Bocuse d'Or] and seeing the level of respect for our restaurant was galvanizing."
Lessons learned:
"Attention to detail at every level of the restaurant. Sometimes all chefs care about is what's on a plate. We were concerned with the condition of the garbage room, if there was there a light out. The French Laundry created a culture in which you were a part of something bigger than yourself."
Timothy Hollingsworth
Year Started at TFL:
2002
Position(s) held:
Commis; sous chef; chef de cuisine
Current status:
Chef/owner of three Los Angeles restaurants:
Otium
,
C.J. Boyd's
and
Free Play
.
Memorable experience (of one night when the power went out):
"I was expediting that night, so I put a miner's flashlight on my head and kept on plating. We had some of our food runners holding up flashlights for the cooks whenever they could. We lit candles all over the dining room, and kept on with service. I think it was one of the most intimate and beautiful evenings at the restaurant."
Lessons learned:
"The importance of evolution. People and tastes change, your audience evolves, food changes, your team and cooks develop and diversify. The French Laundry taught me to always be open and willing to adapt."
Edited by Linda Lee.
Hero image by Michael Grimm.