"I've been the man behind the man for the last six or seven years," says Adam Howard. During his time in the nation's capital, he's worked for Bryan Voltaggio and Mike Isabella as a chef de cuisine and a corporate chef. Now, he's come out of the shadows to serve as executive chef at the Michelin-starred Blue Duck Tavern.

His experiences overseeing other chefs' restaurants provided a sense of variety, but not stability. "We were running 10 restaurants by the time I left [Mike Isabella Concepts], so it was just a lot of putting out fires and jumping around," he says. "It's just nice to be in one kitchen again. I have one place to put my shoes."

At his new post at the impeccable, tavern-style restaurant, Howard looks forward to a return to American cuisine and fine dining. "It was always Mediterranean, French, Japanese and Latin, which was great to get outside of my experience and my comfort zone," he says of his time working with chefs like Jennifer Carroll and Jonah Kim on restaurant openings. "[Blue Duck Tavern's] type of fine dining is perfect. There's still a rustic, authentic element to it that I like."

Howard landed at Blue Duck Tavern because it afforded him the opportunity to work with a refined team and a bevy of resources. "Having the tools you need to do your best work is kind of the hardest thing to find in the modern culinary world," he says.


Of course, taking the helm of a Michelin-starred restaurant for the first time with more than a decade's worth of accolades doesn't come without its pressures. Howard says he tries to focus on the job, not the reputation. "I don't want to [lose the first star I'm charged with upholding], but at the end of the day there's so much going on here and it's such a big operation…and I've enjoyed it a lot and put a ton of effort into it, so you don't really have time to think about it."

Howard's upbringing in Pell City, Alabama was bucolic, learning Southern cooking from his grandmother. "My grandparents lived on a big lake and they had a big farm, and all the kinds of classic stuff you picture," he says. "They made all the stuff fresh and picked all their own vegetables."

After attending the Culinary Institute of America and cooking in both New York and Charleston, these deep connections to farming stuck with him. He's been cultivating relationships with farmers in the Mid-Atlantic and is excited about showcasing their produce on his new menus. The volume of the restaurant's orders means that he can even request special varietals to be grown for it.

Blue Duck Tavern's commitment to local sourcing means that the majority of the recipes highlight rather than overshadow the ingredients—a quality piece of protein, a simple sauce and a roasted seasonal vegetable.

In developing his new menu, Howard had to be mindful of the restaurant's past. "There's a lot of signature dishes here," he says. "I know a lot of people that have been coming here for ages. So you kind of have to step lightly."

His tactic was to leave classics alone, save for a few technical improvements. Items like the braised beef rib, the wood oven-roasted bone marrow, the Reuben, and the charcuterie program, have remained.

Spice-roasted halibut with Carolina Gold broken rice pirlau, heirloom carrots, country ham, rhubarb and boiled peanuts. (Photo by Lani Furbank.)
Beyond that, he has added dishes that blend with the style of the restaurant. New highlights on the late summer menu include spice-roasted halibut with Carolina Gold broken rice pirlau, heirloom carrots, country ham, rhubarb and boiled peanuts, as well as a roasted squash salad with radish, upland cress, cardamom coffee soil, buttermilk mousse and carrot meringue.

These dishes are intentionally layered with multiple components so that they can be executed by a vast team in a busy kitchen. "[We're] making things as simple as possible, but getting a really profound flavor out of it," Howard says. "We can take it apart and put it together, and if something's wrong we fix it and isolate it."

He has also designed the dishes with central techniques that can carry over as the seasons change, while staying true to what's being harvested at the time. For instance, the foie gras mousse is currently garnished with brandied peaches, but come winter, there will be preserved figs in Port or Madeira. The rabbit fricassée with Vadouvan dumplings (a play on chicken and dumplings) might be made with pheasant as it gets colder.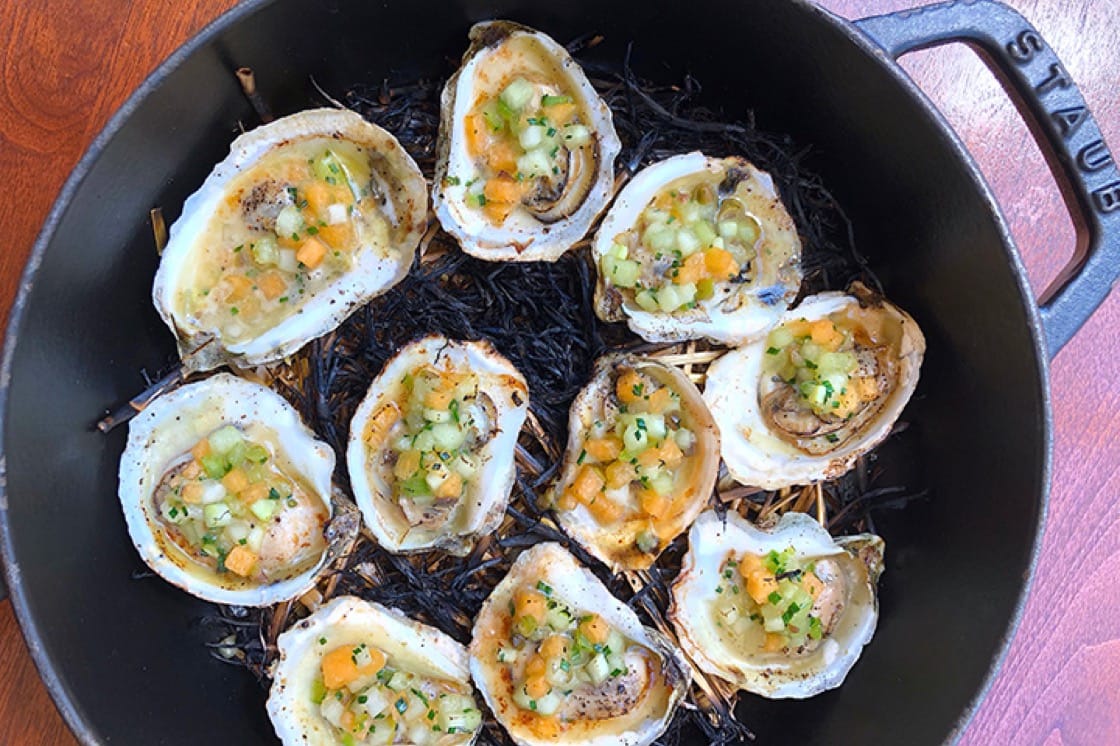 Hay-smoked oysters with melon mignonette and beurre blanc. (Photo by Lani Furbank.)
As the summer comes to a close, Howard plans to grow the restaurant's larder by pickling and fermenting fresh produce. They'll also be aging various items for the charcuterie program. Dishes from the fall menu will begin to appear toward the end of September.

"We want to keep building and perfecting things and adding stuff. We have a lot of ideas," Howard says. Thanks to his experience collaborating with chefs in his previous roles, he is receptive to incorporating the ideas of his staff and creating a unified voice for the menu. "It's not just my 17 recipes. It's always better getting other people's feedback and getting other people's little two cents, and it's more interesting to me that way."

His vision for the restaurant under his leadership is to "meet the expectations and then keep providing something new." But he also wants his kitchen to be a springboard for young chefs, like the prestigious places he remembers as he was coming up. "That's where you'd learn how to work with foie or truffles, and break down whole animals. It wasn't in a fast-casual restaurant—it was somewhere with this huge operation that had a butchery room and a butcher and they took the time to do it right because they could afford to, and I think that's kind of going away. A lot of the young folks, they don't have that experience or know how to do it."

In joining Blue Duck's legacy, he recognizes what's come before: "The incredibly talented people that have put their own style on something that's really timeless and continued a long tradition of it." Now, he's ready to make his own mark. "All the pieces were always here. It's just putting in a little more heart and soul and personality."

Photo of Adam Howard Courtesy of Blue Duck Tavern.