A few steps off Broadway in Oakland's Uptown, the neon green facade of Hi Felicia stands out among its grayscale neighbors. This brick and mortar evolution of the once-underground supperclub of the same name was added to the MICHELIN Guide in 2022, only a few months after the restaurant's doors officially opened earlier in the year. With an emphasis on equity, diversity, and of course, incredibly delicious dishes, the mononymous owner-chef Imana has created a fine dining experience unlike anything the world has seen before, as bold and brash as the building's exterior.

---
Inside, Hi Felicia's color palette is rooted at the other end of the spectrum, with every surface—walls, ceiling, and floor—coated in black paint. Bright paintings punctuate the space with color, all of it moodily lit with amber chandeliers and candles dripping wax onto the floor. A communal table acts as the focal point of the room, encircled by a mismatched assortment of chairs, almost as if they have been borrowed from generous neighbors.
It feels like entering a friend's living room for a dinner party, which is entirely the point. Hi Felicia began as a pandemic pop-up in Imana's apartment, an opportunity for her to serve elevated food in the way that most resonated with her. "I hit my wall of working one, for other people, and two, in a predominantly white male industry," Imana says before the night's first of two services. "I'm pretty free, liberated, loose as a goose person. So, why wouldn't I just open my home to the whole Bay Area and throw these f***ing crazy dinner parties?"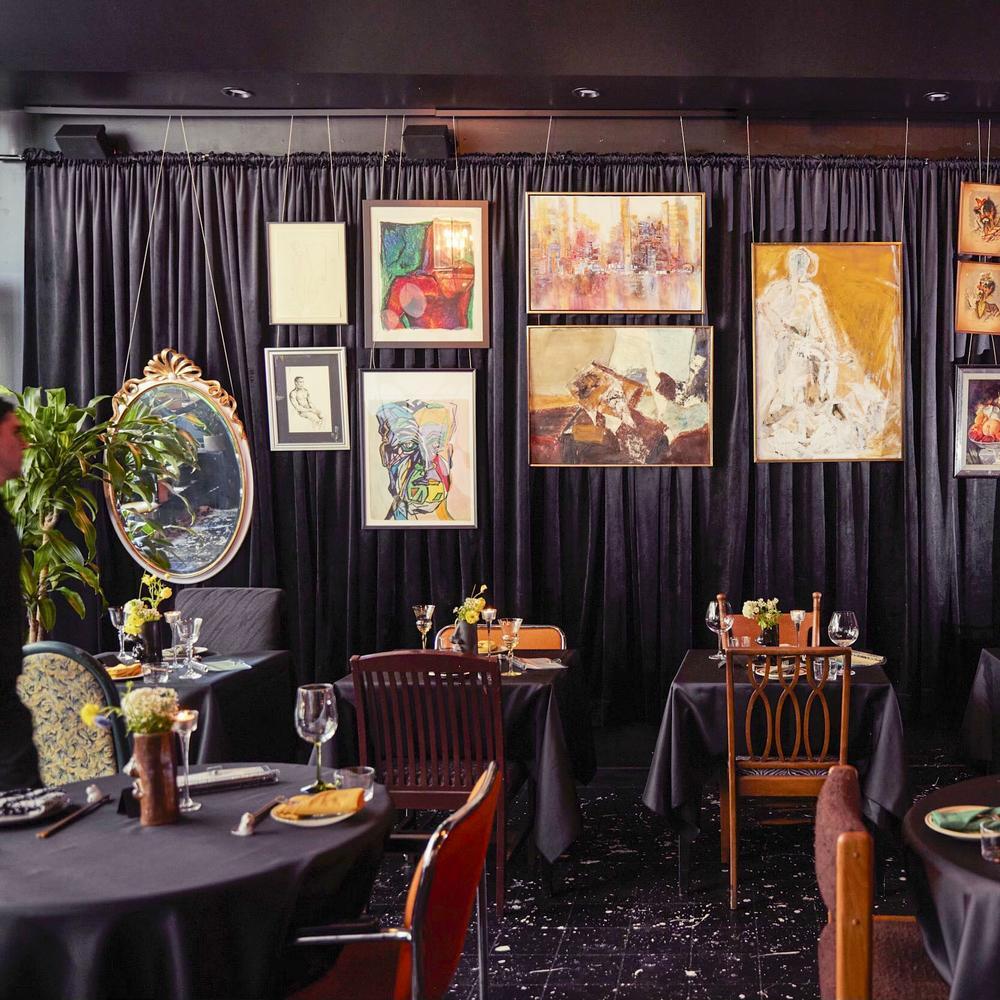 Derek Yarra
Less than a year later, Hi Felicia opened in a commercial space, a testament to Imana's ambition, tenacity, and creativity. She is the sole investor and sole owner, because she likes to do things her way. "I'm one of one," she proclaims proudly, and the proof is in the pudding—or in this case, the tres leches mochi donuts served for dessert (more on that shortly).

In eschewing traditional expectations for what fine dining is "supposed" to look like, Imana is carving out a space in the industry she calls 'vulgar fine dining.' Hi Felicia disregards the stereotype that elevated food requires an austere or uptight environment to be worth a night out, instead serving upscale California comfort food in a setting that would make any guest feel welcome.

That inclusivity is reflected in the staff Imana has assembled. "This is an extremely diverse team," she explains. "We have an all Black management team, almost everyone is queer or trans or non-binary." As a Black, queer woman in her mid-20s, Imana has faced gatekeeping at every level in the fine dining industry, but rather than walk away from it, she's reinventing what it looks like. "Everything that ever got me fired from a job, or someone telling me it wasn't the right fit, is exactly what I poured into this business. Because I am the fit: this is the fit for me."


Chef Imana photographed by Jeremy Chiu
---
---
The result is an intimate, affable space with the level of detail, quality, and service that one would expect from a luxury meal.
In true dinner party fashion, a designated name card indicates where I'm meant to sit. I peruse the hand-written menu—the i's dotted with hearts—eagerly anticipating the Mexican and Asian infused courses derived from California ingredients and cooked by Selasie Dotse, the Ghanaian chef de cuisine who grew up in the South. I learn these details when Imana assembles the team at the start of the meal, introducing each member by name and role. Giving everyone a voice is integral to the ethos of the restaurant.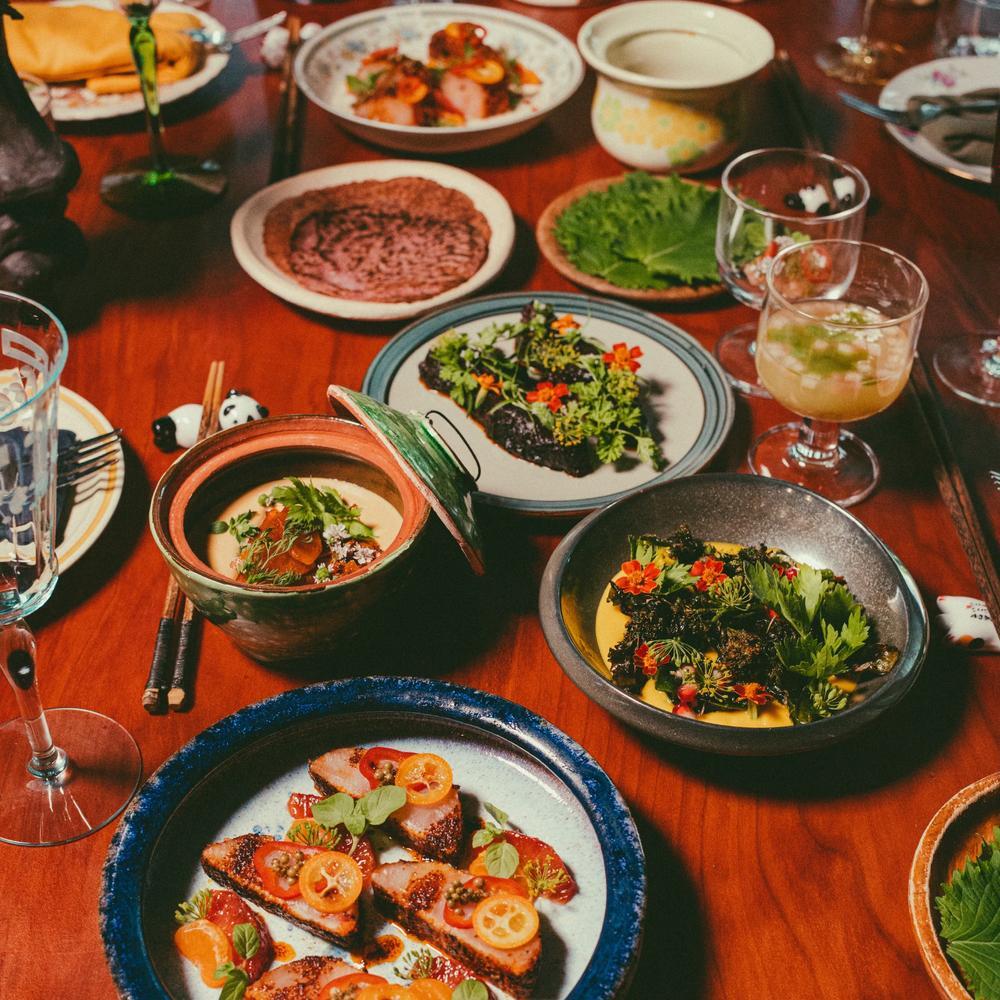 Jeremy Chiu
With loud, vibey music setting the mood, the nine-course meal and accompanying wine pairing of predominantly natural and biodynamic bottles is quickly underway. We begin with a ruby goblet of beet gazpacho and a tostada of togarashi-cured trout and salmon roe, both featuring a heat that sneaks up on you. Spiciness is a regular feature of the entire meal, something Imana found lacking during past fine dining experiences.

Next comes the signature cashew queso, which is always on the menu in a seasonal iteration. "Don't be afraid to get messy; we'll clean you up," a porter says when placing the bowls of blue corn tortilla chips and nutty vegan cheese. Other dishes include yucca dumplings with Dungeness crab, an endive palate cleanser, and the Korean short rib entree, complete with banchan, or side dishes, like collard greens kimchi and roasted leeks.

Highlights include the honeynut squash souffle with caviar, and the scallops al pastor served with fermented pineapple. "It smells like a goddamn tiki drink!" my neighbor declares gleefully, and because of the communal seating arrangement, we enjoy this revelation together. It too has some heat: "it's going to clean you out," Imana warns in advance. Finally, the tres leches mochi donut with horchata sorbet rounds out a meal that is equal parts innovative, comforting, luxurious, and delectable.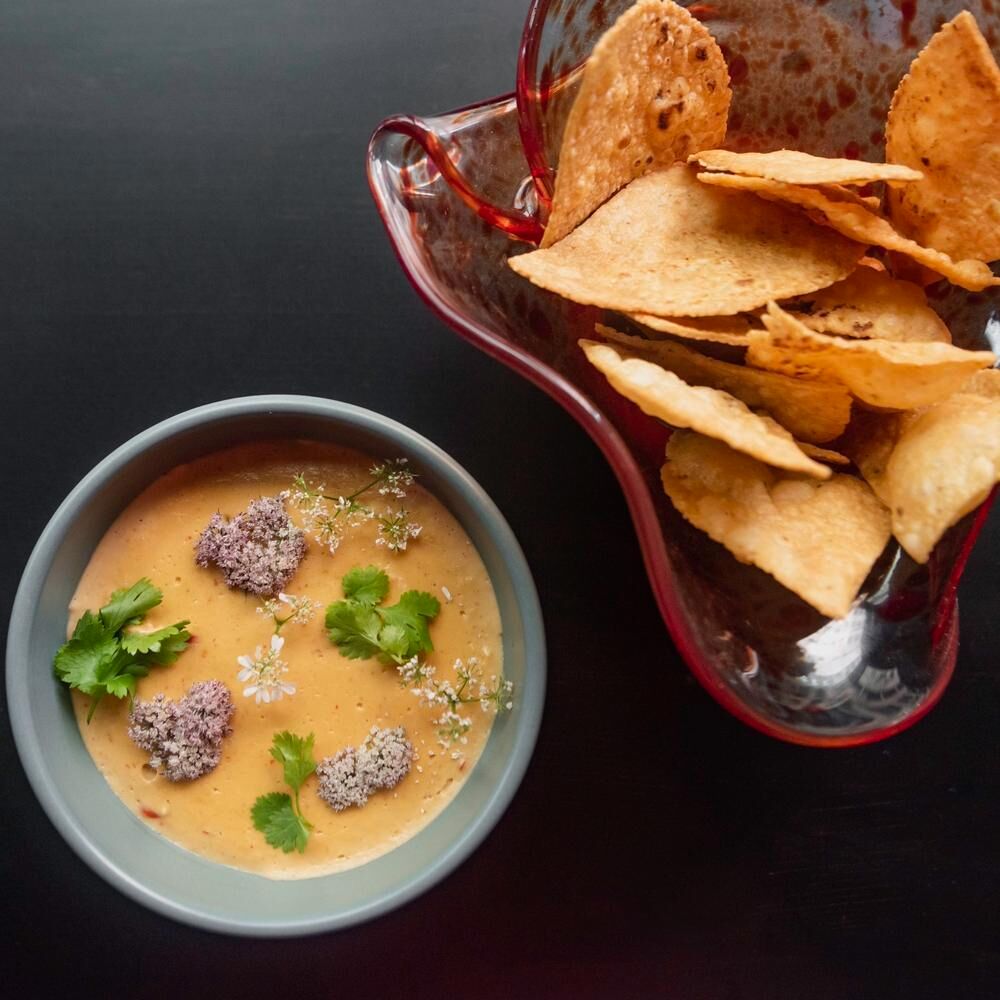 Will Blunt
The food is hands-down impressive, but it's the sense of welcoming and the genuine friendliness of the service team that make this a uniquely satisfying experience. Every announcement and check-in from Imana ends with her saying, "I love you," warming my heart almost as much as the chilies in the dishes. As I wash my hands in the all-gender bathroom, I smile at the mirror that's mostly covered by "YOU LOOK FINE" in neon pink spray paint, and realize that thanks to tonight, I'm feeling fine, too.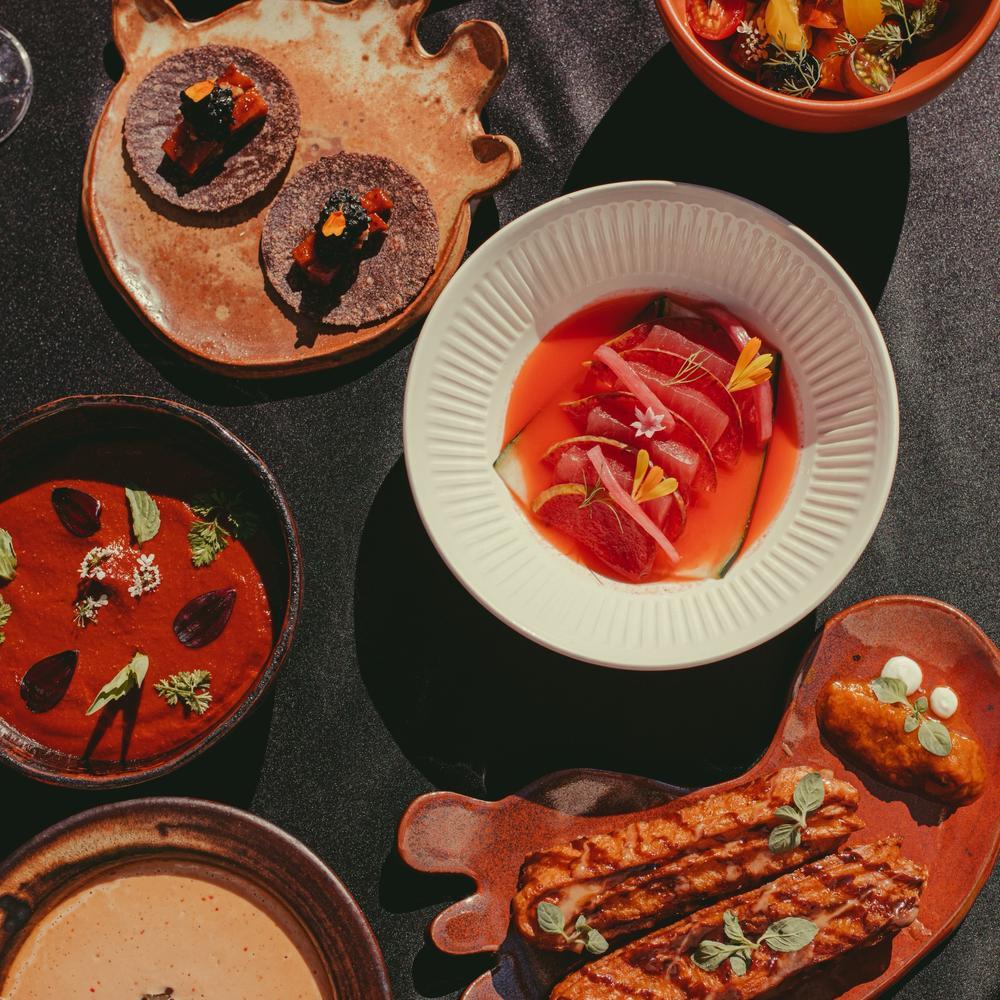 Jeremy Chiu
Stay nearby: Oakland is fast becoming one of California's most coveted cities with a robust dining scene featuring culinary delights from Two Star Commis to local faves like Bib Gourmand Horn Barbecue. And we understand that after a festive evening out, the last thing on anyone's mind is where to stay. Therefore, the team at MICHELIN Guide Hotels, a carefully curated list of 6,000+ hotels across the globe, has got you covered. Below, are three unmissable, luxurious, and most importantly comfortable Oakland spots to rest ahead of another fab day of culinary adventures.
A ten minute walk from Hi Felicia, the Moxy Oakland Downtown is perfect for those hoping to burn off a few of those tasty calories. It'll be easy to spot with a signature, neon pink 'Moxy' sign atop a (very) large graphic mural. Inside, freshly mixed craft cocktails and sleek, yet eclectic styled rooms await.

Ever wonder what a hotel would look like if Indiana Jones owned one? Then the Graduate Berkeley fits the bill with a lobby filled to the brim with an archive of National Geographic magazines; moody, yet exotic tiles; and cozy rooms with decidedly tailored interiors. The best part? A lively lobby scene and restaurant, Henry's, which updates the traditional pub fare with flair.

They say the journey is much more beautiful than the destination. The Claremont defies this logic: located in the Berkeley Hills, this grand century-old landmark is the quintessential luxury hotel. Fitted with a wide variety of rooms, the Limewood Bar & Restaurant, an expansive fitness center, multiple outdoor pools, and the famous Claremont Tennis Club, this is one property that truly has it all.

Graduate Berkeley, Moxy Oakland Downtown, The Claremont Club & Spa, A Fairmont Hotel
Hero image: Jeremy Chiu/Hi Felicia
---
---