MICHELIN Guide Thailand 2020
Rib Room & Bar
138 Sukhumvit Road, Khlong Toei, Bangkok, 10110, Thailand
1,700 - 8,100 THB • Steakhouse
MICHELIN Guide Thailand 2020
Rib Room & Bar
138 Sukhumvit Road, Khlong Toei, Bangkok, 10110, Thailand
1,700 - 8,100 THB • Steakhouse
MICHELIN Guide's Point Of View
Located on the 31st floor of the Landmark Hotel, this restaurant is a "landmark" in its own right and has been a go-to steakhouse in town since the late 1980s. The vast and varied menu can feel overwhelming so stick to the classics, like perfectly cooked steaks and the signature Caesar salad which is prepared tableside. Enjoy impressive city views and a lively open kitchen while you dine.
Show More
Show Less
‹ The MICHELIN Plate: Good cooking
ô Very comfortable restaurant
Related Reads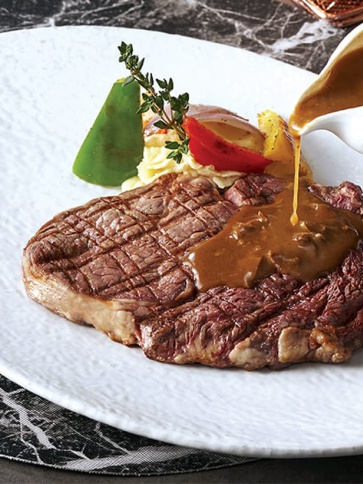 As much as we want to impose a strictly vegetarian diet, it's hard for carnivores to steer clear of the temptation to order a juicy steak from the selection of Bangkok and Phuket's meat and grills eateries. These are our top picks for the best steaks in the city.
Craving something exotic? Here is an East to West world tour of gourmet delights across metropolitan Bangkok.
Subscribe to our newsletter and be the first to get news and updates about the MICHELIN Guide
Subscribe
Follow the MICHELIN Guide on social media for updates and behind-the-scenes information