MICHELIN Guide Thailand 2020
Fireplace Grill and Bar
973 Phloen Chit Road, Pathum Wan, Bangkok, 10330, Thailand
1,200 - 8,000 THB • Meats and Grills
Reservations are not available for this restaurant on our site
MICHELIN Guide Thailand 2020
Fireplace Grill and Bar
973 Phloen Chit Road, Pathum Wan, Bangkok, 10330, Thailand
1,200 - 8,000 THB • Meats and Grills
MICHELIN Guide's Point Of View
Tucked away in the basement of a large hotel is this long-running home to grilled meats and seafood. The lively open kitchen takes centre stage so grab a seat there or reserve a table in the more intimate dining room. Signatures include lobster salad, steaks large enough to share, and crêpes Suzette. High-quality ingredients and wines from top growers and producers can quickly run up the bill, but service is attentive, unobtrusive and smooth.
Show More
Show Less
‹ The MICHELIN Plate: Good cooking
ô Very comfortable restaurant
Related Reads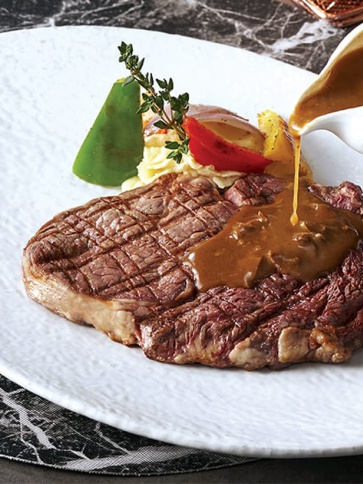 As much as we want to impose a strictly vegetarian diet, it's hard for carnivores to steer clear of the temptation to order a juicy steak from the selection of Bangkok and Phuket's meat and grills eateries. These are our top picks for the best steaks in the city.
Subscribe to our newsletter and be the first to get news and updates about the MICHELIN Guide
Subscribe
Follow the MICHELIN Guide on social media for updates and behind-the-scenes information