MICHELIN Guide Thailand 2020
Baan Phadthai
21-23 Soi Charoen Krung 44, Bangkok, 10500, Thailand
500 - 830 THB • Thai
MICHELIN Guide Thailand 2020
Baan Phadthai
21-23 Soi Charoen Krung 44, Bangkok, 10500, Thailand
500 - 830 THB • Thai
MICHELIN Guide's Point Of View
Baan Phadthai was founded on the lofty belief that this favourite street food dish could be elevated to a gourmet meal. The secret to their success, they claim, is a combination of 18 to 20 ingredients used in each Phad Thai they make. A variety of add-ons are available, but the organic, homemade tofu and the fresh crab are noteworthy. This polished version hasn't lost its authenticity, and this is a place where locals and tourists eat side-by-side.
Show More
Show Less
= Bib Gourmand: good quality, good value cooking
ò Simple restaurant
Related Reads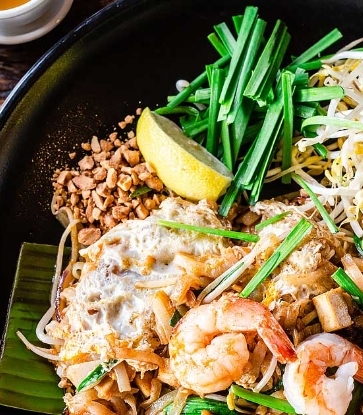 Unlock the delicious secrets from the chefs who make the best phad thai in the MICHELIN Guide.
French restaurateur Fred Meyer came to Thailand a decade ago, not knowing that he'll meet both the woman and the business of his dreams.
Heritage, modernity and food fuel the renaissance of historic Charoen Krung. A perfect neighbourhood to eat and spend the day!
Subscribe to our newsletter and be the first to get news and updates about the MICHELIN Guide
Subscribe
Follow the MICHELIN Guide on social media for updates and behind-the-scenes information