Good marketing is half the battle won for any restaurant. But for Colombo-born chef Rishi Naleendra who heads one-Michelin-starred
Cheek by Jowl
, his heritage became a hurdle to cross when he moved to Singapore from Australia in 2014.
Seated across us in his
Chinatown
flat on a Saturday morning, the 32-year-old opens up about his experiences here as he sips a glass of chardonnay. "[At one of my job interviews, there were two chefs (applying to do) the same thing, and I had to sit down and listen to someone say, Oh, I can't market you, but I can market the other one," he shares.
"That person basically just told me that because of my background, and how I look, that they couldn't market me. That was the hardest thing."
Coming Full Circle

Ironically, becoming a chef was never his childhood dream. In fact, he was adamant about not following in the footsteps of his father, who used to run a restaurant before starting a catering business from home.
As a child, Naleendra remembers going to bed early and waking up to the enticing aroma of spicy tuna croquettes cooked over a wood-fire in the wee hours of the morning. "I would wake up around 4am, and that was usually the only time I'll see my dad," he says. "It was crazy; it was just so many sleepless nights for them. I always thought (being a chef) would be the last thing I'll do."
But life has a funny way of working out sometimes. After moving to Melbourne, Australia, to study architecture, Naleendra fell in love with the delicious food and buzzing energy of the kitchen when he began working part-time in a local café. His first taste of a chicken liver parfait, which he still serves as a snack today at Cheek by Jowl, opened his eyes to a whole new world of flavours.

"In Sri Lanka, Western food meant McDonald's and Pizza Hut for me. I never thought I would like chicken liver, but I tasted this, and I thought, this is really good!"
Today, his CV reads like a roll call of some of the hottest restaurants in Australia, such as
Taxi Kitchen
in Melbourne and
Yellow
and
Tetsuya's
in Sydney. Cheek by Jowl, which he opened with restaurateur Loh Lik Peng of lifestyle group
Unlisted Collection
early last year, was awarded one star in the MICHELIN guide Singapore 2017.
"Ever since reading
The Perfectionist
(by Rudolph Chelminski), I wanted (a Michelin star); I really wanted it. It still feels like a dream," says Naleendra. He laughs as he recalls how he couldn't believe it was real when he first received his invitation to the star awards gala held at The Fullerton Hotel this year.
"I would wake up at 6.30am and keep asking (his wife) Manuela: 'Do you think we are really going to get a star? How sure are you we'll get one?' After two days, she got fed up and told me she wanted to sleep," he says with a chuckle. "So, I would come out of the room, lie on the couch and play a record (on his vinyl player). And I would wait until she woke up so I could ask her to check that e-mail again."
Judging A Book By Its Cover

But getting to where he is today hasn't been easy.

The long hours. The lack of sleep. The constant inability to switch off even outside the kitchen. For someone who "has slaved (himself) since (he) was 18 to get somewhere", Naleendra has had his fair share of hard knocks.

The first was when his shoulder muscles gave out while he was working at Tetsuya's. "I had pins and needles in my arms for days. Then, my muscles got blocked and I couldn't move my arm during service. I got really scared."

"I didn't start being this obsessed with being a chef, just to end up being average."
Another down moment was when he came to Singapore and ended up heading now-defunct Maca. "It was the one chance I was given to show Singapore what I can do, and I wanted to make sure I made the full use of it."
But beyond handling administrative work and finding suppliers, he had to work harder to prove himself to his staff and customers who couldn't grasp how a Sri Lankan could be cooking modern Australian cuisine.

"People looked at me really funny. It was hard, but it also made me want (to succeed) more, for sure," he says. "And I have learnt how not to react to things. Everyone has a bad day. You move on."
Star Quality

Cheek by Jowl is where everything comes together. In the kitchen, staff take part in deboning competitions where they race to see who can shuck oysters and debone quails fastest. On the menu, dishes spun from his imagination take flight in delicious combinations such as roasted quail with mint and mushrooms, and smoked fatty mackerel dusted with a crusted bone crumb on a smear of tangy horseradish cream.
On occasion, you might catch him spacing out over the countertop of his open kitchen. Yet, there are also moments when the usually gentle chef morphs into a raging Ramsay-like figure and shouts at staff who dare put a bunch of burnt kale on a plate. Each plate has to be perfect. It's why the kitchen follows a system of him plating every single dish before it goes out.
But the true star of the restaurant in his eyes is his wife, Manuela. The name Cheek by Jowl, in fact, refers to their dream of working side by side, in their own restaurant. While Rishi works his magic in the kitchen, she keeps the front of house running smoothly and shows him where the lights are, because he always forgets.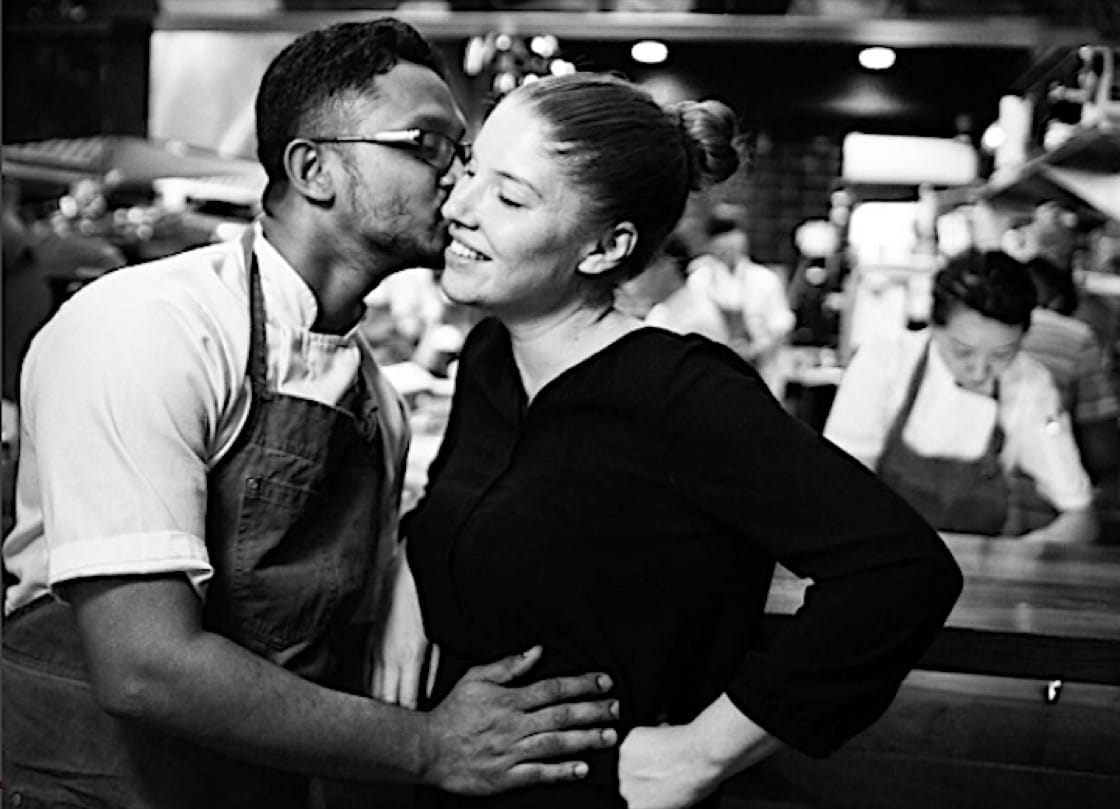 "A lot of people think it's really hard to work with your wife. I just find it really easy. She might find it really hard," he admits with a laugh.

"There's nothing, if not for her. She is everything."
---
Excited to try the food at Cheek by Jowl? Be sure to book your seats
here
.