For the month of May, we check out Yan's new menu that is fashioned after grand private dining banquets, Middle-Eastern-inspired delights at The Ottomani and German restaurant chain Brotzeit's healthy German dishes.
Sushi Kimura Offers A Luxe Lunchtime Chirashi Set

This elegant fine dining sushi-ya offers a luxurious lunchtime chirashi set for time-crunched executives who might not have time for a full omakase meal. And it is a chirashi meal like no other. The Sushi Kimura Chirashi is served in two Japanese lacquered boxes—the first displaying an array of seven seasonal sashimi cuts (we had hirame, zuzuki, isaki, tai and chutoro among others), while the second holds a mound of organic Tsuyahime rice topped with dried Kumamoto nori, uni and ikura. The chef spares no expense in the quality and detail of the experience, right down to the use of a sprig of crisp ice plant as a garnish. The rice, seasoned with aged rice vinegar from Kyoto, is so fragrant and toothsome you could eat it on its own, while the tamago is fluffy and almost cake-like. Upgrade to a meal at $100++ to add on a seasonal appetiser, chawanmushi and home-made dessert of the day. 390 Orchard Road, Palais Renaissance, #01-07
Brotzeit Goes FIT With Its New Menu Category
Dispelling the notion that German food is only about big brash sausages and massive pork knuckles, Brotzeit's new menu offers a range of lighter options like customisable salads and smoothies in its new Brotzeit FIT category. You'll also find well-loved traditional German classics such as boiled beef, which features tender Australian grass-fed beef ribs and oyster blade, cooked for hours in a flavourful beef broth with seasonal vegetables. Eat it the traditional German way, with a chive sauce and a pudding-like horseradish bread sauce.
Available at Brotzeit outlets across the island
Yan Serves Up Grand Retro Dishes

Cantonese restaurant Yan has a new executive Chinese chef, Lai Chi Sum, who specialises in grand retro dishes that are served at private banquets. The "private dining style" focuses on classic Cantonese recipes that use seasonal ingredients and involve longer cooking processes to distill rich and deep flavours. One of his new dishes is baked pork ribs glazed with honey plum sauce —- a refreshing alternative to coffee pork ribs. The sticky-sweet ribs are studded with pitted black olives, which inject a good dose of saltiness to counter the sweetness of the honey plum dressing. Other new dishes include steamed kampong chicken with ginger spring chicken and baked crab shell with crab meat and onions. National Gallery Singapore, 1 St Andrew's Road, 05-02
The Ottomani Entices With New Menu

Middle Eastern-themed supper club restaurant The Ottomani has undergone a recent menu overhaul. Instead of a la carte options, diners choose either the $98 four-course Flamed menu ($98) or the five-course $108 Pit-Roasted menu ($108). Highlights include the pit-roasted sticky Kurobuta pork collar. The hunk of meat, which is roasted in a wood-fired oven that is loaded with embers, is reminiscent of sticky-sweet coffee pork ribs. The beautifully charred meat is perfumed with ground Turkish coffee and Sichuan peppercorn. Other new dishes include foie gras mousse and burnt carrots. 48 Peck Seah Street, 01-01A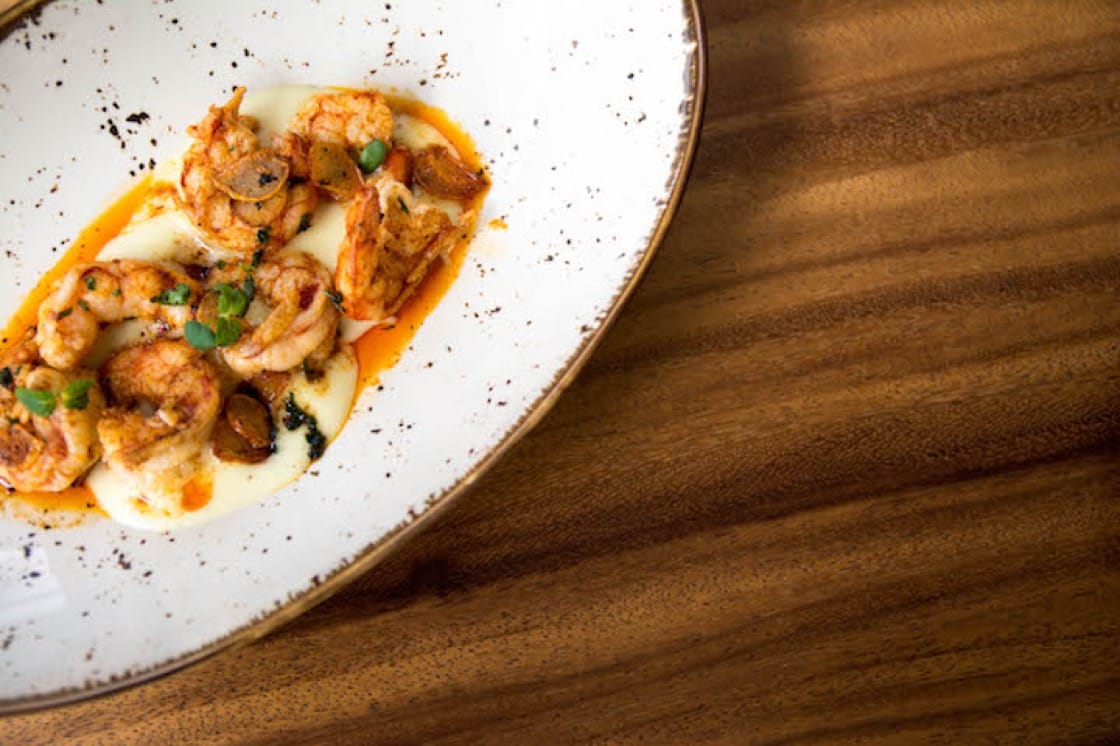 FOC PIM PAM Returns With Revamped Space And Menu

After a month-long renovation, Catalonian restaurant-bar FOC PIM PAM returns with a more prominent bodega experience with three distinct spaces: a grocer-themed tapas bar, a dining area and an outdoor terrace. New dishes on the revamped menu include the Prawns "'Al Ajillo"' ($22++). Juicy pan-fried juicy Argentinian prawns are spiced up with paprika, chilli, garlic and olive oil. These mildly spicy morsels are ensconced on a creamy ratte potato espuma. Save space in your tummy for the Iberico Secreto bomba rice ($33++). The subtle smokiness from grilled slabs of iberico pork is absorbed into the bed of flavourful bomba rice, which has been simmered in a rich stock of chicken and pig trotters, mushrooms and herbs. FOC PIM PAM also boasts the largest collection of sherry in South-east Asia, carrying up to 100 labels from famed sherry bodegas including Gonzalez Byass and Lustau in Spain. Claymore Connect, 442 Orchard Road, 01-29