A good bowl of laksa is dependent on the gravy, prepared by cooking down chilli padi, blue ginger, turmeric, belachan, shrimp paste and lemongrass; first by stir-frying all the ingredients to draw out the aromas and then cooking them down to drawn out the flavours.
Every laksa hawker has their own secrets to ladling up a perfect bowl – some argue that only freshly squeezed coconut milk can make the
lemak
cut while others believe that using less coconut milk is more.
Here are five stalls that dish up better than decent bowls of laksa.
928 Yishun Laksa
928 Yishun Central 1, #01-155
Opening hours: 8.30am to 7pm, daily. Closed on Sundays.

At $2.80 for a small bowl and $3.30 for a large, the laksa at 928 Yishun is one of the more affordable bowls around. The laksa gravy is heavy on the hae bi (dried shrimp) but light on the coconut milk, which makes it lighter and easier to stomach. They're also very generous with the ingredients and if you're not a fan of blood cockles, they're happy to substitute it with more fish cakes or mock crab meat sticks instead of simply leaving the shell fish off. The queue usually starts before they open and they tend to sell out before 7pm so go early to guarantee yourself a bowl of lemak goodness.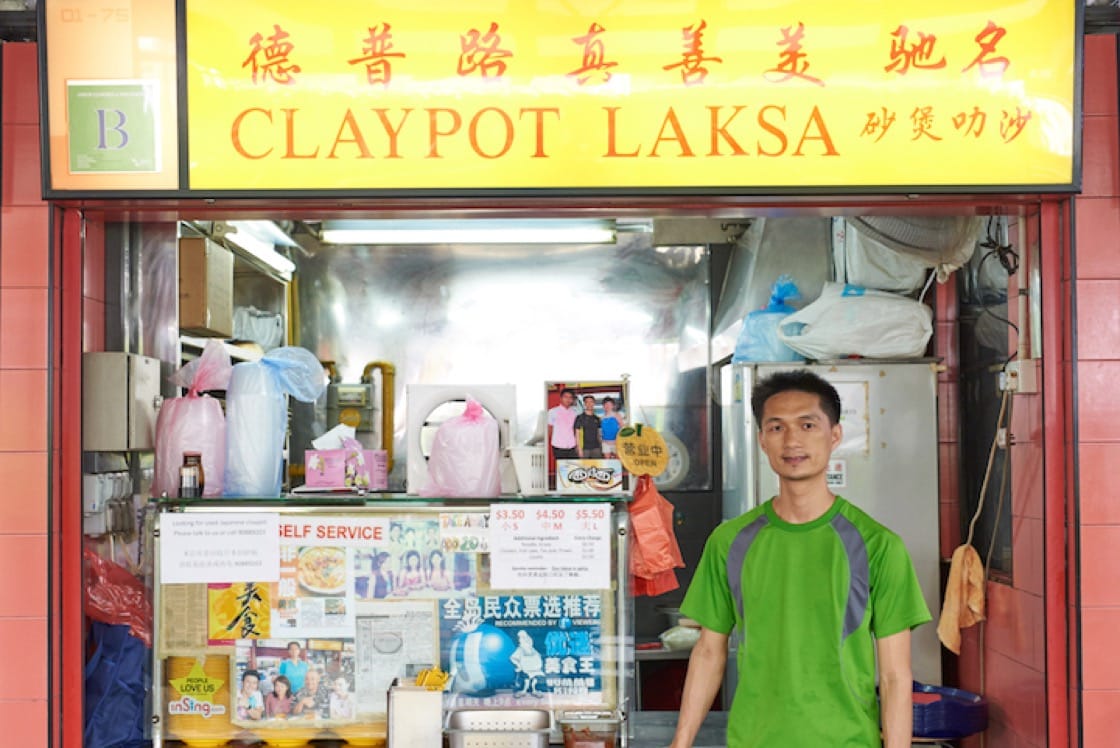 Depot Road Zhen Shan Mei Claypot Laksa
Alexandra Village Food Centre, 120 Bukit Merah Lane 1, #01-75
Opening hours: 9am to 4pm, daily. Closed on Sundays.
Distinction: Bib Gourmand
Prices start at $4 a bowl and can work up to $6 for its biggest portion of laksa. The claypot that the noodles is served in is no gimmick; it ensures that the dish remains warm until the very last drop. Owner Zhang took the business over from his aunt when her health started failing 11 years ago but the hawker business is no walk in the park; his days begin at 5 to 6am in the morning and ends about 6pm, long after his stall closes at 4pm. But the hard work isn't for naught; throngs of loyal customers arrive at 8am, mulling around waiting for Zhang to officially open and by 9am, there is usually a queue.


328 Katong Laksa
51 East Coast Road
Opening hours: 10am to 10pm, Mon to Fri. 9am to 10pm, Sat & Sun.
Distinction: Bib Gourmand
Enter the shop on East Coast Road and you see faces of celebrities plastered all over the walls. Among them are Hong Kong's Tony Leung and British celebrity chef Gordon Ramsay. And in 2013, owner Lucy Lim and her son Ryan Goh beat Ramsay in a Hawker Hero challenge to make the better bowl of laksa.
The defining characteristics of Katong Laksa are the thick, short rice vermicelli noodles surrounded by a pool of coconut-rich laksa gravy topped with plump shrimps, fish cakes and blood cockles. And the entire dish should be eaten with only a spoon. No chopsticks required here.
Famous Sungei Road Trishaw Laksa
Hong Lim Market & Food Centre, Blk 531A Upper Cross Street, #02-66
Opening hours: 11:30am to 4.30pm, daily. Closed on Sundays.
Distinction: Bib Gourmand
Two dishes stand out at this hawker stall housed in Hong Lim Market & food Centre. Their namesake laksa, of course, and their mee siam made laced with fruit juice. Both dishes are excellent. Their laksa is noticeably less lemak than the versions from the
328 Katong Laksa
and
Depot Road Zhen Shan Mei Claypot Laksa
and owner Daniel Soo assures us in a
previous interview
that it's intentional. Instead, Soo incorporates premium ingredients such as dried scallops, oysters and fresh prawns to intensify the aromas and flavours of the laksa.
San Laksa Steamboat
404 Telok Blangah Road
Opening hours: 11am to 2.30pm for lunch, 4.30pm to 11pm for dinner, daily.
Marrying the best of laksa and hotpot is this unpretentious restaurant on Telok Blangah Road. Fret not if you find the concept of a laksa hotpot
jelak
(the overwhelming feeling one gets after consuming too much rich foods), they've got another lighter chicken stock for you to cook your ingredients in; customers usually opt for the best of both worlds in their steamboat hotpot.