From the deep red hue of carabinero prawns and an exquisite tofu blossom, to the laborious efforts of deboning wolf herring to make one simple dish, this month's selection celebrates the beauty of good produce in the right hands.
Singgang, from Folklore ($20++)
Damian D'Silva is a chef who cooks with his heart and soul, and he's back with the arsenal of traditional heritage dishes, rich and bold in flavour, that he is known for. At new restaurant Folklore, D'Silva no longer has to juggle both kitchen and operations as he was in his previous ventures Immigrants, a gastro-bar in Joo Chiat and D's Joint in Timbre+; instead, the 61-year-old can now focus on doing his best in the kitchen, and this is exactly what he does.
Take Singgang, a Eurasian dish of deboned wolf herring fish, for instance. Stripping the meat off the tiny bones of the long, slender fish already takes three hours. The whole fish is first added to a spice paste made from fresh chillies, bruised lemongrass, tumeric and fresh coconut milk, before it is removed, deboned, and returned back to the paste to cook. It's a creamy, meaty dish that many at the table will fight over for an extra spoonful, and proof of D'Silva's labour of love.
Level 2, Destination Singapore Beach Road, 700 Beach Road.
Crispy Pork Belly from Butcher Boy ($32 for 200g)
Finding a lunch spot open on Sundays is a bit of a challenge in Singapore, so Butcher Boy is a welcome addition to the current list. Opened by chef Andrew Walsh of Cure and Cure Concepts, this Asian-inspired bar and grill is where you'll head to when you're craving a good piece of meat done right. There's no fancy flourishes to be had here, unless you count the variety of sauces such as sambal, black pepper, yuzu bearnaise and XO sauce on the side. Instead, good cuts of meat are seasoned and put over a Josper grill, then sliced and served on customised teak wood slates. Particularly delicious is the crispy pork belly, cooked low and slow — the slab of meat is first encased in a kosher salt crust and baked for 40 minutes, then finished off over the Josper grill to produce a cackling golden skin and tender juicy meat.
31 Keong Saik Road
Carabinero Prawn Carpaccio, from Dehesa ($34)
It's taken awhile for Dehesa to get a good buzz going, but chef Jean-Philippe Patruno is proof that sticking to your guns and not switching up concepts works. That, and a good business partner patient enough to wait to see returns. While chef JP's strong suit is in turning every bit of an animal — from snout to tail — into tasty dishes, what stands out for us is the carabinero prawn carpaccio. The vibrant red-coloured prawns are meaty and flavourful, thanks to their carnivorous diet (these deep-sea prawns nibble on smaller shrimps), and chef JP brings out their natural fresh bright flavours by simply serving them sashimi-style with a drizzle of zesty lemon juice and some Greek olive oil. The prawn heads, rich and chock-full of juices, are deep-fried and served on top as a smart finish.
12 North Canal Road.
Stir-fried Sri Lankan Crab with Signature Soya Bean Crumb in Osmanthus Sauce at Si Chuan Dou Hua Restaurant (from the 6-person Suckling Pig Feast set menu priced at $438++)
At Si Chuan Dou Hua, you are likely to be washing down your spicy ma la dishes with a glass of warm soya bean milk, a homemade signature here. Executive Chef Leung Wing Cheung exhibits a 'waste not, want not' philosophy in giving new life to the soy beans left from making the drink. The soy beans are fried into a golden, crunchy crumb and infused with a floral osmanthus sauce, then stir-fried with Sri Lankan crab. The aromatic mixture makes for a lovely textural counterpoint to the sweet meaty flesh of the crab in this truly unique dish. 181 Kitchener Road, PARKROYAL on Kitchener Road.
Chrysanthemum Tofu in Consommé at TungLok Signatures ($12 per serving)
A simple dish of tofu in clear broth is transformed by the skillful hands of the chefs at TungLok Signatures. Each plain, fragile block of beancurd is sliced deftly with a large cleaver then placed in a bowl of light stock and steamed—the tofu blooms like a chrysanthemum flower, looking almost alive in the clear gold-tinted consommé. Watch a video of the preparation of this dish here. TungLok Signatures at Orchard Parade Hotel, VivoCity, The Central and Changi City Point.
Baked Sea Perch on Egg Custard, Ginger in Supreme Broth at Jiang-Nan Chun ($25++ per serving)

A caramelised fillet of tender white fish sits atop a cloud of egg custard, the sweetness from the soy glaze complemented by a savoury broth kissed with warm ginger. This signature dish at Jiang-Nan Chun is a guilt-free indulgence that you can tuck into at the end of your spa treatment at the Four Seasons. It is available on the a la carte menu, as well as the Wellness menu till the end of September. Level 2, Four Seasons Singapore.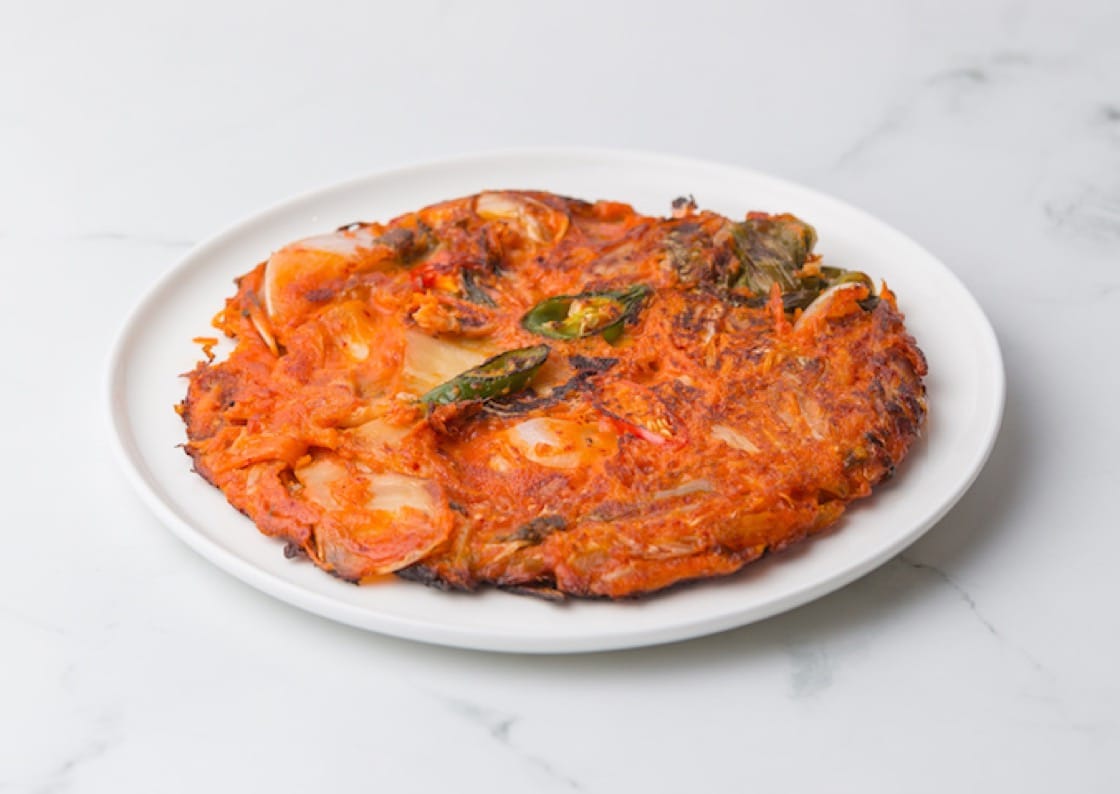 Kimchi Pajeon from Mukja at Starker Q ($7.80)
German-style fresh beer with moreish Korean bites at wallet-friendly prices? Yes, please. Starker Q's new outlet at Waterway Point in Punggol is a multi-concept food hall slash live music bar and hangout that's surprisingly family friendly. You can get kopi, eggs and toast in the morning, while the pastas and pizzas will be a hit for the kids. What's great though, is the fresh Starker beer on tap and the beer bites like this Kimchi pancake to rival any Korean restaurant—spicy and savoury, studded generously with tangy kimchi and spring onion. 85 Punggol Central, Waterway Point #01-01
Squid Ink Fideua from Restaurant Gaig ($29.50)
Now that his two-year-contract with La Ventana at Dempsey is up, Carles Gaig of
one-Michelin-starred Gaig
in Barcelona, Spain, is keeping his finger in the Singapore pie with his new restaurant along Stanley Street. The cosily-decorated space is headed by his daughter Nuria Gibert, and the food here is homey yet refined. The fideua, for instance, is a tasty mix of roasted short noodles cooked in a seafood stock, with fresh clams, plump shrimps and a good dollop of garlicky aioli to hold it all together.
16 Stanley Street
Chinese Chicken Salad from 1KS ($16)
Park Bench Deli has made a name for itself with its generously-stuffed hoagie rolls and sandwiches. So it makes sense then that their version of a chicken salad is, well, really more chicken than it is salad. The base is a good mix of strips of lettuce, and crunchy grated radish and carrots, but that's where your intake of greens ends — the rest of this American-style salad features thick slices of tender chicken and crispy wonton skin as garnish. Perfect with a cup of Working Class Coffee, two customised blends made by Gentlemen's Coffee Company and Papa Palheta for the guys behind Park Bench Deli.
1 Keong Saik Road.