Blackbird
619 W. Randolph St., Chicago, 60661, United States
50 - 75 USD • Contemporary
Blackbird
619 W. Randolph St., Chicago, 60661, United States
50 - 75 USD • Contemporary
MICHELIN Guide's Point Of View
In many ways, an acclaimed restaurant that opened in 1997 may seem like old news, but Chef/owner Paul Kahan continues to enliven this Chicago original with fresh talent and new flavor. The interior is small but packed, right down to the last lunchtime bar stool. Everything feels glossy and white, accented with high-back leather banquettes and orange placemats that pop with color at the bar. Service is sharp, busy and handling it all very well. Begin your unique dining journey here with a warm, poached Maine shrimp salad tossing meaty bacon and pickled walnuts with segments of tangy orange. Then segue into a perfect marriage of salinity and sweetness by way of the ultra-crisp potato-wrapped sturgeon fillet accompanied by tender gnocchi, laid atop a bed of steamed mussels and finished with a luxurious sauce Parisienne. Desserts at Blackbird are equally intricate and inspired, including that divine combination of crunchy apple-cider donuts with creamy cinnamon-laced ricotta, a rich mostarda, as well as a cooling scoop of buckwheat ice cream. Dinner may be served as a ten-course tasting menu that shows just what this capable kitchen can do. Lunch is an astounding bargain.
Show More
Show Less
m One MICHELIN Star: High quality cooking, worth a stop!
ó Comfortable restaurant
Related Reads
Blackbird's celebrated pastry chef Nicole Guini shares her favorite destination in Argentina.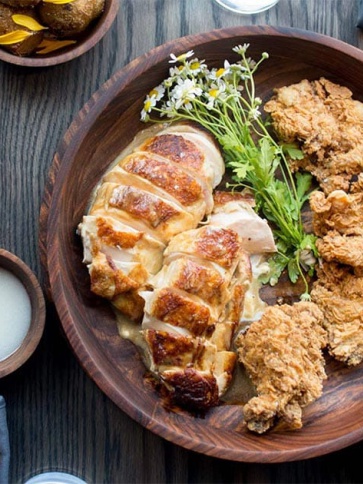 Here's where to go in the booming neighborhood.
The event runs from January 24 through February 9.
Subscribe to our newsletter and be the first to get news and updates about the MICHELIN Guide
Subscribe
Follow the MICHELIN Guide on social media for updates and behind-the-scenes information